A collection of Transmogrification Kits actually worn in-game by my Human and Forsaken Mages. I will update it whenever I change my in-game outfit. Items that are no longer obtainable are marked with an asterisk (*).
Wandering Manaweaver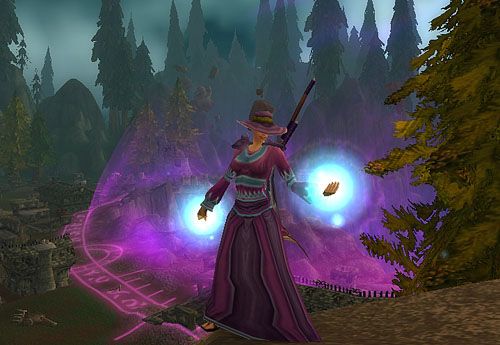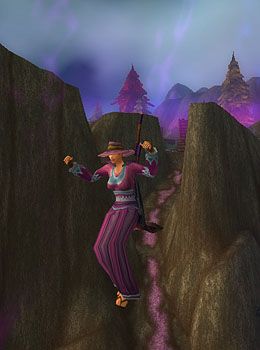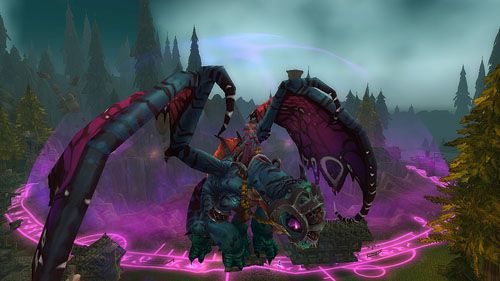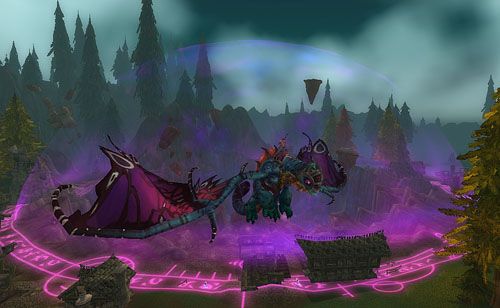 Shadowbrim Travel Hat, Vindicator Shoulderpads, Manaweave Robe*, High Councillor's Sash, Riding Gloves*, Kurkenstoks, Mantle of Desire, Ley Staff*
I would love to use the Rainbow Girdle with this robe, but, alas, it is plate.
I didn't have any suitable purple gloves or boots on hand, there weren't any on the AH, and I didn't feel like going questing for some — so these brown ones will have to do. I like brown with purple and blue, anyway.
Silver Seer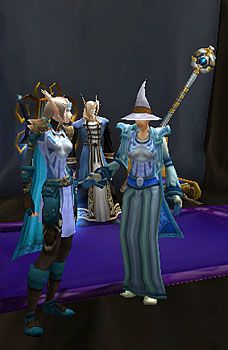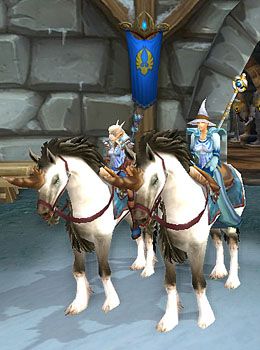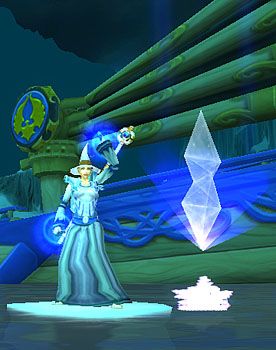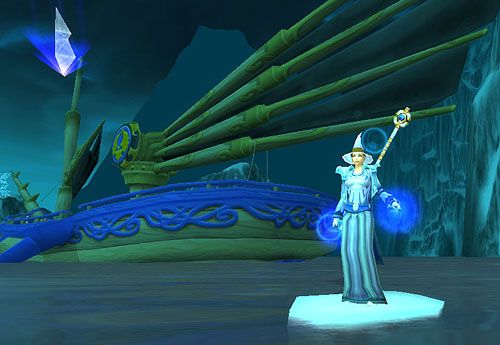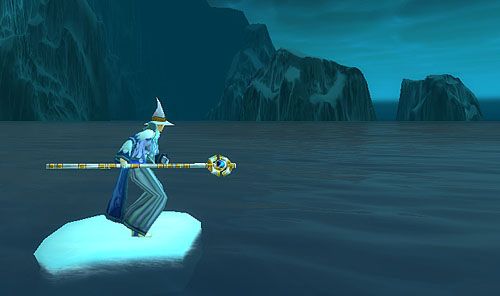 Theramore Arcanist's Hat*, Pauldrons of Sufferance, Seer's Robe, Sage's belt gloves & boots, Cloak of Cheerful Flowers, Greatstaff of Righteousness, Silver Covenant Tabard
The stripeyness of the tabard blends quite nicely with the stripeyness of this robe!
The hat may be considered optional or replaced with headpieces such as the Chief Architect's Monocle, Moonsoul Crown, or Gaea's Circlet.
Spell-Seer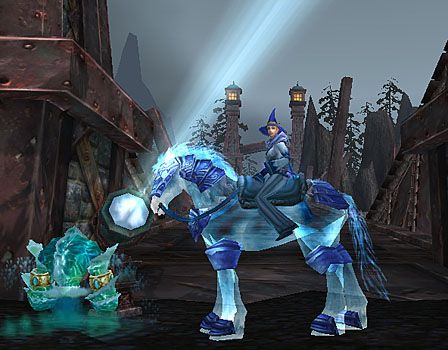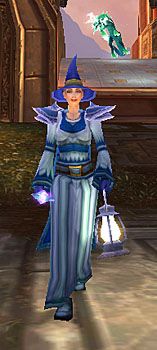 Mistscape Wizard Hat, Pauldrons of Arcane Rage, Seer's Robe, Laughing Skull Waistguard, Tempest's Touch, Royal Boots, Cloak of Cheerful Flowers, Corla's Baton, Nolkai's Lantern
After spending all that time on Tol Barad to get the Spectral Steed, Kinevra was extremely grateful to not be one of the poor exiled mages incarcerated in "The Hole".
Lavender Green (dilly-dilly)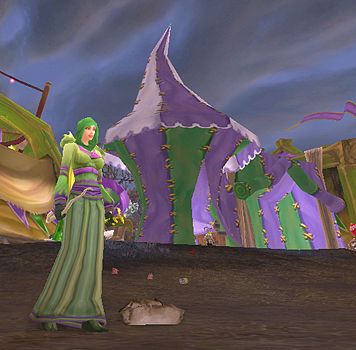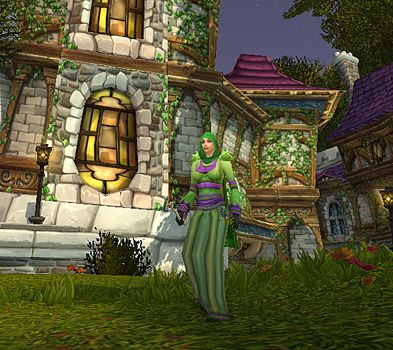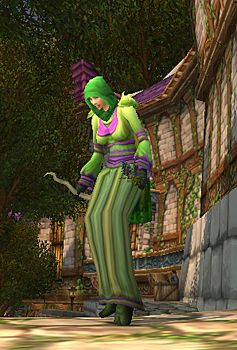 Conjurer's Hood, Greenweave shoulders & cloak, Pressed Felt Robe, High Councillor's Sash, Wooly Goat Punchers, Boots of Duress, Pot Stirrer, Evergreen Branch
I love how the High Councillor's Sash is the perfect shade of purple to blend right in with this robe. The soft green of the Crown of the Sun would coordinate beautifully with this robe, too — but I didn't think of that until just now. :P
Miss Bright Eyes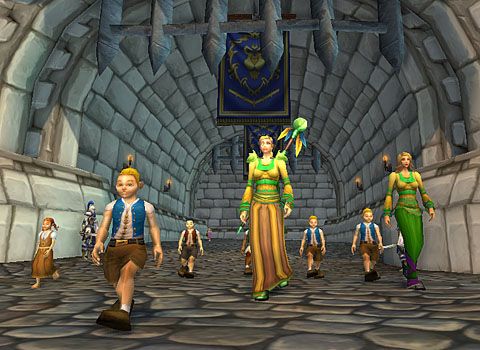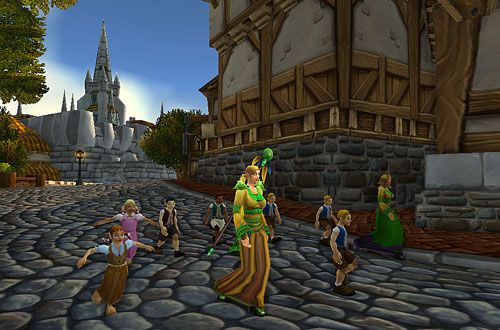 Eye of Flame, Greenweave shoulders & cloak, Bright Robe, Councillor's Sash, Quilboar Crone Gloves, Ikeyen's Boots, Ogre Mage Staff
Kinevra occasionally volunteers to help chaperone Miss Danna's field trips.
Wealth and Wisdom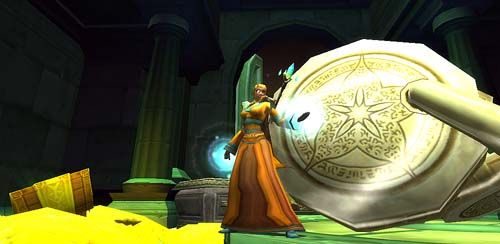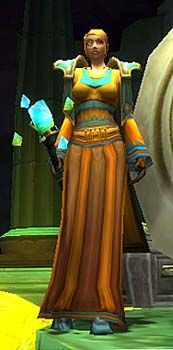 Eye of Flame, Lightning Infused Mantle, Robe of Solomon*, Serenity Belt, Vicious Embersilk Gloves, Slippers of Serenity, Ash Feather Cloak, Staff of the Royal Wizard
This robe was a quest reward from pre-Cataclysm Redridge Mountains. A similar look could be created with the Elegant Robe or Robes of the Battleguard plus a Cerulean Filigreed Doublet.
Lifeblood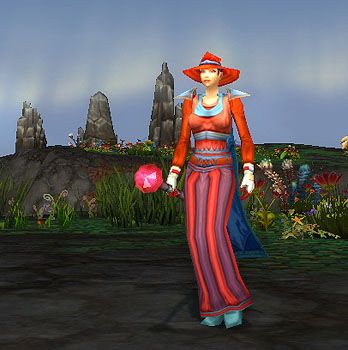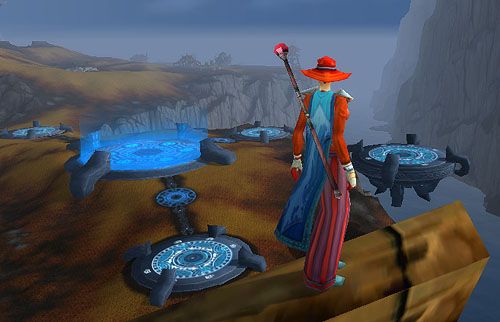 Mirren's Drinking Hat, Feline Mantle, Bloody Apron*, Crimson Silk Belt, Bloody Surgeon's Mitts + Jessera's Fungus Lined Cuffs, Slippers of Serenity, Cloak of Cheerful Flowers, Red Swashbuckler's Shirt, Staff of the Second Orb
The Bloody Apron dropped from the original version of Shadowfang Keep. A sleeved version, the Smoldering Robe, was available as a very rare drop. Neither robe can be obtained anymore. A similar outfit could be made with the Simple Blouse and Colorful Kilt.
Hot Stuff!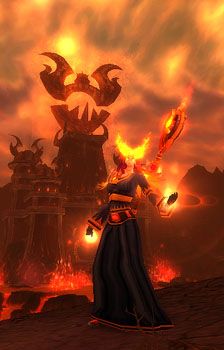 Jewel of the Firelord, Firehawk Mantle, Death Speaker Robes, Sash of the Burning Heart/Embereye Belt, Enumerated Gloves, Extravagant Boots of Malice, Warmonger's Cloak, Archmage's Staff*/Funeral Pyre
When I saw the Firelands on the Old Ladies Raiding Guild schedule, I considered temporarily faction-swapping Kaelinda so that she could (hopefully) pick up the Mantle of Closed Doors. A little later, it occurred to me that if Transmogrification really will be getting upgraded (I'm guessing patch 6.1 or 6.2), it shouldn't really matter which character collects all the spiffy-looking stuff I want to make Transmogrification kits with. So I decided to take Kinevra, who is still level 85, to OLRG instead. The very first weekend that the OLRG went to the Firelands, the Mantle of Closed Doors didn't drop. However, the next best thing — the T12 Mage shoulder token — did, and I won it!
Of course, I had to make an outfit with it right away!
Stormwind Noble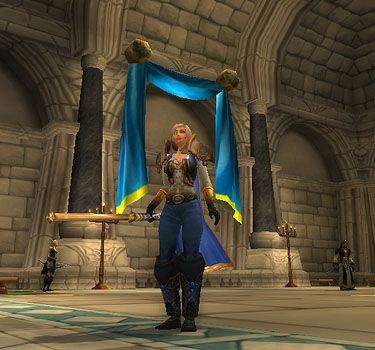 Eye of Flame/Chief Architect's Monocle, Punishing Shoulders, Regal Armor, Sorcerer Sash, Royal Trousers, Enumerated Gloves + Dryad's Wrist Bindings, Boots of the Divine Light, Crazy Cenarion Cloak, Tower of Theramore, Captain Sanders' Shirt
Given the notoriety of the affairs of Stormwind's House of Nobles and that she already posesses a moggable monocle, my Human Mage, Kinevra, was a natural choice of model for the sixth Batinna's Dress Up theme, "gentleman".
Frostfire Genie


Vindicator Cap, Consortium Mantle, Robe of Combustion, Crimson Silk Belt, Tempest's Touch, Nimbus Boots, Phoenix-Wing Cloak, Staff of the Second Orb
I love the bold combination of reds and blues in this robe and hat! I like how these plain shoulders blend into the robe, but if you want some fancier shoulders, the Warpwood Leaf Mantle from Dire Maul would be ideal.
Emerald Enchantress


Watcher's cap & shoulders, Hinott's Outer Robe, Keyton's Sash, Brewer's Gloves*, Slippers of Unturned Loyalties, Judkins' Staff
The irony of using vibrant, uncontrolled life as the backdrop for an ensemble worn by an undead did not escape me. Nevertheless, I preferred the Emerald Nightmare to plague slime or other green goo locations.
Nether-Lace Garland


Corpulent Shoulderpads, Nether-Lace Robe*, Keyton's Sash (green)/Ghamoo-Ra's Bind (red), Pigskin Gloves + Ritual bracers, Slippers of Unturned Loyalties (green)/Footfalls of Memories (dark), Stylish Green Shirt/Ebon Filigreed Shirt
After I let Kelilla use her no-longer-obtainable Mage class quest chestpiece for her Winter Veil outfit, Kivrinne insisted upon using her Horde-side equivalent item for her Winter Veil outfit.
"But Kivrinne," I said, "that's not really very festive. You look like a dying tree."
"So?" she said, "I'm undead. It's festive enough for me."
And I had to concede the point.
After the holidays were over, a few simple changes converted the outfit into an even more not-festive look.
For a similar look using a chestpiece that is still available, try the Pagan/Resilient robe.
Winter Flirt Warning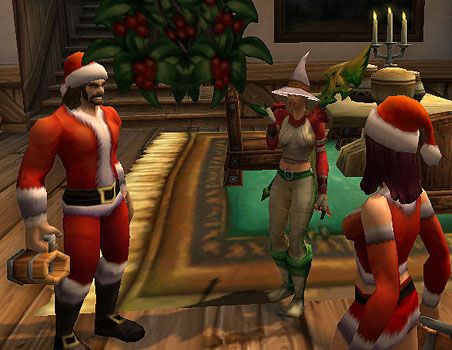 Theramore Arcanist's Hat*, Consortium Mantle, Crimson Tunic*, Shimmering trousers belt gloves & boots, Starfire bracers, Injured Trapper's Cloak, Vengeance Staff
The Red Pointy Hat or green Watcher's Cap are suitable alternatives to the Theramore Arcanists's Hat… or you could just forgo the hat altogether.
The Red Linen Vest, Crimson Silk Vest, or Simple Blouse + White Swashbuckler's Shirt or the Corsair's Overshirt would all work well in place of the Crimson Tunic, though they do invert the white and red.
Bride of Arugal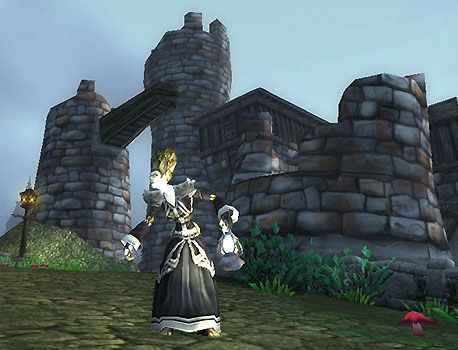 Ghostly Mantle*, Robes of Arugal, Belt of Arugal*/Sash of Whispered Secrets, Black Mageweave Gloves, Apprentice Boots, Light-Imbued Lantern
Another classic set for a Forsaken.
The Shadow Council Mantle works very well with this robe.
Hallow's End


Skywitch Hat, Death Speaker Mantle, Death Speaker Robes, Conjurer's Cinch, Enumerated Gloves & Sandals, Staff of the Great Reptile
Despite what Celestine of the Harvest said, no matter how many branches Kinevra threw into the Wickerman, she could not feel the burden of her grief and anger over what the Horde had done to her home in Theramore getting any lighter.
The Haliscan Brimmed Hat and Death Speaker Robes closely mimic the appearance of Catrina. Alas, the even the blue-quality Don Carlos' Famous Hat is not Transmogrification-friendly, so I ought to take Kinevra to AQ sometime in search of Don Rigoberto's Lost Hat.
Theramore Arcanist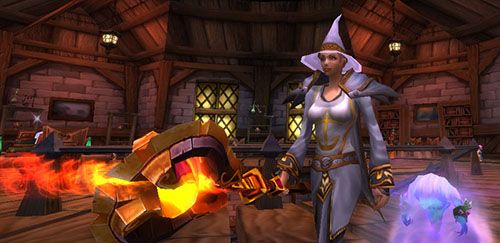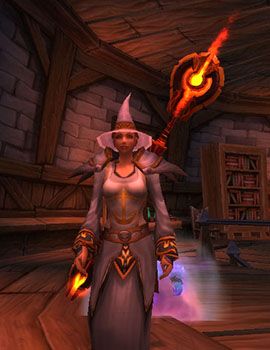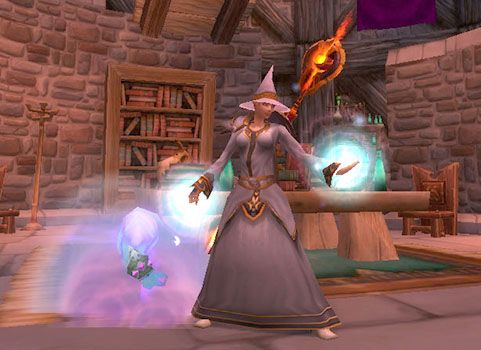 Theramore Arcanist's Hat*, Vicious Embersilk shoulders & belt, Astral Knot Robe*, Gandling's Gloves, Shimmering/Ivycloth Boots, Cloak of the Faith*, Archmage's Staff*, Theramore Tabard*
I coveted the white wizard hat worn by several NPCs (mostly Inscription trainers) for a long time. When it finally became available in the game from the limited-time level 85 version of the Theramore's Fall scenario, it took on a much more poignant meaning. The Archmage's Staff and Theramore Tabard were also only available from the level 85 version of Theramore's Fall.
The Astral Knot Robe was awarded from a pre-Cataclysm Mage Class quest. The Aurora, Gossamer, Spiritmend, and Vicious Embersilk robes would all be adequate substitutes. There are many suitable white capes, such as the Silky Spider Cape.
Hero of Stormwind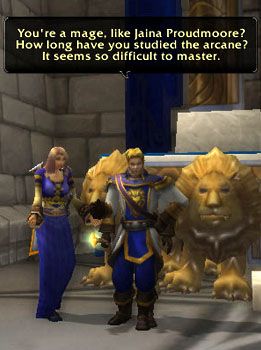 Feline Mantle, Whispering Tunic, Bridenbrad's Sash, Simple Kilt, Gandling's Gloves, Slippers of the Twilight Prophet, Stormwind doublet & cloak
Kinevra wore this outfit for only a few hours as I worked through the Alliance introduction to Twilight Highlands quest chain, but it was important for her to look her best because I knew that she would be assisting the Prince!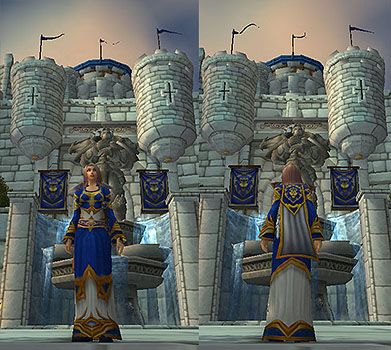 I originally wanted to use the Knight-Captain's Silk Tunic, which she'd been able to purchase with Honor Points accumulated by running Northrend dungeons while the Alliance held Wintergrasp, for this outfit, but alas, that "the appearance of that item cannot be used" for Transmogrification.
Jaina's Traveling Apprentice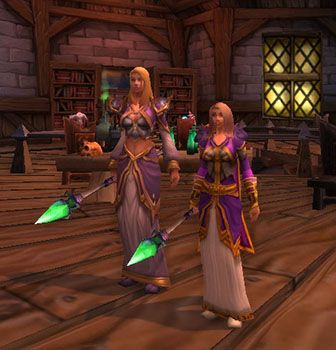 Shadowbrim Travel Hat, Vindicator Shoulderpads, Sketh'lon Survivor's Tunic, Serenity Belt, Soothsayer's Kilt, Jumanza Grips + Dryad's Wrist Bindings, Shimmering/Ivycloth Boots, Spellbound Cloak, Lavender Mageweave Shirt, Whelp Keeper's Staff or Stormbound Tome
The Alliance Ambassador outfit lasted until Kinevra got to level 68, at which point she could go to Shadowmoon Valley and complete the quest chains to obtain the "Jaina lookalike" tunic and skirt.
Alliance Ambassador


Eye of Flame, Feline Mantle, Sorcerer Drape & Sash, Night Watch Pantaloons*/Royal Trousers, Riding Gloves* + Dryad's Wrist Bindings, Wandering Boots*/Royal Boots, Proudmoore Cloak, Tuxedo Shirt
The Eye of Flame dropped, and Kinevra's LFD group had no other clothies in it! If this fortuitous event had not occured, she probably would have continued in the Sorcerer's Apprentice outfit for at least a few more levels.
The Gossamer/Elegant Gloves or Mana Shaping Handwraps would be good alternatives to the Riding Gloves.
Sorcerer's Apprentice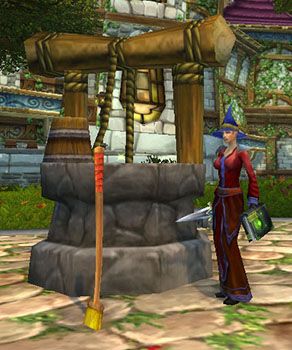 Mistscape Wizard Hat, Feline Mantle, Robe of Combustion, Crimson Silk Belt, Enumerated/Oracle Handwraps, Slippers of Tribute, Gift of the Elven Magi, Book of the Adept
I love the look of the Vindicator Cap with this robe for higher-level characters.
Theramore Maiden


Feline Mantle, Mordant's Travel Tunic, Willow Belt, Simple Kilt, Enumerated/Oracle Handwraps, Nimbus Boots
Kinevra probably would have stayed in this outfit a lot longer if the impending destruction of her home had not prompted me to get her leveled to 85 before the Mists pre-launch events started so that she could participate in them.
Royal Apothecary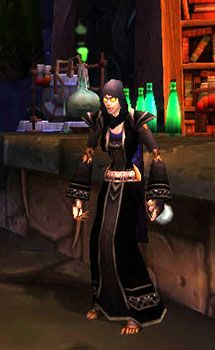 Nightsky Cowl, Darkcloth Shoulders, Black Velvet Robes, Belt of Arugal*/Sash of Whispered Secrets, Black Mageweave Gloves, Apprentice Boots, Undercity doublet & cape, Nightglow Concoction*/Tears of Heaven
This was Kivrinne's banking outfit long before Transmogrification came along and allowed her to use it for her questing outfit as well.
The NPC Royal Apothecary Society members are wearing the mail Infantry Belt, so I could only match the colour, not the style.