A collection of Transmogrification Kits actually worn in-game by my Worgen and Pandaren Mages. I will update it whenever I change my in-game outfit. Items that are no longer obtainable are marked with an asterisk (*).
Role Model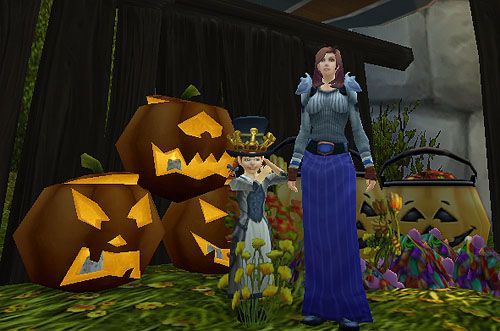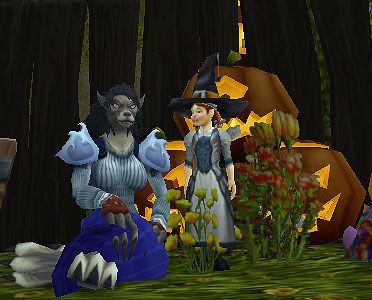 Double-Stitched Woolen Shoulders, Seer's Padded Armor, Nightwind Belt, Simple Kilt, Heavy Linen Gloves + Sage's Bracers, Sandals of the Neverending Bridge
The World of Warcraft is a world of heros. Individual heros roam the world, seeking fame and fortune and sometimes even genuinely desiring to help and serve. Heros join together in groups small and large to face down the greater threats against the safety and stability of Azeroth. It's fun to imagine being a brave warrior or paladin, a wise mage or monk, a mystical shaman or druid, a sly rogue or warlock, a haunted death knight, a clever hunter, a resolute priest. The greatest hero in my life, though, will always be my mother. My mom never ceases to amaze and inspire me with all the things she does. And so, for the fourteenth Batinna's Dress Up theme, I made a "mom" outfit for one of my characters whose motherhood is a prominent feature of her RP story.
I like this style of bracers because they are so small and also because from certain angles they look sort of like a wristwatch.
Azure Silk


Azure Silk Hood Vest & Pants, Stonecloth Epaulets, Nightwind Belt, Breadwinner's Gloves, Sandals of the Neverending Bridge, Cloak of the Clarion Call, House Wrynn Staff, White Swashbuckler's Shirt
I am not, in general, much of a fan of hoods and cowls, but I do like how a cowl looks sort of like a kerchief when worn by a Worgen woman.
The "Breadwinner's Gloves" are a great item for Kymberlea because she adventures to help keep food on the table for her family of four children.
Tushui Champion


Feline Mantle, Blue Linen Robe, Bloodeye Belt/Belt of Dark Schemes, Heavy Linen Gloves, Apprentice Boots, Staff of the Arcane Path/Staff of the Royal Wizard, Tushui Tabard
Not having actually changed Kaoling's faction, I used my guild tabard as a stand-in for the colors of the Tushui tabard. The boots Kaoling is wearing are a Horde quest reward with no readily obtainable, low level Alliance equivalent — but the actual identity of the boots is unimportant, at least for a Pandaren, because they can't really be seen.
Huojin Champion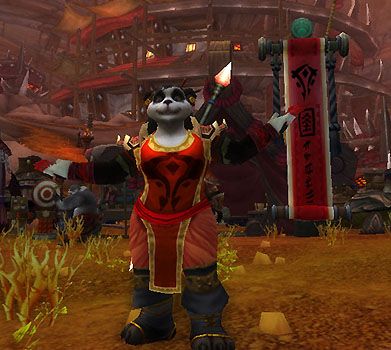 Exquisite Sunderseer Mantle, Ritual Tunic, Apothecary's Waistband, Red Silk Trousers, Rotting Handwraps + Cuffs of Black Elements, Apprentice Boots, Renzithen's Dusty Cloak, Huojin Tabard, Heartboiler Staff
Many of the items in this set are obtained by questing in the Ghostlands. I've been wanting to make a set featuring the Red Silk Trousers for some time now. The gold trim on the tabard and cloak help harmonize the fancy filigree of the heirloom shoulders with the rest of the outfit.
Transmogrifiable Twill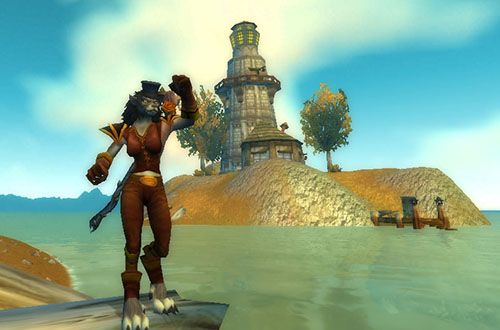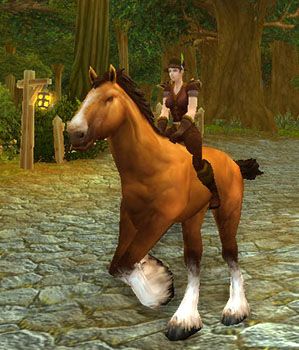 Lord Walden's Top Hat or Brown Brewfest Hat, Nightsky Mantle, Sentinel Hill Surcoat, Belt of Unsolvable Problems, Legwork Trousers, Evidence Collection Gloves, Harvester Boots, Staff of Earned Tranquility
This fully Transmogrification-friendly version of the grey-quality Twill set is obtained by questing in Westfall and Redridge Mountains. Sadly, the Top Hat isn't Transmogrification-friendly, but Kymberlea is my only character rolled as a Worgen who actually stayed a Worgen. The Brown Brewfest Hat isn't Transmogrification-friendly, either, but it does look awesome with this set. I don't display Kymberlea's actual questing hat.