A collection of Transmogrification Kits actually worn in-game by my Tauren Discipline/Holy Priest. I will update it whenever I change my in-game outfit. Items that are no longer obtainable are marked with an asterisk (*).
Tiller with Staff


Straw Hat, Outlander's Pauldrons, Blue Overalls, Willow Belt, Tangled Thread Gloves, Apprentice Boots, Red Lumberjack Shirt, Rosethorn Staff
I've seen several variations on the classic cloth "Farmer" look that use the Skein Woven Mantle. Indeed, I had one squirrelled away in my Transmogrification vault guild bank for Kaohana to use in a Farmer outfit. When I finally got around to making her one, however, I decided to do something a little different and use this set of shoulders that she already had soulbound, rather than adding yet another item to her overflowing wardrobe.
I thought about using a really plain "walking stick"-type staff model, such as Umbranse's Staff, with this kit. The fancier Rosethorn Staff appealed to me more, though I'm not quite sure why it felt so appropriate for a Farmer. Warlock Farmers should of course use their Staff of the Left Hand Path/Staff of Justified Sins. WTB a Transmogrifiable Broom!
Adorable Aborigine


Forever-Lovely Rose, Feline Mantle, Aboriginal Robe, Ambermist belt & gloves, Cerulean Filigreed Shirt, Sealing Heartstaff
Yes, I know that the Forever-Lovely Rose is not Transmogrification-friendly. It would be awesome if it was, though — Forever-Lovely Silk Rose, Forever-Lovely Patent Leather Rose, Forever-Lovely Mithril Filigree Rose, Forever-Lovely Eternium Rose… sigh.
Oracle of the Shifting Sands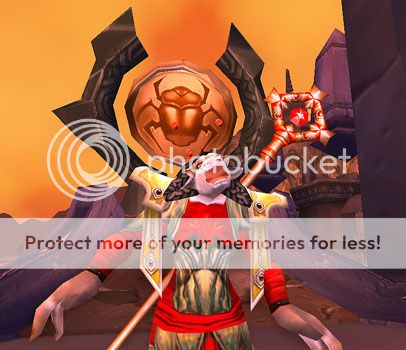 Crown of Endless Knowledge, Replica Virtuous Mantle & Gloves, Vestments of the Oracle, Apothecary's Waistband/Captain Sanders' Sash, Earthmender's Bracer of Shattering, Scarlet Filigreed Doublet, Invincible Stave
Acquiring one of the insect-wing robes from Ahn'Qiraj has been one of my WoW goals for a long time. The red & gold Priest version is the only one available to Tauren; someday, I'd like to get the blue Mage version and the lovely purple Warlock version with my Blood Elves. I wish Blizzard would change the Brood of Nozdormu rep grind to start from Neutral instead of Hated!
The Scarlet Filigreed Doublet is just the right shade of red to blend with this robe and fill in that little gap between the sleeves and the bracers. The Red Linen Shirt is too light and orangey, and the Red Workman's Shirt is too dark.
The Invincible Stave isn't quite Benediction, but since the latter staff is no longer obtainable, it will have to do.
Shado-Pan Mystic


Replica Shado-Pan Helmet, Consortium Mantle, Amaranthine Robe, Silver-Thread Sash, Black Mageweave Gloves, Arakkoa Divining Rod, Inscribed Fan, Stylish Black Shirt
This outfit is largely inspired by the Shado-Pan Helmet set designed by WoW Roleplay Gear.
Darkmoon Oracle


Duskwoven Turban, Slime-Encrusted Pads, Willow Robe, High Councillor's Sash, Soulcloth Gloves, Crescent Wand, Aboriginal Rod, Cloak of the Darkmoon Faire, Golden Filigreed Doublet
The Aboriginal Rod is one of a few off-hand frill items that looks like a staff — the Highborne Star is another — thus allowing a caster to emulate Gandalf's sword/dagger + staff style of magical combat.
The purple Mystical Headwrap might look even better with this outfit, but I have plans for another outfit for Kaohana that will use the green turban, and I don't have any plans for outfits using the purple one.
Bountiful Nomad


Outlander's Pauldrons/Stonecloth Epaulets, Greenweave Robe, Wise Man's Belt, Heavy Linen Gloves + Seer's Cuffs, Umbranse's Staff
The accessories in this set would look equally good with the Native Robe worn by the Bountiful Feast Hostess. Using the white Stonecloth Epaulets, this set can be worn by a character in the low 30s. I think the brown Outlander's Pauldrons coordinate with the robe better, but they require a level in the low 60s. The staff I am using is a Winterspring quest reward, but any plain staff will do. I'd love to use Nimar's Tribal Headdress with this set, but it is no longer obtainable and thus awfully hard to find.
Amaranthine


The Amaranthine set is created from Timeless Isle cloth armor tokens. An identical set can also be obtained from rep/valor or Mogu'shan Vaults. The necklace detail on the robe is simply marvelous!
The staff is the Bind-on-Account Inscribed Crane Staff crafted by Scribes.
Mistborne Regalia


The very boldly colored Mistborne set of quest rewards comes from Townlong Steppes and Dread Wastes. I don't like this set well enough for Kaohana to keep it, but one of my Mages or my Warlock might.
The staff is the Torch of Noon.
Nayeli Regalia


The Nayeli set is obtained by questing in Valley of the Four Winds and Krasarang Wilds. Ordinarily, I would have tried to take a picture of this set at its namesake Nayeli Lagoon, but I was struck by what a pretty picture its blue & purple made against this backdrop of the blues of the Frosty Flying Carpet and the purples of the Darkmoon Faire.
The staff is Mok'Morokk's Beat Stick.
Leza's Kindred Spirit


Cowl of Whistling Winds, Journeyman's Epaulets, Magus Tirth's Robe, Send-Off Belt, Soulcloth Gloves, Staff of the Earthmother
In the begining, Kaohana and Leza were acquainted simply because the disciples of An'she were such a small group. During the perilous sea journey to Pandaria, they became much closer. As the fever took hold during the trek up the Dojani River, Kaohana did what she could to help her friend, but in the end, it was not enough. She misses her friend greatly and was even more heartbroken by the eventual passing of both of Leza and Dezco's children from the Dawnchaser tribe's care.
Hallowed Watcher


Jewel of the Firelord, Duskhallow Mantle, Watcher's Tunic, Astralaan belt pants & boots, Black Mageweave Gloves + Bracers of the Black Dream, Torch of Austen, Grayson's Torch, Orange Mageweave Shirt
I love the lacy sleeves and shaded stripes on the skirt of Chan's Imperial Robes and the more easily obtained Hibernal/Venomshroud and Arachnidian Robes, but I'm not so fond of the giant spider motif. That imagery is fine for my Warlock or my Troll Mage, but it doesn't really suit my Tauren Priestess. Fortunately, the Watcher's Tunic has the lacy sleeves and fancy stripes without being so obviously spidery — and its colors are perfect for Hallow's End!
I wanted to use the Circle of Flame with this outfit, but for all my lofty words about it being easily farmable, the drop rate is low enough and I waited long enough to start trying for it that it didn't drop in a timely fashion. And I'd already purchased the Jewel of the Firelord for my Warlock…
Dreamseeker


Greenweave Mantle, Mistyreed Tunic, Councillor's Sash, Elunarian Sarong, Hewing Gloves, Rejuvenating Scepter, Dreamseeker Dandelion, Green Linen Shirt
The tauren priesthood is fundamentally a divergent sect of tauren druidism. Perhaps they might best be understood as Balance druids who have gone past the balance point and out to the other extreme in an attempt to balance tauren society as a whole. Whereas many druids draw their power primarily from the moon, Mu'sha (Elune), and Balance druids attempt to maintain an equilibrium between the power they draw from the moon and that which they draw from the sun, tauren priests, or Seers, are essentially druids who draw their power primarily from the sun, An'she.
The color scheme and the names of key items in this ensemble reflect the druidic roots of a tauren priest's power.
Princess Poobah's Finery


Cassandra's Grace, Wound-Cauterizing Spaulders, Princess Poobah's Dress, Willow Belt, Replica Virtuous Gloves, Rejuvenating Scepter, Divine Companion
Oh, Princess Poobah, the perpetual damsel-in-distress of Jaguero Isle! I suppose the races of the Eastern Kingdoms might call a Tauren chieftain's daughter a "princess", but everything else about her claims to royalty seems slightly delusional to me. Before Princess Poobah can be rescued, her prized posessions — tiara, scepter, slippers, and diary — must be retrieved from the apes of Jaguero Isle. After she has been freed, she offers her tiara and her dress as rewards. The tiara is a mail item; this cloth crown is identical. I used this wand and book (the prettiest off-hand book in the game, to my eye) to represent her scepter and diary when I drew a chibi Princess Poobah two summers ago.
Primal Mooncloth


Cassandra's Grace, Primal Mooncloth shoulders robe & belt, Replica Virtuous Gloves + Dryad's Wrist Bindings, Key to the Planes
When I began raiding, back in Burning Crusade, before Armor Specialization was introduced, Druids and Paladins wearing Primal Mooncloth were a common sight because it had the BEST stats for healing. It was such a beautiful set, but it was also BoP to the crafter and required the proper Tailoring specialization. I liked Kamalia being a Leatherworker, however, so all I could do was sigh longingly and plan for my Blood Elf Mage to pick up Primal Mooncloth specialization — even though it wouldn't be optimal for her as DPS — if and when she ever managed to reach level 70.
When Cataclysm was announced, I was excited to roll a Tauren Priest because now Tauren would finally have a cloth-wearing class. By the time Kaohana reached level 70 and got her Tailoring up to 375, however, I'd only managed to gather about half of the four dozen Primal Life required to craft the Primal Mooncloth set. Then I got busy doing other things with other alts, and I didn't take the time to farm Heroic Underbog with all my main-server level 90s until she was level 80. Now, I can wear that beautiful Primal Mooncloth set at last!
Pirate Queen


First Mate Hat, Exquisite Sunderseer Mantle, Corsair's Overshirt, Captain Sanders' Sash/Apothecary's Waistband, Crimson Silk Pantaloons, Soulcloth Gloves, Buccaneer's Boots, Torch of Austen, Mok'Morokk's Grog Bottle
Now that I finally have a clothie Tauren, Kaohana didn't want to imitate any of the NPC pirates exactly. She took cues from several different pirate costumes to create her own unique look. If you want to look more like Garr Salthoof out on the Riptide, Fleet Master Seahorn, and the pirates of Dread Captain DeMeza's crew, keep an eye out for the Brightcloth Pants or Seafarer's Pantaloons.
Candle in a Tempest


Stiffened Corpse Shoulderpads, Robe of the Moccasin, Belt of False Promises, Black Mageweave Gloves, Mok'Morokk's Beat Stick
This outfit is probably as close to being a Shadow Priest as Kaohana will ever get. Aside from its lack of AoE, I have found Discipline to be quite satisfactory as a questing spec.
I started looking for these shoulders on the AH after I designed my Albus Dumbledore Transmogrification kit. Someday, I will start farming Karazhan with 'Hana for the robe I used in that set. Until then, this robe from Wailing Caverns also coordinates wonderfully well with the shoulders.
Astralaan Archon


Junior Technician 3rd Grade Goggles, Aurora Mantle, Astralaan Robe, Wizard's Belt, Soulcloth Gloves, White Swashbuckler's Shirt, Staff of the Redeemer
That staff glows so brightly that she'd be blinded very quickly if she wasn't wearing shades!
Chemise of Celestial Rebirth


Feralfen Amice, Chemise of Rebirth, Willow Belt, Celestial Kilt, Heavy Linen Gloves + Celestial bracers, Arakkoa Divining Rod, Book of Many Blessings
This unique and lovely short-sleeved chestpiece is an early Zangarmarsh quest reward. I had been looking forward to creating a Transmogrification kit with it. I had thought that I might use it in combination with a mix-and-match of the Sage's and Shimmering sets. When I saw how beautifully the sky blue shades of the kilt I was already wearing matched the sky blue parts of the tunic, I changed my mind! It helped that I also already had the bracers, which create a practically seamless extension of the sleeves.
Gossamer Moonlight


Gossamer Headpiece & shoulders, Mooncloth Robe, Sage's belt & gloves, Dryad's Wrist Bindings, Durak's Wand, Dreamseeker Dandelion, White Swashbuckler's Shirt
Kaohana was quite excited to finally have reached the appropriate character and Tailoring skill levels to craft and wear this beautiful robe.
Torch Tosser


Elementalist Skullcap, Mantle of Invocation, Journeyman's Vest, Captain Sanders' Sash/Apothecary's Waistband, Phoenix Pants, Phoenix Gloves, Sorcerer Slippers, Torch of Austen, Grayson's Torch/Mistyreed Torch, Black Swashbuckler's Shirt
I first had the idea for this outfit while I was working on the "runway" outfit I designed for round 4 of Transmogrification Survivor, also using the Journeyman's Vest. The end result has very little in common with that other set — only the chestpiece itself and the general color scheme.
The tailored Phoenix items match the tunic worn by Alliance flightmasters and Maxima Blastenheimer. This is my second attempt at making a reasonable Transmogrification kit using the Phoenix items; for my first attempt, check the Warlock page.
Kaohana probably won't ever wear this kit with the proposed hat; by the time she levels up enough to wear it, I will likely be wanting to put her in some other outfit entirely.
Barbaric Beauty


Buoyant Shoulderpads, Barbaric Cloth Robe, Wizard's Belt, Sage's Gloves + Courier's Wraps, Long Silken Cloak, Squire's Shirt
This robe, with its pretty combination of lilac and blue and pink, has long been one of my favorites for Noblegarden. The triangular patterns are reminiscent of the decorations on a brightly colored egg, too!
Plains-Striding Mystic


Stonecloth Epaulets, Mystic's Robe, Willow Belt, Seer's Cuffs + Heavy Linen Gloves, Lushwater Cloak, Squire's Shirt
On the one hand, the furry look of the Stonecloth Epaulets is great fun, because most other items with that appearance are leather. On the other hand, their white color makes finding equally low-level robes that look good with them somewhat difficult. The brown "fur" Outlander's Pauldrons are much easier to work with, but require level 57 to wear.
Angel of the Earthmother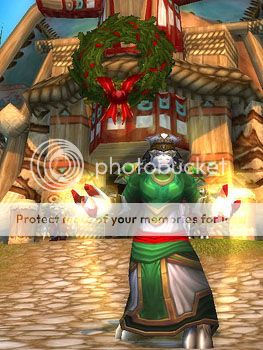 Gossamer Headpiece, Slime-Encrusted Pads, Robes of the Bloody Field, Apothecary's Waistband (red)/Willow Belt (brown), Rotting Handwraps (red)/Gossamer Gloves (brown), Wand of Arcane Potency, Regal Star
Two simple changes toggle this outfit between Winter Veil festivity and year-round utility. I think I like these shoulders with this robe even better than the ones that are part of the designed set!
Goddess of Insight


Gossamer Headpiece shoulders & gloves, Robes of Insight, Sutarn's Ring, Thornweaver Leggings, Dryad's Wrist Bindings, Formal White Shirt
In a curious paradox of personal aesthetics, I simultaneously think that this robe is gorgeous and that it shows way too much skin for my taste. The white provides a nice modest, but still divine-looking, backdrop for the colour and filigree of the robe. This set would also work beautifully with any of the other colours of this robe.
Use the Shimmering/Ivycloth or Sage's Boots if your character wears shoes.
Magician's Power


Gossamer Headpiece, Magician's Mantle, Robe of Power, Sutarn's Ring, Black Mageweave Gloves, Staff of the Earthmother
Kaohana never actually wore this set with the hat; by the time she could wear the hat, she could also wear the Robes of Insight.