A collection of Transmogrification Template Kits actually worn in-game by my Tauren Discipline/Holy Priest and my Blood Elf Shadow Priest. I will update it whenever I change my in-game TTK. Items that are no longer obtainable are marked with an asterisk (*).
Barbaric Beauty


Buoyant Shoulderpads, Barbaric Cloth Robe, Wizard's Belt, Sage's Gloves + Courier's Wraps, Long Silken Cloak, Squire's Shirt
This robe, with its pretty combination of lilac and blue and pink, has long been one of my favorites for Noblegarden. The triangular patterns are reminiscent of the decorations on a brightly colored egg, too!
Adorable Aborigine


Lunar Mantle, Aboriginal Robe, Wise Man's Belt, Heavy Linen Gloves + Seer's Cuffs, Cerulean Filigreed Shirt
I originally wanted to use the Feline Mantle for this set. Sadly, it didn't drop when Kaohana went to SFK to get her level 20 class quest weapon, and she is currently too high level to queue for SFK and too low level to solo it.
Plains-Striding Mystic


Stonecloth Epaulets, Mystic's Robe, Willow Belt, Seer's Cuffs + Heavy Linen Gloves, Lushwater Cloak, Squire's Shirt
On the one hand, the furry look of the Stonecloth Epaulets is great fun, because most other items with that appearance are leather. On the other hand, their white color makes finding equally low-level robes that look good with them somewhat difficult. The brown "fur" Outlander's Pauldrons are much easier to work with, but require level 57 to wear.
Angel of the Earthmother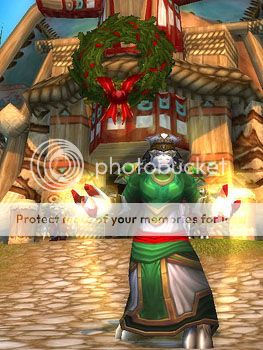 Gossamer Headpiece, Slime-Encrusted Pads, Robes of the Bloody Field, Apothecary's Waistband (red)/Willow Belt (brown), Rotting Handwraps (red)/Gossamer Gloves (brown), Wand of Arcane Potency, Regal Star
Two simple changes toggle this outfit between Winter Veil festivity and year-round utility. I think I like these shoulders with this robe even better than the ones that are part of the designed set!
Goddess of Insight


Gossamer Headpiece shoulders & gloves, Robes of Insight, Sutarn's Ring, Thornweaver Leggings, Dryad's Wrist Bindings, Formal White Shirt
In a curious paradox of personal aesthetics, I simultaneously think that this robe is gorgeous and that it shows way too much skin for my taste. The white provides a nice modest, but still divine-looking, backdrop for the colour and filigree of the robe. This set would also work beautifully with any of the other colours of this robe.
Use the Shimmering/Ivycloth or Sage's Boots if your character wears shoes.
Magician's Power


Gossamer Headpiece, Magician's Mantle, Robe of Power, Sutarn's Ring, Black Mageweave Gloves, Staff of the Earthmother
Kaohana never actually wore this set with the hat; by the time she could wear the hat, she could also wear the Robes of Insight.
Tol Barad Administrator


Lord Walden's Top Hat (not Transmogrification-friendly), Mantle of Haunting, Black Velvet Robes, Belt of the Hero, Skitterweb Glovelettes, Watched Watcher's Slippers, Staff of Earned Tranquility
Given the involvement of Dalaran and its mages with the high-security prison on Tol Barad, I don't think it's unreasonable to assume that some of the staff might have been high elves.
Equestrienne


Lord Walden's Top Hat, Mantle of Haunting, Cat Lover's Vest, Laborer's Belt, Rygna-Silk Leggings, Skitterweb Glovelettes, Watched Watcher's Slippers, Staff of Earned Tranquility
Kandrista began her existence as a Worgen just for this hat and staff. Although the Top Hat is not Transmogrification-friendly, I intend to have her wear it throughout her leveling journey.