A collection of Transmogrification Kits actually worn in-game by my Blood Elf Warlock and my Blood Elf Shadow Priest. I will update it whenever I change my in-game outfit. Items that are no longer obtainable are marked with an asterisk (*).
Shado-Pan Summoner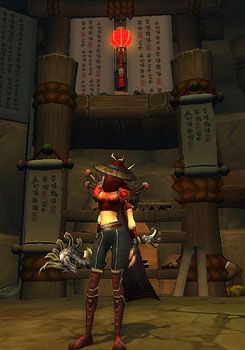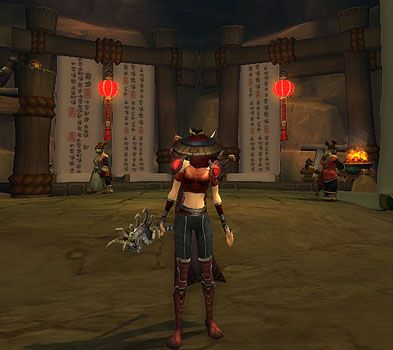 Replica Shado-Pan Helmet, Mantle of the Corruptor, Simple Blouse, Fire-Cord of the Magus, Coven Britches, Black Mageweave Gloves + Wraps of the San'layn, Oilfoot Slippers, Shadow Prowler's Cloak, Matsuba's Breadmaker
More decadent Warlocks may prefer to use the Cournith Waterstrider's Silken Finery.
Bloodmyst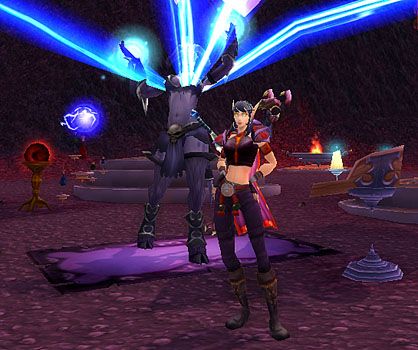 Resplendent Epaulets, Death-Speaker's Tunic, Cloudscorcher belt & gloves, Darkweave Breeches, Hu'rala's Slippers, Ermine Ruff Cloak, Swarming Sting-Staff
This chestpiece is the only Transmogrification-friendly item in the same style as the vests worn by level 1 Draenei hunters, warriors, and paladins.
Dreadmist Regalia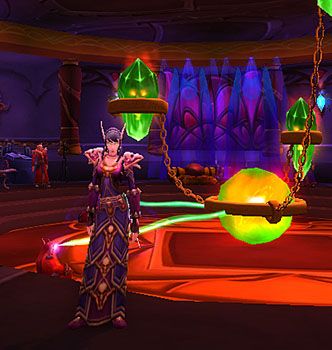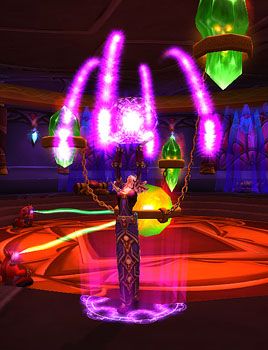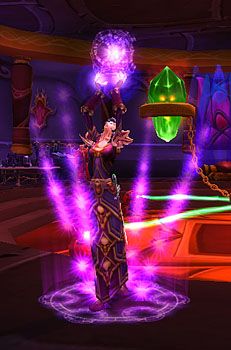 Tattered/Bloodstained & Replica Dreadmist set
Most of my cloth-wearing characters Transmogrify over the heirloom chest and shoulders (and hide the hat) just as quick as they can because they don't want to look like a Warlock. Kalaneia said, "I am a Warlock! Why shouldn't I want to look like one?" and went to the Darkmoon Faire the next time it came to town to buy the gloves, belt, and boots to fill out the set.
Mistress of Flame and Shadow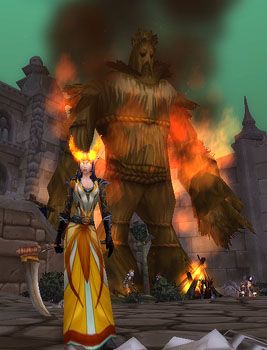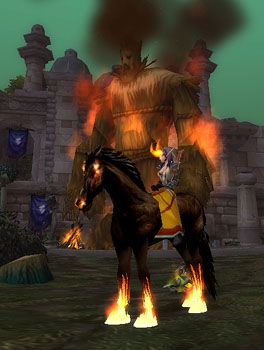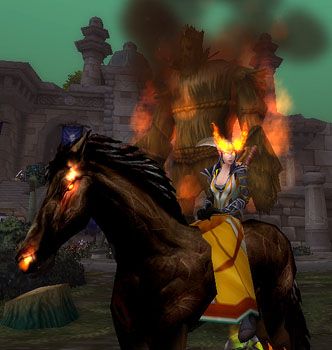 Jewel of the Firelord, Silver-Thread shoulders gloves & boots, Chan's Imperial Robes, Durable Belt, Staff of the Left-Hand Path, Stylish Black Shirt
When I saw this robe on the AH for a real steal of a price, I snapped it up and stashed it away for when my Warlock would be able to wear it.
A Mantle of Closed Doors would be the perfect finishing touch for this outfit at higher levels.
Adjudicator of the Left-Hand Path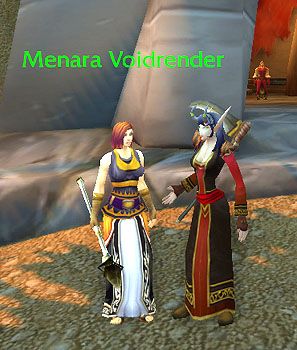 Horns of the Left-Hand Path, Geomancer's Spaulders, High Robe of the Adjudicator*, Apothecary's Waistband, Heavy Linen Gloves, Walking Boots, Staff of the Left-Hand Path
Besides being the dress of the Stormpike Emissaries and the Bloodmages, this robe is also a classic vanilla Warlock look. At level 30, Warlocks went to Ratchet to learn how to summon their Felpuppies. There, they also met Menara Voidrender, who started them on a Warlock-only quest chain that ultimately awarded the short-sleeved Enchanted Gold Bloodrobe. Across the sea in Silverpine Forest, there was a non-class-specific (Horde) quest chain that awarded a nearly identical robe, the long-sleeved High Robe of the Adjudicator. The Silverpine chain was easily soloable by the mid-twenties, making the High Robe of the Adjudicator available to my wee Warlock earlier and easier than the Enchanted Gold Bloodrobe. So I made sure to get the High Robe of the Adjudicator for her, just in case. And indeed, she never quite got around to starting the class-specific quest chain before Cataclysm came along and wiped away both quest chains. Then I was really glad that I'd done the general one in Silverpine!
Blissful Bride/Silver Angel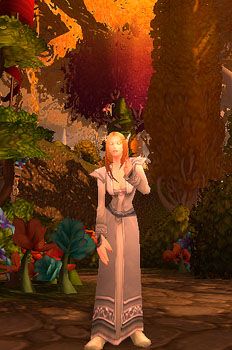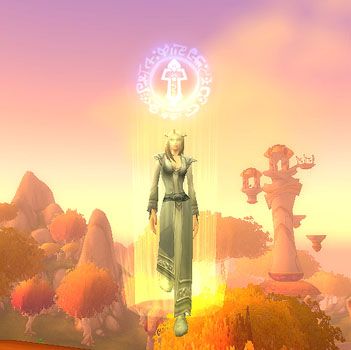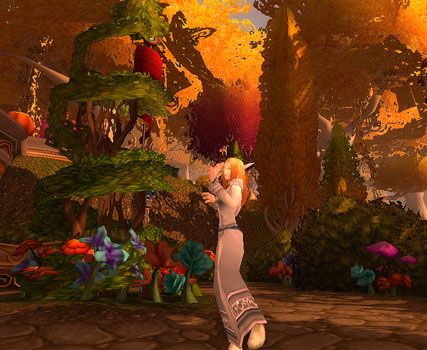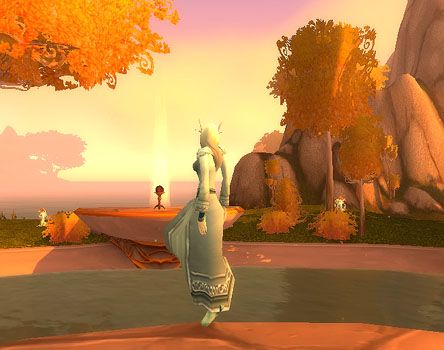 Aurora shoulders & robe, Defiler's Cloth Girdle, Blubber-Stained Grips, Sage's Boots
I heartily dislike PvP and avoid it as much as possible, but occasionally something tempts me enough to endure it. The Dryad's Wrist Bindings (55 HP), which I have used in several outfits, and this belt (45 HP) can be obtained by participating in just a few Arathi Basin battles, and they are definitely worth the trouble!
Poor Little 'Lock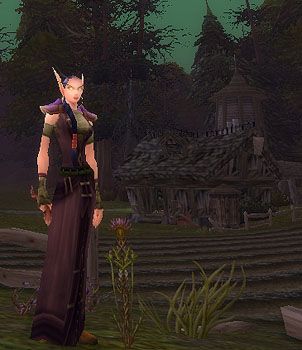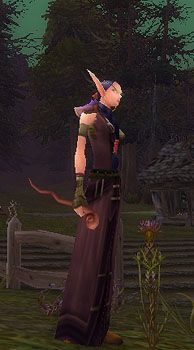 Mantle of the Panther, Thistlefur Robe, Grassland Sash*, Shivery Handwraps*, Walking Boots, Darkwood Staff, Neophyte's Shirt
Just when Kalaneia was beginning to get excessively bored of being a walking advertisement for the Darkmoon Faire, Batinna's Dress Up challenge began. Kalaneia's Thistlefur Robe was a nice fit for the first theme, "poor". The other items in this outfit were in her inventory already, except for the shirt, which was in my guild bank, and the staff, which required completing two quick and easy quests in Tirisfal Glades. Then Kaelinda had to send her a bit of gold for the Transmogrification and Barbershop fees, as Kalaneia was too poor to afford them by herself.
Darkmoon Faire Mystic Mage


Watcher's Cap & shoulders, Disciple's robe, Shimmering Sash, Greenweave Gloves, Hu'rala's Slippers, Cloak of the Darkmoon Faire, Lavender Mageweave Shirt
I like the green gloves and purple boots, but if you want to look more like the NPC, use brown boots and look for the hands-less Soulcloth or Exiled Dabbler's gloves. The NPC's belt is not available to players.
Despite the much-vaunted rivalry between Mages and Warlocks, Kalaneia does not take (much) offense at the "Mage" name of this outfit. She's confirmedly Destruction and can barely be bothered with demons, except as a gateway to greater fire-slinging power.
Classic Embersilk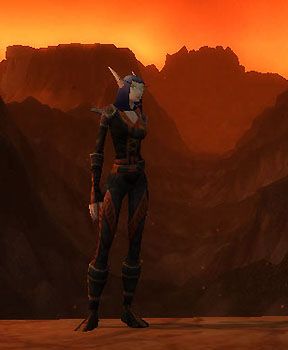 Embersilk set with Corpulent Shoulderpads and Dark Silk Shirt
This style of cloth armor comes in several color schemes, and I like them all.
Until the Geomancer's Spaulders show up on my AH, these shoulders are the best readily available option.
Tol Barad Administrator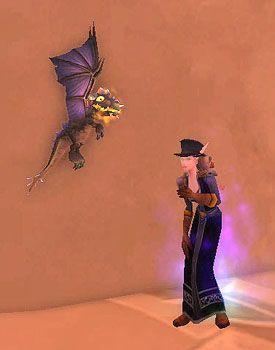 Lord Walden's Top Hat (not Transmogrification-friendly), Mantle of Haunting, Black Velvet Robes, Belt of the Hero, Skitterweb Glovelettes, Watched Watcher's Slippers, Staff of Earned Tranquility
Given the involvement of Dalaran and its mages with the high-security prison on Tol Barad, I don't think it's unreasonable to assume that some of the staff might have been high elves.
Bouganvilla



Talbar Mantle*/Watcher's Mantle, Embersilk Robe, Ivycloth Sash, Greenweave pants & gloves, Walking Boots, Green Linen Shirt
During October 2012, JD Kenada invited us to join him in observing Breast Cancer Awareness Month by putting together our best pink Transmogrification Template Kits.
I'd like to use the Vengeance Staff with this outfit, but it is very hard to find.
High-level characters can make a more spectacular version of this outfit with the Vestments of the Shifting Sands and Ruthless Gladiator's Cord.
Paranoia


Katoom's Mask, Ghostly Mantle*, Necropile Robe*, Clutch of Andros*, Silver-Thread gloves & boots, Staff of Metanoia*, Undercity Doublet
This is a much more Warlocky outfit than the previous one, but it's not quite perfect. The greenish flame at the top of the staff is deliciously fel, but I was rather dismayed when I looked at the staff up close and saw that it was all Priesty-colored with whites and golds and blues. The Soulkeeper, Staff of Hale Magefire, and Elemental Mage Staff all share the same model but with darker, more sinister colors; I should start watching the AH for one of them to pop up at a price I can afford.
The sleeved version of this robe, the Robes of Arugal, are still available from the level 20 version of Shadowfang Keep. The Shadow Council Mantle matches these robes quite nicely.
Phoenix Rising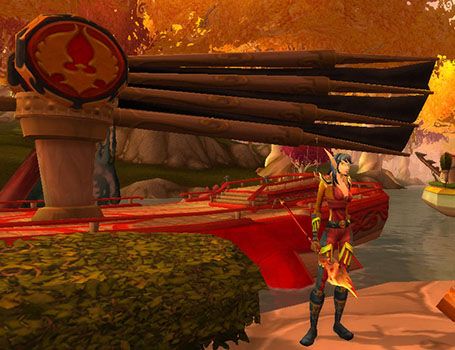 Exquisite Sunderseer Mantle, Red Mageweave Vest, Durable Belt, Phoenix Pants, Phoenix Gloves, Junglestrider Sandals, Golden Filigreed Doublet, Staff of the Sun
This outfit was built around the tailored Phoenix Pants and Gloves. The shoulders aren't ideal, but they were the best that were readily obtainable for her level. The Consortium Mantle and the Mantle of the Elven Kings from Tempest Keep are my prime choices for shoulders to complement the rest of the ensemble.
Dark Lady's Favor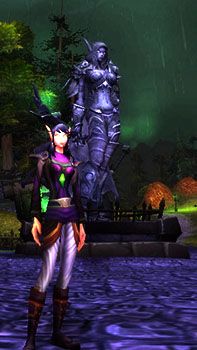 Shoulderwraps of the Enthralled, Andorhal Tunic, Dithering Belt, Ravensun Britches, Gandling's Gloves, Hu'rala's Slippers
This set is primarily obtained from the Andorhal questline. Visually, the belt and gloves actually belong with a different set. At some point, I'd like to revisit this outfit and spruce it up a little with a better belt & gloves and maybe some different pants, too.
Equestrienne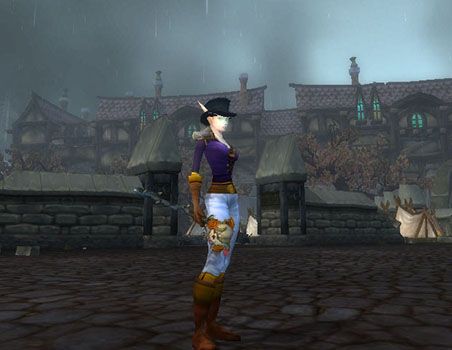 Lord Walden's Top Hat, Mantle of Haunting, Cat Lover's Vest, Laborer's Belt, Rygna-Silk Leggings, Skitterweb Glovelettes, Watched Watcher's Slippers, Staff of Earned Tranquility
Kandrista began her existence as a Worgen just for this hat and staff. Although the Top Hat is not Transmogrification-friendly, I intend to have her wear it throughout her leveling journey.