A collection of Transmogrification Kits actually worn in-game by my Tauren Balance/Resto Druid and my Tauren Feral Druid. I will update it whenever I change my in-game outfit. Items that are no longer obtainable are marked with an asterisk (*).
Tainted Forest


Mushan Hide Helm, Mantle of the Eternal Sentinel, Robes of Treacherous Ground (LFR), Firescar Sash, Gilt-Edged Leather Gauntlets, Druidic Channeler's Mace, Telestra's Journal
A "Dark Druid" outfit that would probably look better on a Worgen than on any of the other Druidic races.
The T12 Obsidian Arborweave set was not at all to my taste, but I thought the belt looked kind of cool, so I hung onto it for possible use in some other sort of "Dark Druid" kit. I'm glad I did, because it works perfectly with the T15-LFR robe.
The T15 shoulders, however, are entirely too creepy for me. If that nest on the right shoulder housed a mouse or a weasel or a little bitty owl or a crow or even a snake, I'd be okay with it, but a spider?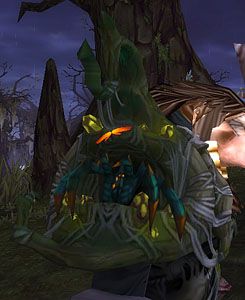 *shudder*
Sun, Moon, and Stars II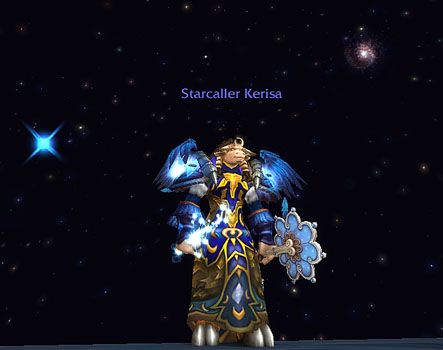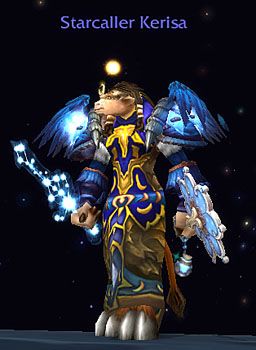 Valorous Nightsong Cover, Hide of Chromaggus, Starry Robes of the Crescent, Belt of Never-Ending Agony, Stormrider's Gloves (T11 Normal), Starshard Edge, Shomi's Fan
An iteration of a previous outfit, now that I've finally got the helm and shoulders I wanted to use, but didn't yet have, when I made the first version.
Rain Poppy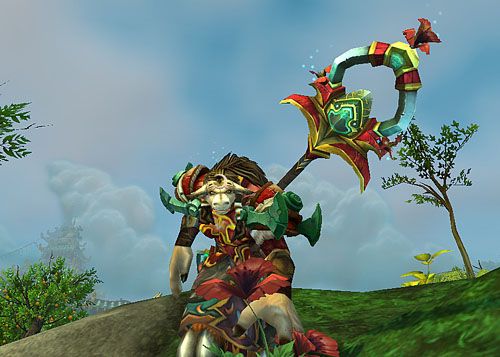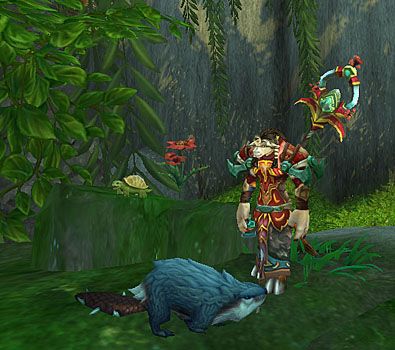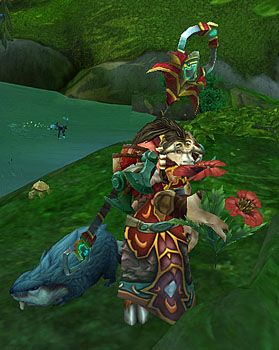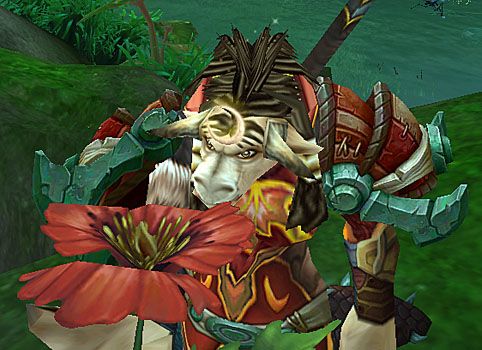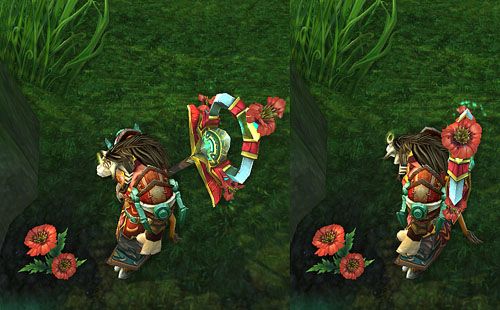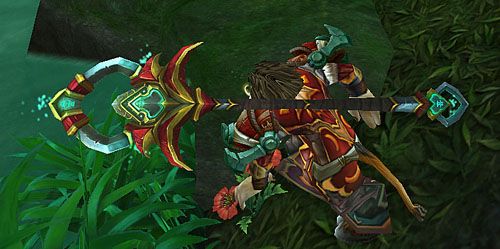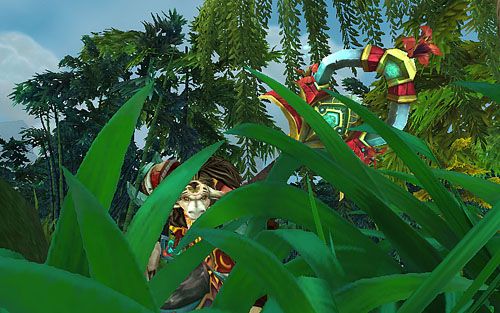 Valorous Nightsong Cover, Contender's Leather shoulders & belt, Robes of Summer Flame, Marshseeker Gloves, Rain Poppy Staff
I borrowed this lovely kit from Erinys' Worgen Druid, Mentzelia, who I hope will indeed succeed in getting to level 90 and wearing this outfit herself before Warlords launches.
Horde Guard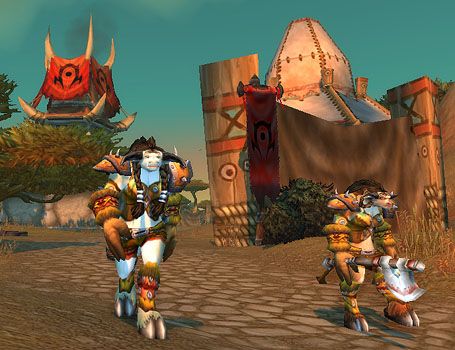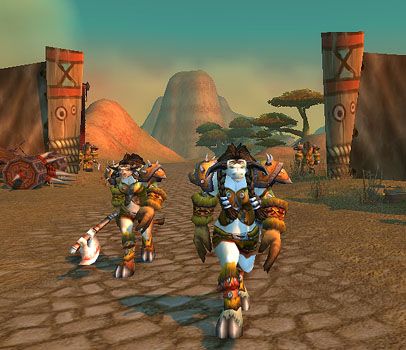 Sentinel set with Chieftain's shoulders
This outfit is worn by Horde Guards throughout the Northern Barrens. Swapping out the ochre Chieftain's shoulders for the red Cutthroat shoulders changes this outfit to match the Orgrimmar guards.
Although the Grinning Axe is the closest match to the NPC weapon, no leather-wearing classes can use 2H axes. Rogues might want to dual-wield simple 1H axes, Druids might want to use the Icier Barbed Spear, and Monks could do either.
Evergreen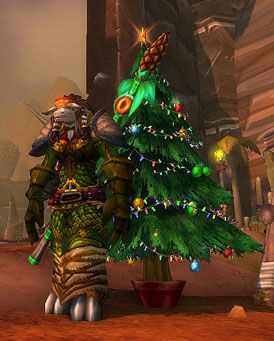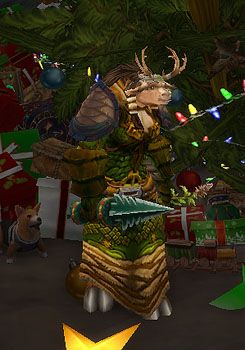 Preened Tribal War Feathers/Cenarion Helm, Darkbrand shoulders, Ymirjar Physician's Robe, Feral Cord/Sentinel Girdle, Bark-Gloves of Ancient Wisdom, Conifer Cone Staff/Miniature Winter Veil Tree + Blossom of the Earthen Ring
I love the pinecone-like look of these Cataclysm-era leather shoulders — they are just perfect for a Druid!
Shado-Pan Wildshaper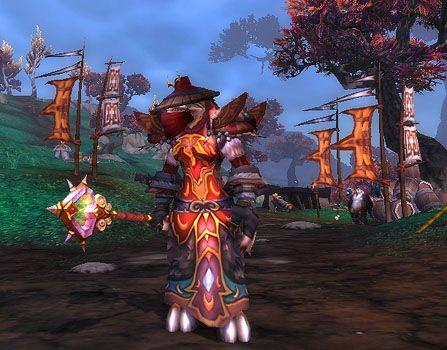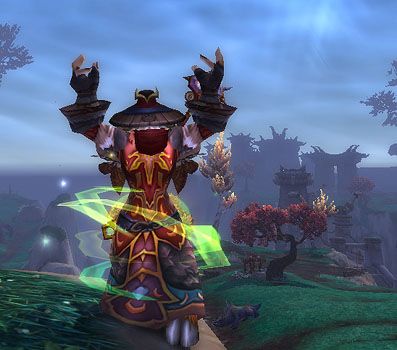 Replica Shado-Pan Helmet, Thunderheart Shoulder Pads/Darkbrand shoulders, Robes of Summer Flame, Vicious Leather Belt, Gilt-Edged Leather Gauntlets, Tian Monastic Staff
I decided pretty much immediately that I wanted to use this robe for my Druid's Shado-Pan kit. Figuring out all the rest of the pieces, though, took quite a bit of iteration.
I don't remember if I was offered the +Agi staff as a reward option from that Tian Monastery quest or if I had to switch my loot spec to see it. Whatever happened, I thought that the +Agi staff would have better Transmogrification potential with the rest of my Druid's wardrobe than any of the +Int options — and I'd surely get a better weapon from some other quest later. So I took it, and now I am quite glad that I did.
Starshard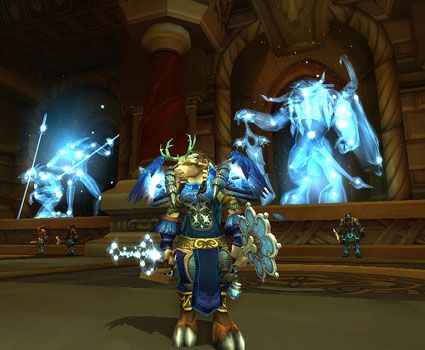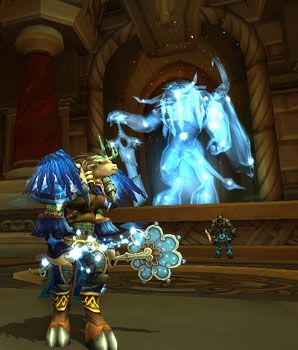 Crown of the Forest Lord, Hide of Chromaggus, Starsight Tunic, Thatch Eave Vines, Gylphed leggings, Stormrider's Gloves, Moonstrider Boots, Starshard Edge, Shomi's Fan, August Celestials Tabard
For a character I logged onto at least semi-regularly, Kerisa wore this outfit for an exceptionally long time. I created it when she was fortunate enough to win the dagger during Cymre's Val'anyr completion runs — and I didn't want to let her change her Transmogrification kit until I'd made the fashion post about it.
Bluebird of Happiness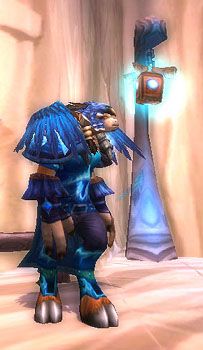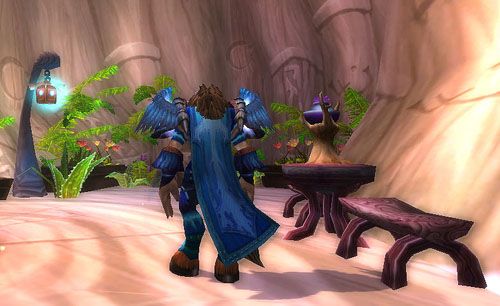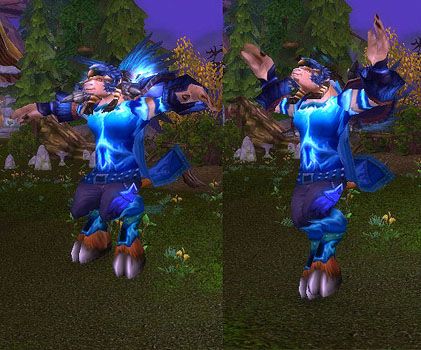 Raven-Heart Headdress, Hide of Chromaggus, Polar Vest & Boots, Clefthoof belt, Stormrider's leggings & gloves (N), Cloak of Cheerful Flowers
Kerisa longed for the Druid T11 shoulders from the first moment she saw them in early Cataclysm. I was too slow in getting her leveled and geared to raid, however, and she only saw the T11 shoulder token drop once before Firelands debuted. At that time, she passed on the token in deference to the Resto Druid leader of my guild's alt run, saying that the raid leader deserved it more. Later, I selfishly wished I'd rolled on it normally. During Cataclysm, the BoE lookalike shoulders occasionally showed up on the AH, but I never felt like I could afford them. After Mists began, it was several months before I saw the BoE shoulders on the AH again — at which point I snapped them up just as fast as I could. Now, Kerisa is jumping for joy to finally, finally have these gorgeous shoulders.
Bluffwatcher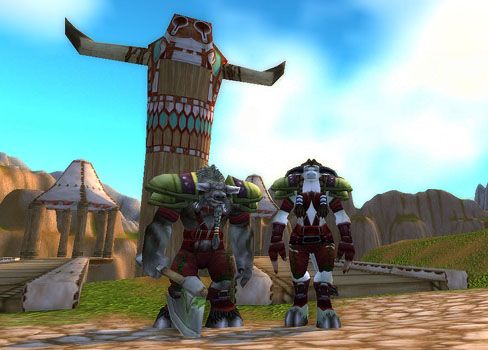 Feral set with Ranger Shoulders and Scaled Leather Bracers
The outfit of the Thunder Bluff guards is one of the easiest to replicate. The NPC belt is unavailable, and the Wolf Rider belt is a bit closer style match than the Feral belt. No leather-wearing classes can use 2H axes; Rogues might want to dual-wield simple 1H axes, Druids might want to use the Icier Barbed Spear, and Monks could do either.
Mistspray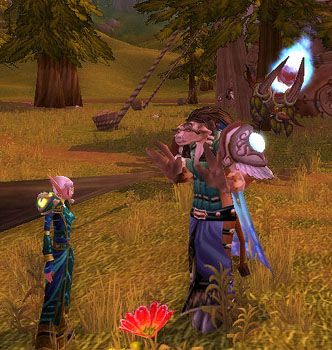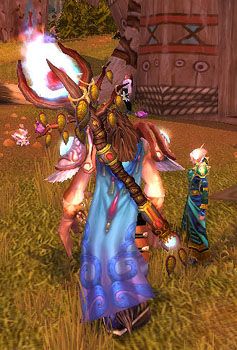 Pauldrons of Malorne (T4), Jinxed Hoodoo Skin, Imposing Belt, Mistspray Kilt*, Cenarion Gloves (T1), Misthide Drape, Rapture
The Spring Gatherer says, "I'm not certain what form of magic was used in the creation of the eggs, and the druids aren't keen on explaining it to me."
This unique two-toned look is created using a kilt that vanished in the Shattering. If you don't have one, use the Jinxed Hoodoo Kilt that matches the tunic.
I chose these gloves because they match Kerisa's tan fur color so well that she almost looks like she's not wearing gloves at all. Another character might want different gloves.
Woodland Blossom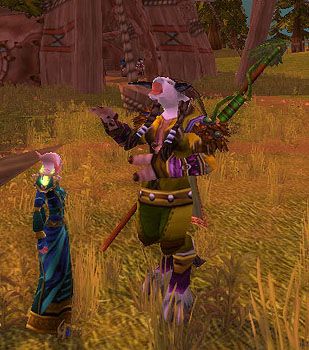 Preened Ironfeather Shoulders, Dervish chestpiece & leggings, Headhunter's belt gloves & boots, Willow Cape, Bright Yellow Shirt
The pale pink stripe down the center of the shirtfront is the perfect finishing touch for this spring outfit.
Sun, Moon, and Stars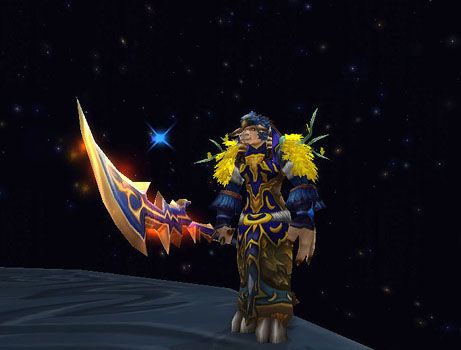 Raven-Heart Headdress, Mantle of Autumn, Starry Robes of the Crescent, Moonrage Girdle, Stormrider's Gloves (T11 Normal), Glaive of the Pit
One of the most exciting things about Patch 5.2 was the expansion of Transmogrification to allow all weapons that use the same animations to be cross-Transmogrified. I've long thought that the Glaive of the Pit coordinates with the Starry Robes of the Crescent very beautifully, but as a Balance Druid who will never legitimately equip a polearm because there are no +Int polearms, I couldn't use this combination in a proper Transmogrification kit — until now!
If I can ever get them, I'd love to use the Stormrider's/Passive Resistor Spaulders in this set.
Forest Dweller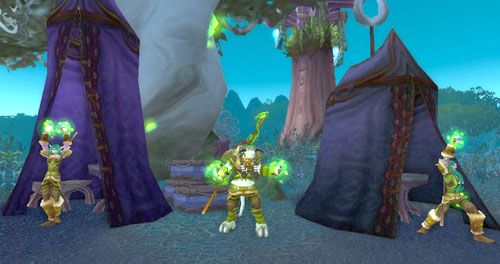 Tracker's Headband, Forest Leather Mantle, Archer's Jerkin & Trousers, Deviate Scale Belt, Dervish gloves & boots
A set with a name like "Archer's" seems like it ought to be ideal for a Hunter. Alas, this set is leather, and even among NPCs, it is more frequently seen on Druids. These NPC Druids, found on Shalandis Isle in the Ghostlands, are wearing the Archer's core items with furry Bristlebark accessories.
The pattern for the Deviate Scale Belt is no longer obtainable in the game, but you can still have one made if you can find a Leatherworker who already has the pattern — or you could just watch the AH for the Archer's set belt, which is identical.
Heart's Blood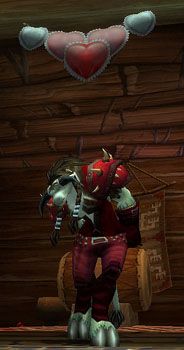 Cutthroat's Mantle, Wolf Rider's Padded Armor, Bard's belt pants gloves & boots
On another character, I might use a Pink Mageweave Shirt with this set, but with her pure white fur, I didn't think Kaiuna needed it.
Nordrassil Nymph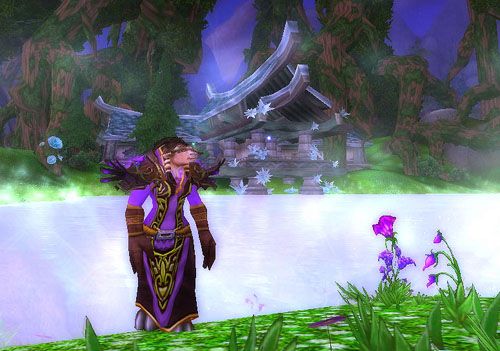 Nordrassil Wrath-Mantle, Big Voodoo Robe, Sentinel Girdle, Runic Leather Gauntlets, Lavender Mageweave Shirt
Although only the shoulders are identical, this combination was definitely inspired by how adorable Zazzy's druid looks in her outfit that uses the T6 shoulders with the Conqueror's Nightsong (T8-25s) chestpiece.
Snowball Stalker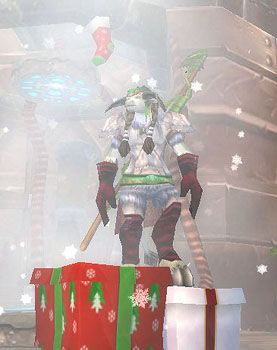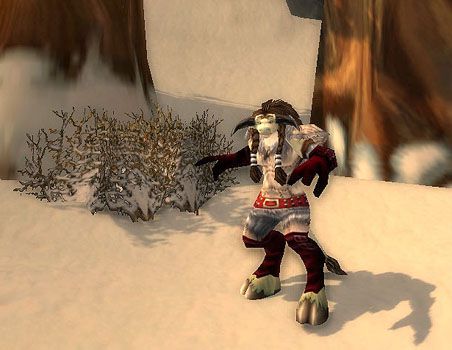 Tracker's Headband/helm not shown, Ghostwalker shoulders chest & pants, Moss Cinch (green)/Bard's belt (red), Bard's gloves & boots
This idea is mostly borrowed from WoW:Fashion; I added a hat and had to find a different belt because Kaiuna is a Kitty!Druid, not a Monk. I used the green hat & belt during Winter Veil. The Adventurer's Bandana would be the perfect headpiece for the all-red version of the set; perhaps by the time Kaiuna is leveled up enough to wear it, it will have shown up on my AH.
Misthide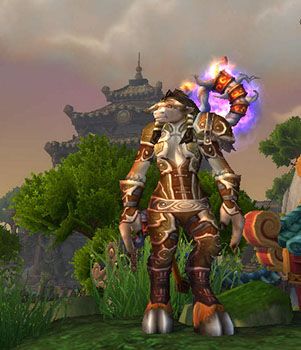 Misthide set, Funeral Pyre
This crafted set, which can be worn by level 85 characters just starting out in Pandaria, is identical to many other dropped or purchasable items.
Darkmoon Acrobat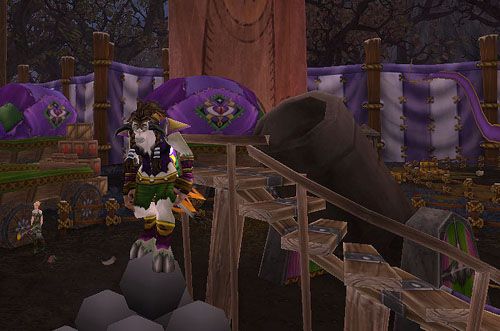 Headhunter's shoulders belt gloves & boots, Darkmoon Vest, Gypsy leggings,Cloak of the Darkmoon Faire
I tried adding the Bright Yellow Shirt to this set, then decided that it didn't really need it. The sleeveless Bold Yellow Shirt might look good, though.
Draenish Windscales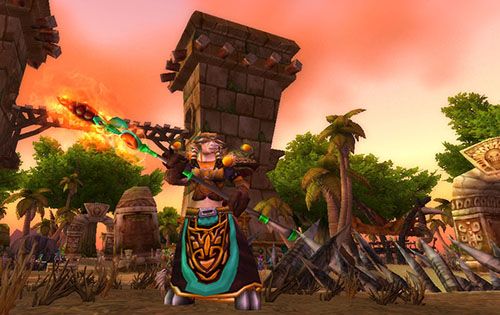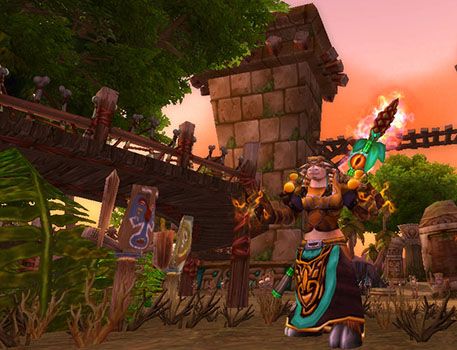 Chieftain's Headdress, Shoulderpads of Dormant Energies, Wild Draenish Vest, Sentinel belt, Windscale Sarong, Runic Leather Gauntlets, Golden Filigreed Doublet, Conifer Cone Staff
This outfit is a little bit different from how I originally imagined it. In the interest of conserving inventory space, I used the Runic Leather Gauntlets because I already had them, and I decided not to get the cloak because I didn't have any other potential outfits already in Kerisa's inventory that it would go with.
Phaelia's Vestments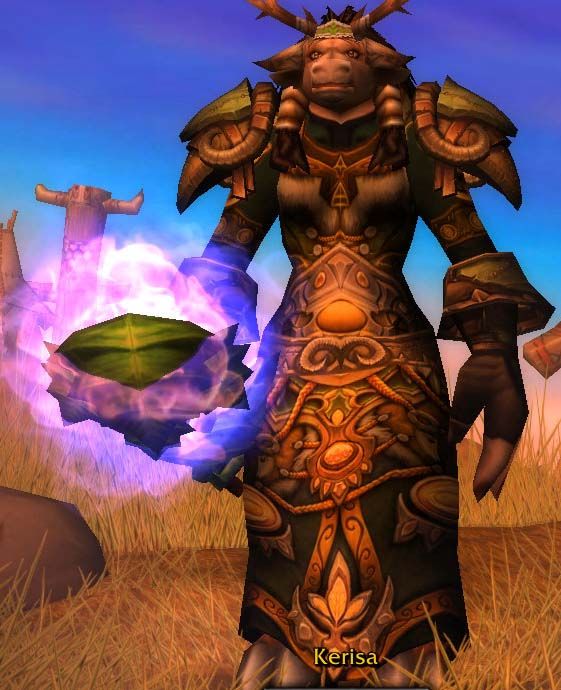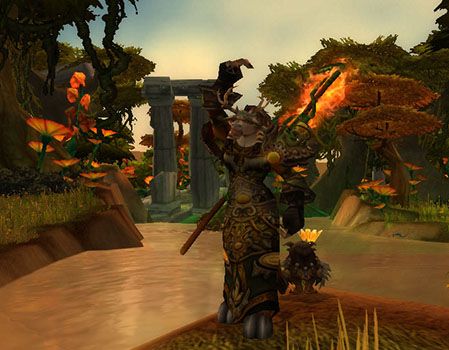 Headdress of the Verdant Circle, Somber Shawl/Shoulderpads of Dormant Energies, Phaelia's Vestments of the Sprouting Seed, Thatch Eave Vines, Aessina-Blessed Gloves, Green Workman's Shirt/Golden Filigreed Doublet, Staff of the Verdant Circle
When I originally made this outfit, I was using the Somber Shawl merely as a placeholder until Baron Geddon coughed up the Cenarion Spaulders for me. After I finally got the Cenarion shoulders, however, I discovered that Phaelia's Vestments looked better to me with the muted greens and browns of the Somber Shawl than with the brighter greens and browns of the T1 shoulders.
Ninja II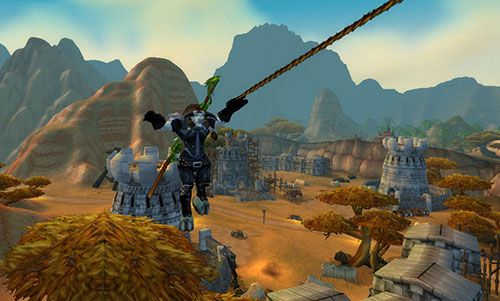 Ghostwalker Pads, Dusky Leather Armor, Scouting Trousers, Bandit belt gloves & boots
I spent several quite amusing minutes just rappellingjumping up and down the mountain to get this screenshot.
See version I on the Rogue page.