A collection of Transmogrification Template Kits actually worn in-game by my Tauren Resto/Elemental Shaman and my Tauren Resto/Enhancement Shaman. I will update it whenever I change my in-game TTK. Items that are no longer obtainable are marked with an asterisk (*).
Loregeek


Steamworker's Goggles, Replica Pauldrons of Elements, Nexus-Strider chestpiece leggings & gloves, Imbued Infantry Belt, Tsunami Boots, Knight's War Hammer, Dungeoneering Guide, Loremaster's Colors
The base elements of this outfit are meant to suggest the stereotypical college history professor in tweed jacket or navy blazer, jeans, and loafers. Part of being a loregeek is enthusiasm for the lore of one's favorite class, thus the iconic Shaman shoulders. Xarantaur's Lorehammer is identical to the 2H Commanding Mallet; the Knight's War Hammer is a sufficiently similar 1H mace. Finally, the style, colors, and name of the Dungeoneering Guide recall the design of the source manuals for that famously geeky pasttime, Dungeons & Dragons.
Zandalari Witch Doctor


Crown of Flame, Witch Doctor shoulders chestpiece & gloves, Stormleather Sash, Molten Earth Kilt, Amun-Thoth, Sul's Spiritrending Talons, Tortos' Discarded Shell
Wait, what is this thing that dropped for me in T15 LFR? A fist weapon with intellect on it? Nowai!
I pulled out the Stormleather Sash to coordinate with the orange sphere, and I'd been planning to use that belt and that kilt together in a set for ages. Then, I had a long streak of bad luck in Throne of Thunder LFR and didn't get my T15 shoulders until just barely before the Siege of Orgrimmar began. I'm not really all that keen on this tier set, though, so I don't think I'll be keeping it.
Shado-Pan Spiritwalker


Replica Shado-Pan Helmet, Pauldrons of Wild Magic, Salvager's Hauberk, Bloodspattered Sash, Heroes' Earthshatter Kilt (T7-10s), Seer's Linked Gauntlets, Suen-Wo, Spire of the Falling Sun
Umlaut Paradots' mail contribution to These Boots Were Made For Mogging reminded me of the Salvager's Hauberk. As I thought about what kind of set I might like to make using this chestpiece, it occurred to me that the stripe detail, especially in the back, is somewhat similar to the stripe detail on the Shado-Pan NPC uniforms. Kamalia already had plenty of dark blue in her wardrobe, but she did not have much red in her wardrobe before I created this outfit for her!
Glimmering Sunreaver Firecaller


Helm of Affinity, Glimmering Mail shoulders chestpiece belt & boots, Bloodmail Legguards*, Gauntlets of Divinity*, Firescribe Dagger, Bloodforged Guard, Scarlet Filigreed Shirt, Sunreaver tabard
I always intended to do a Sunreaver counterpart to my Silver Covenant sets, using the black and red "Blood Knight" version of the phoenix-crest shield. When Kamaleia reached level 90, I determined that it would be less painful for her to get the Sunreaver tabard by returning to the Argent Tournament than by conquering the Isle of Thunder — so back to Icecrown she went. She remained at the Tournament for some time after achieving exalted reputation with the Sunreavers 1.0 collecting Champion's Seals to get the Sunreaver mounts. Although I hadn't bothered to do that with any previous characters, it recently occurred to me that this would be the quickest way to acquire the Silver Covenant versions of the mounts for my Alliance characters, via the magic of account-wide conversions.
Battleforged Sunreaver Firecaller


Helm of Affinity, Magnificent shoulders, Battleforge chestpiece belt gloves & boots, Bloodmail Legguards*, Wodin's Mantid Shanker, Scarlet Filigreed Shirt, Sunreaver tabard
Although I am quite aware that Enhancement Shamans prefer slow axes and maces to fast daggers, the mantid-styled dagger coordinates so wonderfully with the Sunreaver tabard that I couldn't pass up the idea. Besides, weapon speed doesn't really matter when a level 90 Stormstrike one-shots just about everything in Icecrown.
Ow Mon, Me Eyes!


Crown of Flame (Normal), Skom Spaulders, Formidable chestpiece, Stormleather Sash, Felstone Leggings, Sundered gauntlets & boots, Amun-Thoth, Sul's Spiritrending Talons (LFR), Eye of the Ancient Spirit (LFR)
This kit went through a few iterations before reaching its present eye-dazzling perfection. The first used the shield with Carapace Breaker in an outfit featuring just cyan and magenta tones. The second used the fist weapon with the Enamelled Disc of Mojo/Loa-Binder Disc and just cyan and orange tones. Presently, I thought to pair the Throne of Thunder fist weapon with the Mogu'shan Vaults shield and voila! The cyan, magenta, and orange are quite the blinding combination!
Stormbreaker of the Silver Covenant (or the Blue Flight)


Skyshatter Shoulderpads (T6), Stormbreaker Chestguard, Tol'Vir Hereditary Girdle, Infection Resistant Legguards, Replica Gauntlets of Elements, Carapace Breaker, Spellbreaker's Buckler, Common Gray Shirt
When mini-Kam dinged 90, it occurred to me that this crafted T14(N)-lookalike chestpiece would go very nicely with the T6-recolor kilt she already owned. The rest of the outfit fell together very quickly once I decided to make it another take on the "Silver Covenant Shaman" concept.
I debated for awhile between the Thunder Bluff Doublet and the grey shirt. From the front, I wasn't sure which I liked better. When I looked at the outfit from the back, however, the grey shirt was the clear winner because it made the chestpiece so similar to the kilt.
Lightning Orbs


Steamworker's Goggles, Cyclone Shoulderpads (T4), Icy Scale Chestguard, Renegade Belt, Heroes' Earthshatter Kilt (T7-10s), Spiritwalker's Handwraps (T13), Guiding Star/Torall, Rod of the Shattered Throne, Orb of Arcing Lightning
I love the little wings animation on this off-hand item — Look, Ma, I caught the Golden Snitch!
I couldn't resist pairing it with Thorim's baby rattle at first; then I got the more closely matching mace from Lei Shen.
Winddrift


Ornate Pauldrons, Mindsliced Chestguard, Naturalist's Preserving Cinch, Arness's Scaled Leggings, Lord's gloves & boots, Don Carlos' Drifting Shield, Common Grey Shirt
I leveled mini-Kam from 85 to 86 on cooking & fishing dailies, then kitted her out with Mists greens from the AH to get into Mists LFD. When I reached level 87, I wondered why I was still getting only Temple of the Jade Serpent and Stormstout Brewery, even though Shado-Pan Monastery and Mogu'shan Palace were supposedly now available. I discovered that her average ilevel was too low. Hoping to remedy this, I looked for reasonably priced Mists blues. I found these pants for 500 gold, which I thought was a pretty decent price, considering that the next-lowest-priced copy of them was about 1K. So I bought them. I'd been thinking it was time to change mini-Kam's transmogrification kit anyway.
I like the complimentary colors of the blues in the chestpiece and belt with the coppery tones of the shield and the side panels of the pants. I also tried the Tol'Vir Hereditary Girdle, which matches the chestpiece, but I liked how the blue in this belt aligns with the color in the pants better.
Healing Rain


Sanctified Frost Witch's Spaulders & Tunic (T10), Nerubian Belt, Earthmover Kilt, Stormscale Gloves, Used Bar Rag, Spiritsage's Shield
I like the muted colors of this kilt, but I wasn't so fond of the rest of the set. Fortunately, the soft blue-grey shades of the Shaman T10 items coordinate nicely. The cloak brightens the outfit with a splash of more vibrant versions of the same colors.
I've been wanting to fit this shield into a Transmogrification kit. Although the brass-toned trim and rust-colored inside face of the shield contrast with the rest of the outfit, the other colors of the outer face design match well enough.
Dressed to Kill II


Stylin' Adventure Hat, Ornate Pauldrons, Double Link Tunic, Ebonhold Belt, Bloodmail Legguards*, Lord's gloves & boots, Cloak of the Darkcaster
This outfit takes its name from the stylish apparel provided by Blingtron 4000. See version I on the Hunter page.
Furious Elements


Pauldrons of the Furious Elements, Hauberk of the Furious Elements, Frostscale Belt, Natural Life Leggings, Grips of Nature's Wrath, Spell Axe of the Speaker, Zulian Ward
Patch 5.2 heralded the opening of a new Troll raid — what a perfect opportunity for Kamalia to don her set of the level 70 badge gear introduced with the Gods of Zul'Aman!
Five Thunders


Replica Five Thunders set with Spell Axe of the Speaker and Zulian Swirling Shield
What more appropriately named garb could a Shaman possibly wear to take on Lei Shen and the desperate Zandalari?
Centaur Stalker


Warmonger's Pauldrons, Rough Bronze Cuirass, Replica Cord of Five Thunders, Battle Scarred Leggings, Fortified Gauntlets, Talhide Lined-Boots, Spell Axe of the Speaker, Big Black Mace, Thunder Bluff Doublet
I'd enjoyed playing my low-level Orc Shaman as Enhancement, so I decided to change mini-Kam's questing offspec to Enhancement. This outfit combines ideas from the Element-Tamer outfit I designed for Mog Madness and the Mog Busting outfits I designed for Cymre's Orc Huntress, Tallys.
Dawnrise


Brigade pauldrons gloves & boots, Engraved chestpiece & girdle, Triumphant Legplates, Lightning Dagger/Ancient Scepter of Sue-Min, Shield of the Wayward Footman, Jeweled Fishing Pole
Love is in the Air seemed like an appropriate time to debut this pink-toned outfit designed to coordinate with the Ashes of Al'ar and partially inspired by Euphyley's beautiful Sunset Mail set (the cloth, leather, and plate designs in the rest of the series are gorgeous, too!).
A Pink Mageweave Shirt finally showed up on my AH on the very last day of Love is in the Air. That day, there was also an Ancient Scepter of Sue-Min for the absolute steal of a price of ~1.2K gold.
Vestments of the Firebird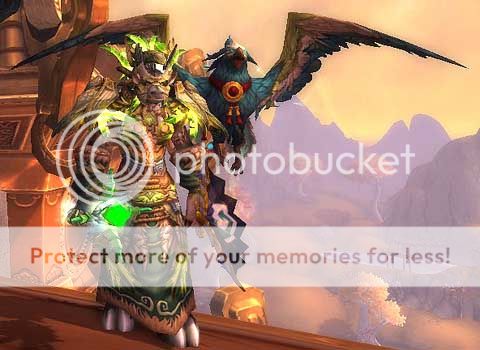 Vestments of the Firebird (T14) (LFR), Thunder Bluff Doublet, Kri'tak, Imperial Scepter of the Swarm, Fan of Firey Winds
The blue regular mode and orange heroic mode versions of the Shaman T14 gear are very pretty, but Kamalia is content with the green LFR version.
Earthshattering Nexus-Strider


Grunt's Pauldrons, Nexus-Strider breastplate & gloves, Renegade Belt, Heroes' Earthshatter Kilt (T7), Carapace Breaker, Zom's Crackling Bulwark, August Celestials Tabard
Recently, WoW Insider's "Around Azeroth" screenshot column published a picture that was cute, though not particularly amusing, but something about it caught my eye and made me come back for a second look. What captured my attention was Elixr of Mal'Ganis's wonderful Transmogrification kit. Even better, I quickly realized that I already had most of the key items to replicate the look in my inventory! Naturally, therefore, I had to do it….
When I reached Exalted with the August Celestials a few weeks later, I was delighted with how well that faction's tabard coordinated with what I was already wearing.
Kamalia of the Earthen Ring


Headcover of the Speaker, Mystical Pauldrons of Elements, Skyshatter Chestguard (T6)/Nexus-Strider Breastplate + Frozen Forest Kilt, Renegade Belt, Spiritwalker's Handwraps (T13), Tabard of the Earthen Ring, Carapace Breaker, Zom's Crackling Bulwark
While I was working on my FFW gift for Dahakha, I concluded that it was high time that I had an official "of the Earthen Ring" Transmogrification kit for Kamalia. The shaman of the Earthen Ring who appear at the Temple of Earth in Deepholm and in various other Cataclysm sites wear a variety of outfits, some Tier or PvP sets and some mix-and-match, so I think this ensemble would fit right in.
Green Iron Mail


Green Iron set with Captain's Waistguard, Emerald Shield
This classy crafted set is most famous as the costume of Oxhorn's best buddy Staghorn.
Scarlet, Green, and Gold


Magnificent shoulders, Green Iron Hauberk & Leggings, Scarlet Belt*, Gauntlets of Divinity*, Glimmering Mail boots, Lightning Dagger, Aegis of the Scarlet Commander*/Bloodforged Shield
A Winter Veil outfit.
The Voidscale Belt is a good alternative to the Scarlet Belt, and the Glimmering Mail gloves are a good alternative to the Gauntlets of Divinity.
This set would also look great with the Scout's Tabard.
Competitor's Legacy


Princess Poobah's Tiara, Crusader's Pauldrons, Lambent Scale (gold) or Steadfast (purple) chestpiece & leggings, Myrmidon's belt, Marauder's gloves & boots, War Mace of Unrequited Love, Aldori Legacy Defender, Competitor's Tabard
This summer, I posted a set of outfits designed to coordinate with the Competitor's Tabard. This limited edition item was only available during the 2008 Summer Olympics and was obtained by participating in a battleground, any battleground, win or lose.
After watching the AH for several weeks, I was able to create the outfit more or less as I'd imagined it, though I did decide that the Marauder's gloves & boots worked better than the ones I'd originally chosen.
Because the purple tones of the Steadfast chestpiece and pants coordinate nicely with the shield I wanted to use, I kept watching the AH a little longer. The purple version of the set is what I actually used in-game.
The Burnished, Lambent Scale/Glimmering, Embossed Plate, High Chief's, Templar, or "of the Protectorate" shields, or perhaps even the Drillborer Disk or Force Reactive Disk, would all work nicely with the all-gold version of the set.
Swirling Elements


Replica/Mystical Elements set with Zulian Swirling Shield
Somehow, this set just seems to want a Trollish sort of shield. Luckily, I found a Zulian Swirling Shield on the AH for relatively cheap shortly before Patch 5.0.
Jade Witch & Patinaed Serpent


Left: Jade Witch set with Huangtze Scale Helm
Right: Contender's Scale set
I liked this set of quest rewards from the very first zone of Pandaria so much that I Transmogrified it over the higher level quest rewards and kept wearing it until I'd collected all the pieces for the second set.
I got most of the second set by running dungeons and only had to craft the shoulders. The barrel rolling from the Greenstone Village scenario and Stormstout Brewery dungeons would be a great addition to the Brewfest activities!
I probably won't keep either of these sets in the long run, however. I simply haven't got enough bank space.
Dancing Queen


Brigade Pauldrons, Champion's Deathdealer Breastplate, Merciless Belt, Bloodmail Legguards*, Scarlet Gauntlets*, Netherstorm Greaves, Cloak of Azure Lights, Ebon Filigreed Doublet or Red Martial Shirt
During October 2012, JD Kenada invited us to join him in observing Breast Cancer Awareness Month by putting together our best pink Transmogrification Template Kits. Although I already thought of Kamaliya's Scarlet Wrath set as her "pink" set, I'd been wanting to do something with the near-matching shades of the magenta Champion's Deathdealer Breastplate and fuschia Netherstorm Greaves for some time. The Firemane Leggings are brilliant pink, and they were even available on my AH for a reasonable price… but I don't like the style of them much. I decided to accent the pink with black and pulled out my Bloodmail Legguards. Then I needed a black shirt. I like how well the Red Martial Shirt coordinates with the Merciless Belt and Scarlet Gauntlets, and its black sleeves match the Bloodmail Legguards very nicely. I think it looks a little silly with the Champion's Deathdealer Breastplate over the top, however, so I prefer the effect with the Ebon Filigreed Doublet even though the blacks don't match quite as well.
The Merciless gloves would be suitable alternates for the Scarlet Gauntlets, and the Merciless or Firemane Leggings would be good choices instead of the Bloodmail Legguards — though the overall effect wouldn't be the same, and the all-pink outfit wouldn't want a shirt.
Hurricane


Shoulders of Lightning Reflexes, Cyclone (T4) chest & gloves, Imbued Infantry Belt, Vagaries of Time (Normal), Timepiece of the Bronze Flight (Raid Finder)
I was on another character when the pattern for these shoulders dropped. Fortunately, the pattern itself isn't BoP! I was all set to fire up MogIt to create a new outfit to go with these shoulders, but after I saw how nicely they coordinated with the Cyclone set I was already wearing, I didn't bother.
Cyclone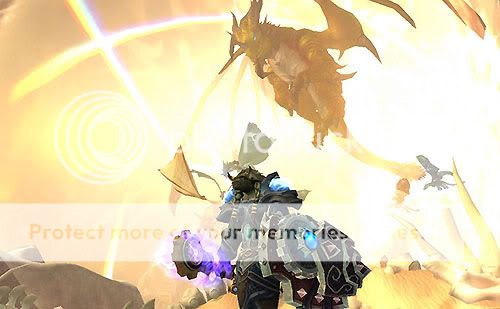 Cyclone (T4) shoulders chest & gloves, Imbued Infantry Belt, Vagaries of Time (Normal), Timepiece of the Bronze Flight (Raid Finder)
I have a great sentimental fondness for the Cyclone set because Karazhan was my first raiding experience. It helps that it's a fantastic looking set of gear, too!
Until I obtained the Timepiece, I used Zom's Crackling Bulwark with this set.
Volcano


Crown of Flame (Normal), Erupting Volcanic (T12) shoulders chest & gloves, Stormleather Sash, Incineratus, Pulsing Spellshield
I was wearing T12 at the time Transmogrification debuted, and I liked it so much that I continued to use it for my Resto set TTK for some time. Later, after I went back to the Cyclone gear for my Resto set, I decided to use T12 for my Elemental set — it somehow seems very appropriate for that spec!
Netherstrike


Bog Epaulets, Netherstrike Breastplate & Belt, Leggings of Beast Mastery, Talhide gloves & boots, Extinct Turtle Shell
I originally wanted to make this set for my Hunter, Ketura, but the Netherstrike items are BoP to the crafter, so I had to make it for Kamalia instead.
Scarlet Wrath


Helm of Affinity, Seaspeaker Mantle, Wrathfin chestpiece & pants, Brigade belt gloves & boots, Lightning Dagger, Aegis of the Scarlet Commander*, Sawbones Shirt*
The Shield of the Wayward Footman is perhaps an even better shield to use with this pink and silver set.
Stormcaller of the Silver Covenant or the Blue Flight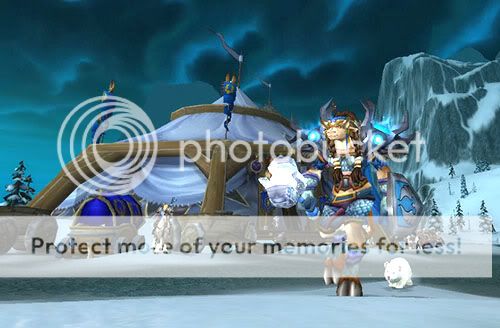 Skyshatter (T6) Shoulderpads, Blue Dragonscale chest & leggings, Doc's Belt, Sundered gloves & boots, Cloak of Cheerful Flowers, Devout Aurastone Hammer, Spellbreaker's Buckler
I made a more extensive writeup of this outfit previously.
The Shamadin


Glimmering Mail Pauldrons, Captain's chestpiece belt gloves & boots, Triumphant Legplates, Restorative Mace, Emerald Shield, Green Linen Shirt
Almost as soon as I saw the Emerald Shield, I thought what a great RP outfit it would make for a Paladin in combination with the Captain's mail set. Then Transmogrification came along, and I realized that if I wanted to execute the concept in PvE, I'd have to do it with a Shaman. Thus, I've always thought of this as my "Shamadin" outfit.
Before I use this set as a TTK again, I plan to replace the Triumphant Legplates with the Spare Part Leggings.