A collection of Transmogrification Kits actually worn in-game by my Tauren Frost/Blood Death Knight and by my pseudo-Ironman Tauren Death Knight. I will update it whenever I change my in-game outfit. Items that are no longer obtainable are marked with an asterisk (*).
Dark Runes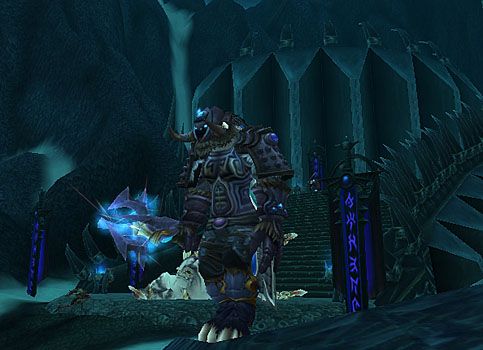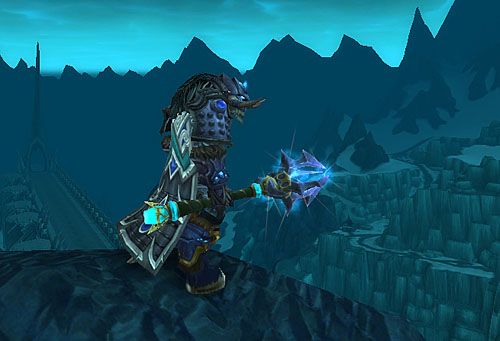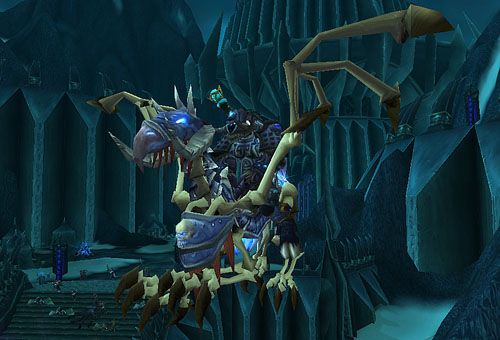 Greathelm of the Scourge Champion, Masterwork Spiritguard Shoulders, Darkrune Breastplate, Bogslayer Belt, Honorary Combat Engineer's Heavy Legplates, Bloodbane's Gauntlets of Command, Insubordination Boots*, Shroud of the North Wind, Hatred's Vise
I've long wanted to use this chestpiece for a Death Knight Transmogrification kit, so when I found the pattern on the AH for an shockingly low price, I snapped it up as quick as a wink!
These Mists crafted shoulders seemed entirely appropriate for a Death Knight — they're sort of like a bigger and better version of the Acherus Knight's Pauldrons that every Death Knight starts out with.
I'd found the Treads of Savage Beatings on the AH for a decent price, but when I tried them in this set, they were entirely too bright. After looking at various other boots and several weapons, I liked the coordination between this mace and these unique boots from the Patch 5.3 Battlefield:Barrens event best.
Embossed Symbols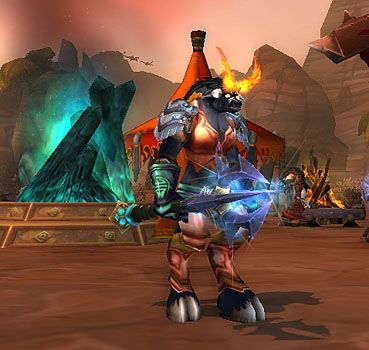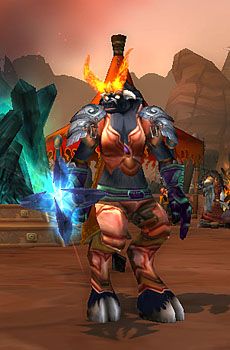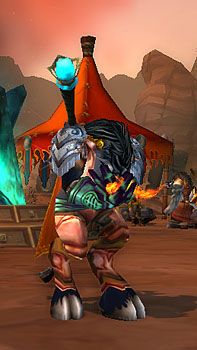 Jewel of the Firelord, Chilled Shoulderplates, Embossed Plate chestpiece leggings & boots, Symbolic belt & gloves, Illskar's Greatcloak, Hatred's Vise
Although Kregga has mostly resigned herself to being put into absurdly colored outfits during the holidays, if there was an animation for the /facepalm emote in the game, she would be using it.
Soak Up the Sun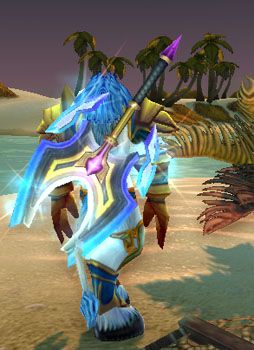 Salvaged Ango'rosh Pauldrons, Nether Protector's Chest, Stalwart Girdle, Lofty pants, Whiteknuckle Gauntlets, Bloodguard's Greaves, Glorious War-Axe
Although I've done a couple of platekini-type outfits before — my Paladin's "Brightly Colored Shell" set and my Warrior's "Silver Morning" set — I am not much interested in that genre of Transmogrification. Platekini is outside my usual standards of modesty, and my Tauren women definitely don't need to wear platekini to be beautiful. The first paragraph of Prinnie's "Thoughts" regarding her "Project Platekini" sums up my opinions on the matter pretty well, too. Still, I've seen enough outfits using the classic comic book superheroine metal bra look of the Glorious Breastplate that I wanted to try my hand at making a set with it myself. Kaumaleia volunteered to be the model because she loves all things blue and the blue version of this chestpiece style is readily available as an Outland quest reward. A quick search of Outland quest rewards in MogIt turned up some other items that combined to make a really quite pretty ensemble with the chestpiece, so off she merrily went to acquire them.
I'd thought perhaps to use this chestpiece with the Symbolic or Imbued Plate pants that she already had, but in searching the AH for other coordinating items (before I decided to use quest rewards), lo and behold there were the Lofty pants for only 25 gold — a deal that was way too good to pass up!
Blood Runes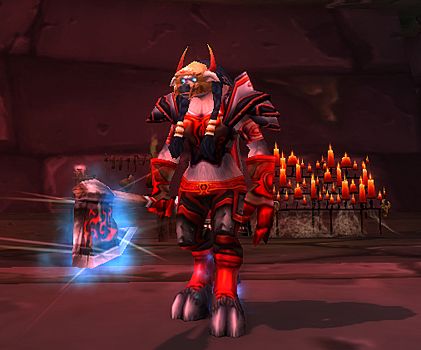 Khan'aish Helmet, Warmaul Epaulets, Boulderfist Armor, Thorium Belt, Legguards of the Shattered Hand, Zaxxis Gloves, Bloodforged Sabatons, War Paint Cloak, Rage Reaver
I chose this helmet because it is the only helmet in the same style as the helmets I used for the Frost Runes and Unholy Runes sets that has red horns. Fortunately, the golden color is echoed by the bronzey undertones of the gloves, making it not totally out-of-place with the rest of the outfit. The Ascendant's Boots that match the gloves would have brought even more of those bronzey undertones into the set and tied the helmet in even better… but the Underpowered Death Knight did not have the 5k gold with which to learn the fast flying needed just to begin that questline.
Unholy Runes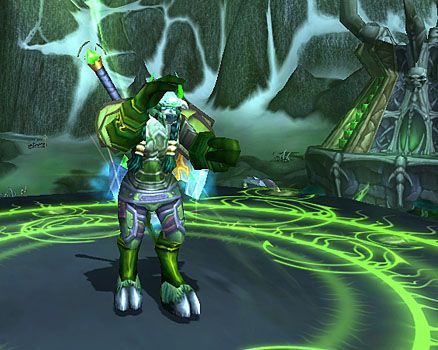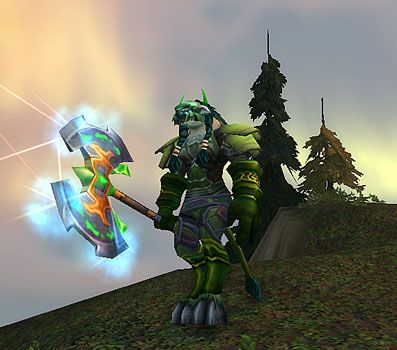 Talonguard Helmet, Heavy Lamellar Pauldrons, Carapace of the Fallen, Joseph's Spare Belt, Protective Engineer's Leggings, Emerald gloves & boots, Lucky Strike Axe
Perhaps that vacation in Zangarmarsh was a bad idea…
Frost Runes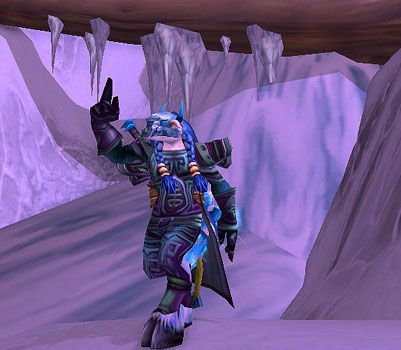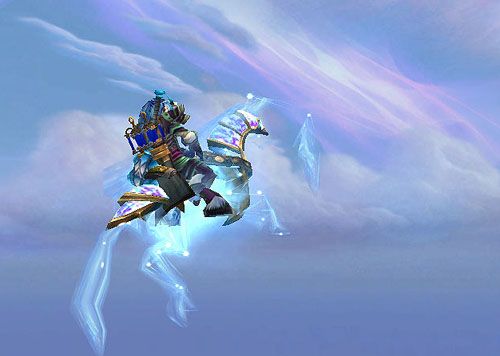 Symbolic set with Circle's Stalwart Helmet, Talonguard Epaulets, The Oathkeeper, Dark Phantom Cape, and Cerulean Filigreed Doublet
The runic patterns on this style of armor are just perfect for a Death Knight, and the Talonguard Epaulets match the colors of the set better than the Symbolic shoulders do! This set is the outfit that really made me itch to Transmogrify Kaumaleia's gear, and it will probably be her default outfit, the one to which she continually returns after I've put her in something different for awhile.
Tiller with Shovel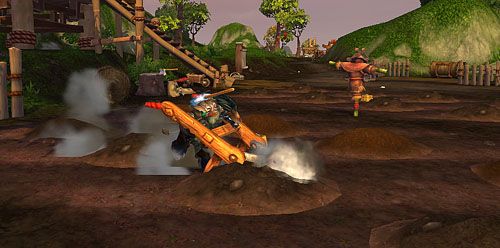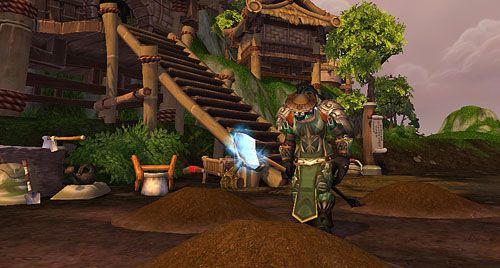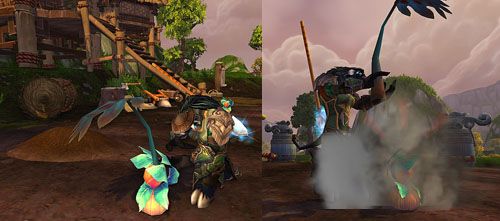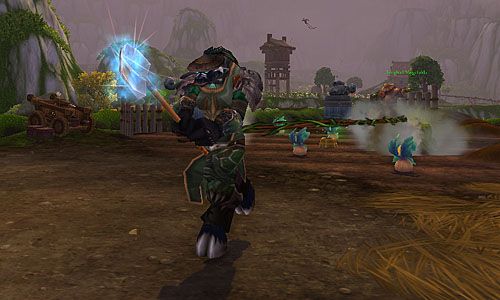 Straw Hat, Ramshorn-Inlaid Shoulders, Armored Chestpiece of Eminient Domain, Field Plate Girdle, Antique Reinforced Legguards, Crystalvein gloves, Subservient Greatboots, Green Lumberjack Shirt, Tillers Tabard, The Shoveler
This outfit owes a great debt to Freyana's fantastic entry for the final round of The Amazing Transmog Survivor Contest.
Very Berry Cream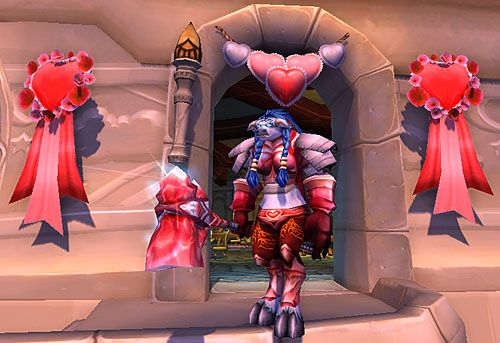 Alabaster Plate Pauldrons, Bloodscale chest belt gloves & boots, Commander's Leggings, War Paint Cloak, Wound Dressing, Hammer of Destiny
This outfit just wasn't complete without this specific weapon. Fortunately, one showed up on the AH at a not-too-outrageous price just when I wanted it. I keep wanting to call it the Hammer of Density, though…
Terracotta Revenant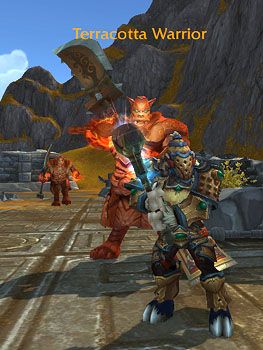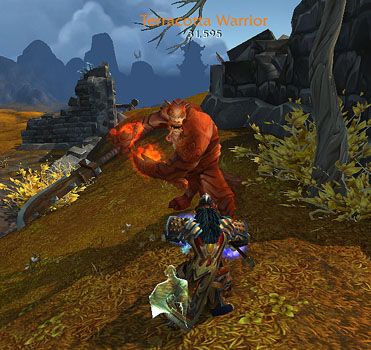 Contender's Revenant set with Mantle of Fury and Ramkahen Ceremonial Hammer
This Mists entry-level PvP crafted plate DPS set has great detailing on the shoulders and helmet.
Ata'mal Spectre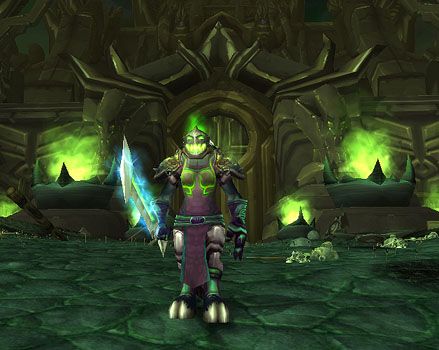 Horseman's Horrific Helm, Crystalvein Pauldrons, Chromite chestpiece & leggings, Symbolic belt gloves & boots, Sword of Nefarian's Hand, Purple Trophy Tabard of the Illidari
Every year at Hallow's End, I make an outfit for Kregga using the Horseman's Helm. This spooky ensemble that I made in 2013 combines ideas from two outfits I originally designed for the fourth round of Mog Madness.
Despair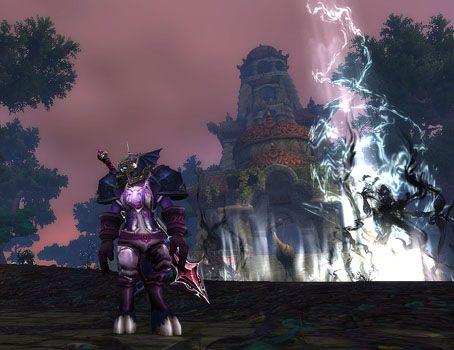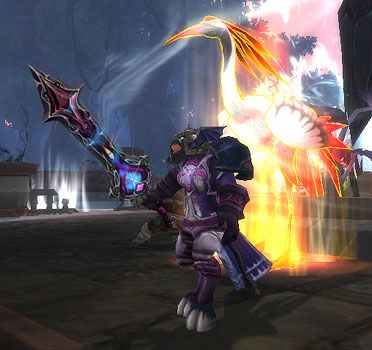 Titan-Forged Plate Helm of Triumph, Palewind Pauldron, Breastplate of Many Graces, Revenant belt gloves & boots, Chromite Legplates, Shadow-Cloak of Dalaran, Despair
Although I in general agree with Fabulor that full Judgement sets are overused — the purple version even more so than the red & gold version — I am not opposed to using one or two Judgement pieces in combination with items from other sources. In the case of this outfit, using the Chromite chestpiece was adequate but rather boring. The brighter purple details of the purple Judgement chestpiece complement the brighter purple details of the sword very nicely.
I did the Karazhan Opera so many times before this sword finally dropped that I was starting to feel quite despairing of it truly existing!
Heavy Mithril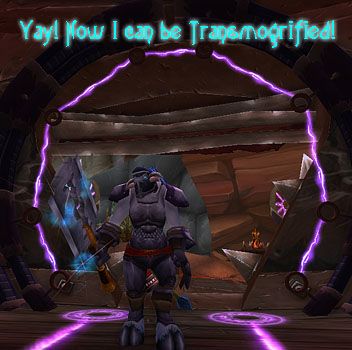 Heavy Mithril set with Thorium Belt, War Paint Cloak, and Razor Axe
Eventually, I decided to allow the Underpowered Death Knight to wear the lowest-level crafted plate set instead of restricting her to un-Transmogrifiable poor (grey) and common (white) quality gear. I chose this weapon because it has comparable white damage to The Stoppable Force, and the particular piece I acquired is "of the Eagle" — Intellect, which is useless to a DK.
Shado-Pan Runeblade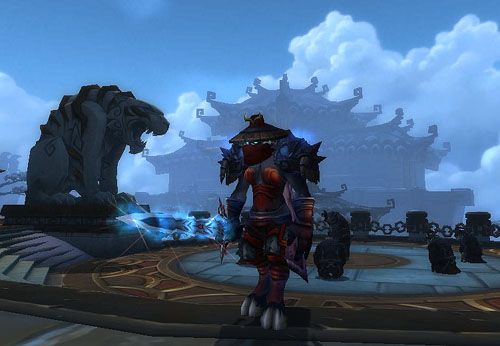 Replica Shado-Pan Helmet, Blood-Soaked Saronite Plated Spaulders, Warlord's/Warmaul chestpiece belt gloves & boots, Legguards of the Shattered Hand, Acherus Knight's Shroud, Runed Soulblade
I didn't want to just plop the Shado-Pan Helmet atop one of the black-and-red outfits I'd already made for Kregga — though it would certainly work well with either of them. The red-plum-blue tones of the Warlord's/Warmaul set evoke the palette of the navy-and-brick-red version of the Shado-Pan NPC uniforms, and I'd been wanting to use those items in a DK set for some time. The DK shoulders added just the right amount of menace to the overall appearance.
Chilled Plums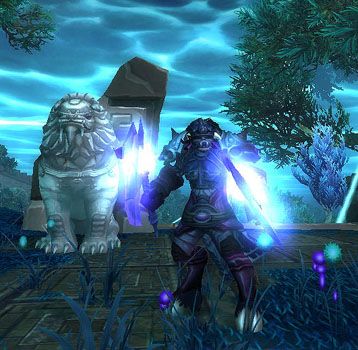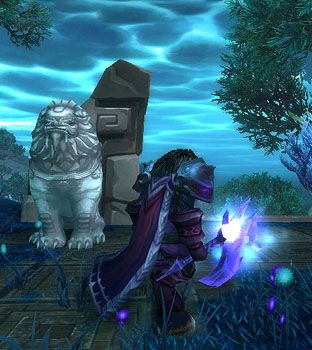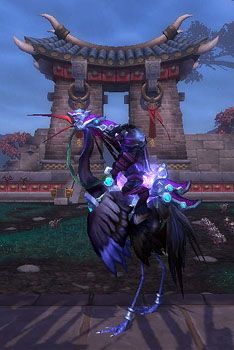 Coldbite helm chest & pants, Pauldrons of the High Requiem, Bogslayer Belt, Revenant gloves & boots, Shadow-Cloak of Dalaran, Breeching Comet
"Cold" in the base set name + plum colored accessories = "This Is Just To Say".
Coldbite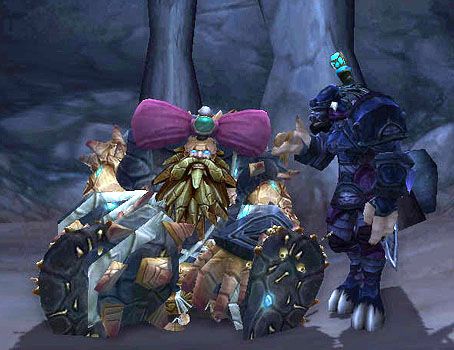 Coldbite set with Hatred's Vise
Quest reward set from Townlong Steppes and Dread Wastes.
Howling Blast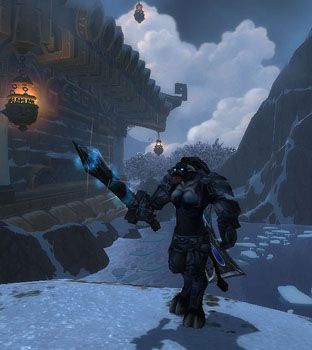 Chilled Shoulderplates, Hydralick Armor, Dojani belt pants gloves & boots, Shroud of the North Wind, Obsidium Executioner
Although I like the Dojani Plate well enough to wear it as a complete set, I've been looking for items that coordinate well with the Hydralick Armor for some time. The bluish tones of the Dojani items seemed like they'd be a great match, and they are!
Frozen Flower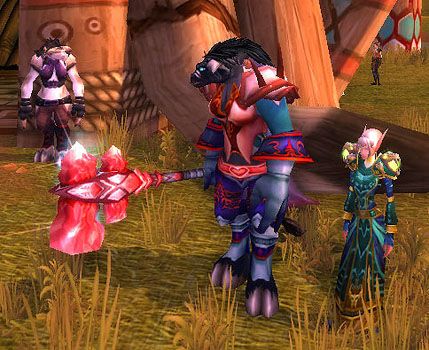 Commander's shoulders & chestpiece, Bloodscale belt, Imbued Plate leggings & boots, Area 52 Engineering Gloves, Balmy Drape, Cerulean Filigreed Doublet, The Hammer of Destiny
This was about as pastel and spring-like a look for Noblegarden as I could get out of Kregga's available wardrobe options. Even so, it's still quite chilly.
Blood and Shadow


Tyrant's Epaulets, Darkcrest breastplate, Goblin Girdle, Legguards of the Shattered Hand, Bloodforged gloves & boots, Sky Darkener's Shroud of Blood, Massacre Sword
With the Bloodforged Guard and Blood Knight Tabard, this would make a great variation on the more common Blood Knight ensembles. The Dragonmaw Tabard would also go well with this set.
A Formal Affair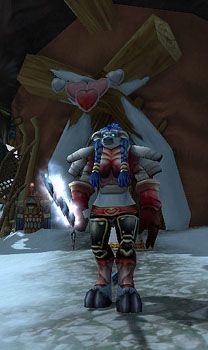 Alabaster Plate Pauldrons, Gilded Crimson Chestplate, Bloodscale belt gloves & boots, Flintlocke's Piloting Pants, Runed Soulblade, Wound Dressing
Every plate-wearing woman who is at or above level 60 should own a Bloodscale Belt. Kaumalea is theoretically a pseudo-Ironman, but I'd bought a Bloodscale Belt for her anyway, and I just couldn't let Love is in the Air pass by without allowing her to wear it. The black pants and white shoulders give this ensemble a bit of elegance.
Red-Hot Romance


Commander's pauldrons/Tyrant's Epaulets, Andrethan's Masterwork, Commander's/Bloodforged leggings, Bloodscale belt gloves & boots, Massacre Sword, Sawbones Shirt*
Kregga was all set to wear the outfit on the left for Love is in the Air this year, but then I saw Prinnie's paladin wearing the variant on the right, and it was so yummy that I just had to yoink it. I hope she doesn't mind too much… ;)
In the left-hand image, I had merely equipped the Massacre Sword for the purpose of the picture itself; in the right-hand image, it glows with a runeforging because I'd actually Transmogrified it over Kregga's current quest-set 2H sword.
Dojani Dreadnought


The Dojani set is very easily obtained by questing just about anywhere in the first few zones of Pandaria. I think it's quite handsome — and very appropriate for a Frost DK — as-is, but I also have some ideas for mix-and-match with other items.
Red Nutcracker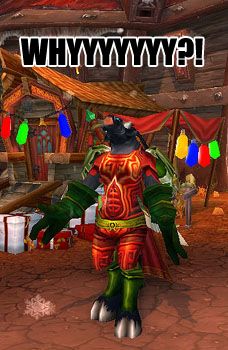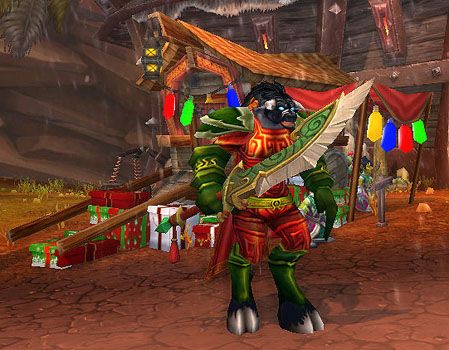 Emerald shoulders belt gloves & boots, Bloodforged chest & pants, Bloodbane Cloak, Sword of the Lone Victor
Kregga protested this Winter Veil outfit rather vigorously, but the Bloodforged pieces are hard to come by, and she's the one who already has them…. She was somewhat mollified by how nicely it coordinates with her pretty Tian Monastery sword.
Shadow Revenant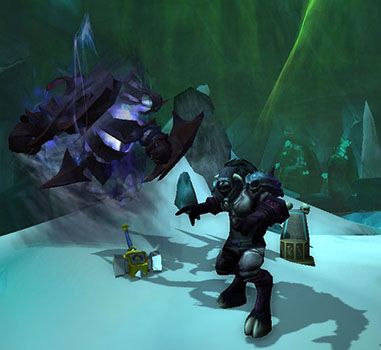 Acherus Knight's Hood, Pauldrons of the High Requiem, Chromite chest & pants, Bogslayer belt, Revenant gloves & boots
This outfit fell together while I was playing mix-and-match to make Hallow's End themed outfits — all I needed to do to make it an "everyday" set was find a suitable replacement for the Horseman's Helm.
For a Dark Paladin look, use the Mask of Penance. Horde Warriors might like the Faceplate of Thunderous Rampage. Alliance Warriors might like the Vrykul look of the Arcane-Shielded Helm.
Evil Pumpkin King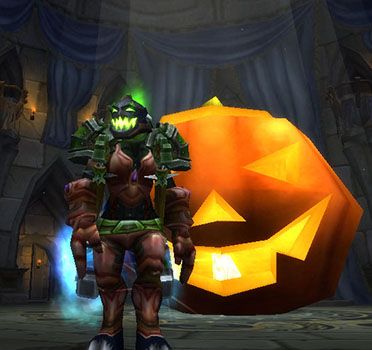 Horseman's Helm, Kraken shoulders, Embossed chest pants gloves & boots, Fel Iron Plate Belt, Green Workman's Shirt, 2x Gurubashi Punisher
I watched the AH for the Embossed items all year so that I could make this set when Hallow's End rolled around again.
Commander's Rose


Commander's shoulders chest & pants, Bloodscale belt gloves & boots, Pink Mageweave or Sawbones Shirt*, Massacre Sword
I already had this set assembled to use when Love is in the Air came around again when JD Kenada invited us to join him in observing Breast Cancer Awareness Month during October 2012 by putting together our best pink Transmogrification Template Kits.
The Netherstorm quest reward Andrethan's Masterwork is identical to the Commander's chestpiece and may be easier to obtain — indeed, that is what Kregga is actually wearing.
Scarlet Bane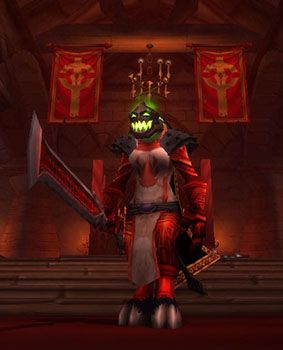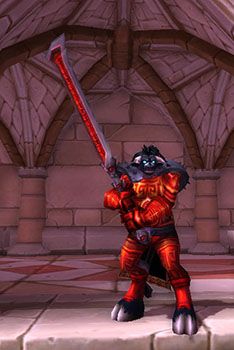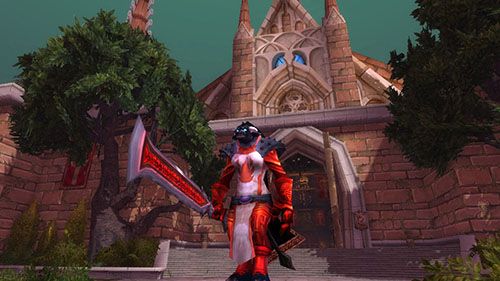 The Horseman's Helm, Acherus Knight's Pauldrons, Bloodforged chest pants gloves & boots, Bogslayer Belt, Warmonger's Cloak, Warmonger, Tabard of the Scarlet Crusade*, Sawbones Shirt*
Ultimately, the Death Knights of Acherus were intended to draw Tirion Fordring out of hiding. But they were also created to destroy Scarlet Crusaders.
Although I have no intention of actually tanking in groups with Kregga, after I made this set, she needed to have a Blood spec to be in while wearing it.
Cold Heart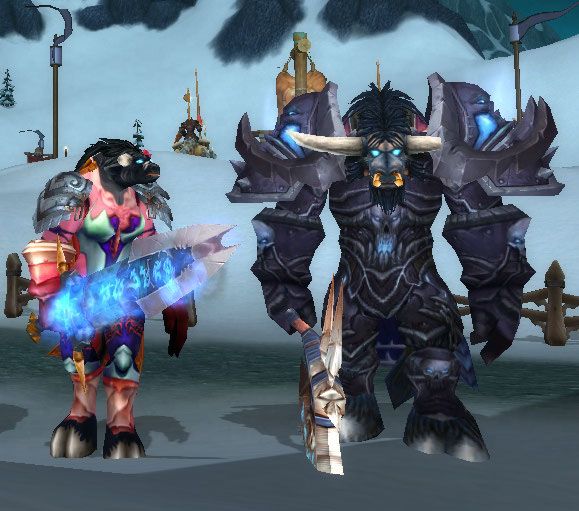 Imbued Plate chest & pants, Bloodscale belt boots & gloves, Chilled Shoulderplates, Bloodbane Cloak, Pink Mageweave Shirt, Forever-Lovely Rose
I used this set during Love is in the Air 2012 while running the holiday boss encounter to obtain the Forever-Lovely Rose.
Alas, neither of the named male Tauren Death Knights in Icecrown were moved by Kregga's flirting. Being undead, they weren't even interested in munching on her rose.
Knight of the Ebon Blade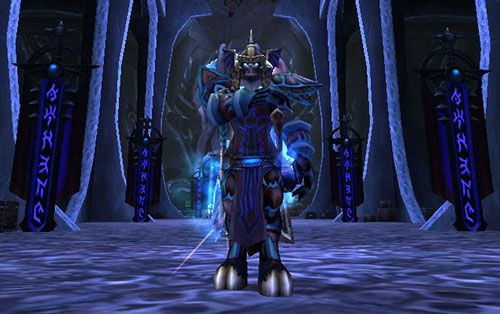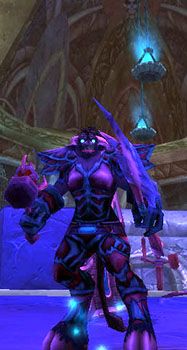 Titan-Forged Plate Helm of Triumph, Warchief's Mantle, Deathbone Chestplate*/Breastplate of Retribution, Plaguebringer's Girdle, Deathbone Legguards*/Legguards of the Resolute Defender, Death Grips, Corpselight Greaves*/Boots of the Unwavering Will, Shroud of the North Wind, Bonechill Hammer*, Iceblade Hacker*, Tabard of the Ebon Blade, Stylish Black Shirt
The original Deathbone pieces of this very classic look for a DK were lost in the renovation of Scholomance. Fortunately, lookalikes are still available from quests or boss drops in other dungeons.