A collection of Transmogrification Kits actually worn in-game by my two Tauren Warriors. I will update it whenever I change my in-game outfit. Items that are no longer obtainable are marked with an asterisk (*).
Hellreaver


Faceplate of the Forgotten, Destroyer Shoulderblades & Greaves, Druidic Guardian Plate, Crafted Malevolent Gladiator's Girdle of Prowess, Taldaram's Plated Fists, Crafted Malevolent Gladiator's Warboots of Alacrity, Orange Mageweave Shirt, Hellreaver
I'm not quite sure just what I was expecting to do when I set out to make Keija a set to go with her Hellreaver, as I'd promised after Hellreaver failed to work with her Shado-Pan kit. This certainly wasn't it, but I like it a lot! The mostly-dark armor allows Hellreaver itself to be the star feature of the kit, while all those little bright orange accents both complement Hellreaver and keep the overall look from being too dark.
Mighty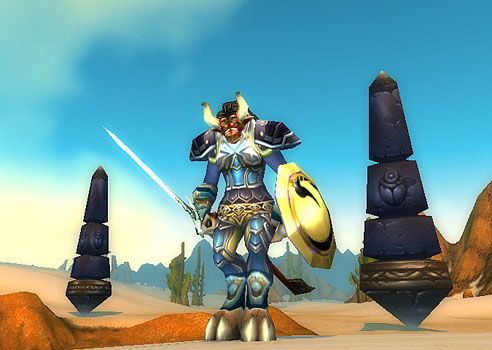 Chromite Pauldrons, Burnished Breastplate & Legplates of Might, Belt of Might, Talonguard gloves & boots, Black Swashbuckler's Shirt, Widow Blade, Flamescarred Draconian Deflector
The spikes on the shoulders of the Battlegear of Might have never really appealed to me, so I thought I'd try it with the similarly colored, but plainer, Chromite shoulders.
Amber is the Color of my Fury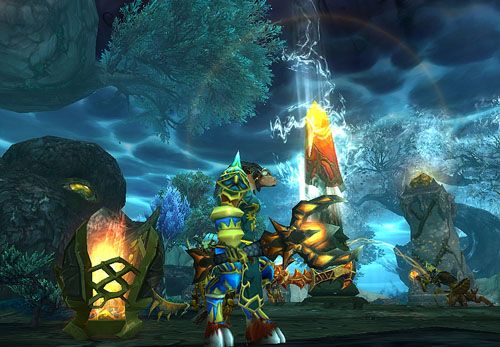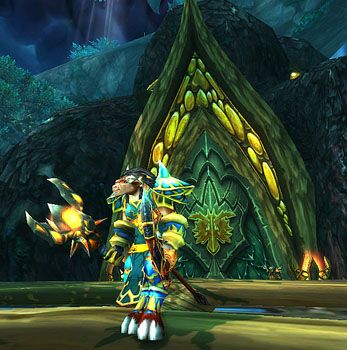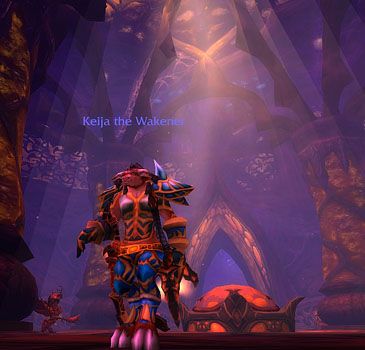 Skybreaker's Pauldrons, Silithid Carapace Chestguard, Sunscale Belt, Legplates of the Destroyer, Gloves of the Swarm, Bloodguard's Greaves, Fool's Bane, Mantid Sky Reaver, Klaxxi Tabard
While I was trying to decide which of the Klaxxi weapons to use for Keija's "Wakener" set, I picked up this 1H mace in Karazhan. To my eye, it matches the style of the other Klaxxi weapons better than the maces provided by the Klaxxi themselves.
Although Keija originally chose to specialize as Fury for Titan's Grip — why bother with one-handed weapons when you can dual-wield not one, but TWO big honking two-handed weapons? — this outfit concept convinced her to try out Single-Minded Fury for awhile. About the time that I'd collected all the pieces for this kit, however, Siege of Orgrimmar came out, and I ended up deciding to make that Single-Minded Fury set first.
Thunder Bluff Warrior of the Insurrection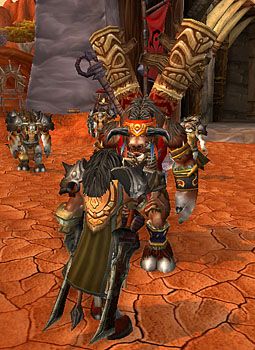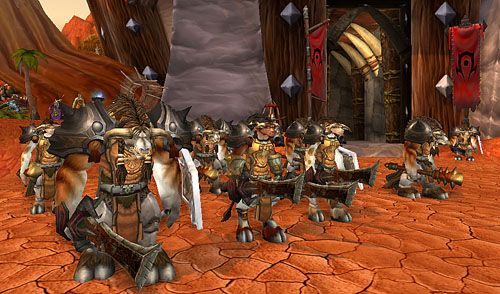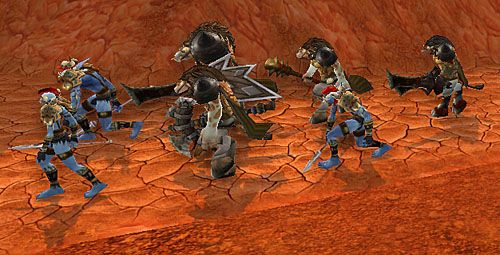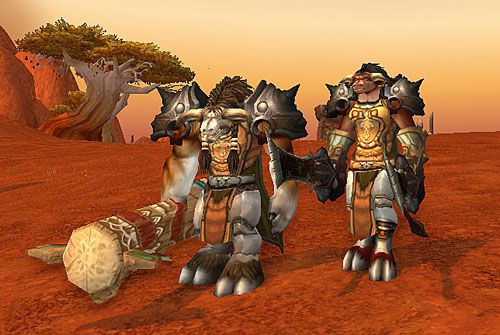 Vicious Pyrium Shoulders, any sleeveless chestpiece, Shattered Hand belt, Imperial Plate Leggings, Jade Tiger Gauntlets, Grim Sabatons, Thunder Bluff cloak & tabard, Ymiron's Blade
The Thunder Bluff Warriors who are occupying Razor Hill during the Siege of Orgrimmar wear neither gloves nor boots. If you have invisiboots, such as Griftah's Authentic Troll Shoes or Ancient Skeletal Boots, by all means use them! Keija does not yet have any invisiboots, not having obtained any either by raiding or by grinding the necessary Kor'kron supplies during patch 5.3, but the Grim Sabatons blend in with the pants well enough to produce almost the same effect.
The NPC belt is the same style as the golden-brown Shattered Hand or blue-grey Grimscale belt, but in a warm grey color that is not available to players. I chose to use the Shattered Hand belt because I felt like the warm tones harmonized better with the tabard & cloak. The Jade Tiger gloves contain both silvery tones to coordinate with the pants and golden tones to coordinate with the belt and tabard, making them the best choice of Keija's readily-available gloves.
The NPCs carry Ymiron's Blade + Saltstone Shield, a brighter recolor of the Angerfang/Splinterspear/Bladestaff Hammer that is not available to players, a unique and unobtainable 2H axe, or sometimes even the giant totem that every Tauren player character dearly wishes she or he could wield.
Chocolate-Covered Strawberry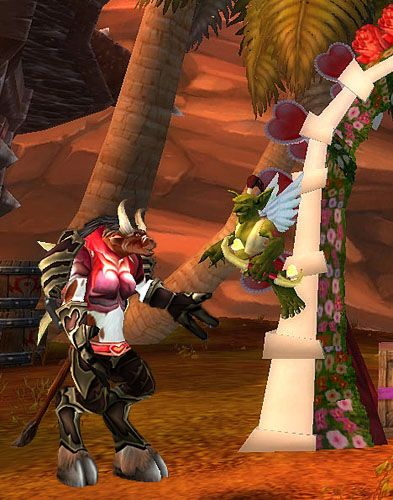 Wyrmslayer Spaulders, Bloodscale chestpiece & belt, Brutish pants gloves & boots, Dire Maul, Shield of Maraudon
Oh oh oh! Oh no! I totally forgot that I had wanted to make this outfit for my secondary Warrior for Love is in the Air this year until after the holiday had come and gone. Fortunately, I had some screenshots of the holiday decor from previous years that were suitable for compositing.
Sea and Stars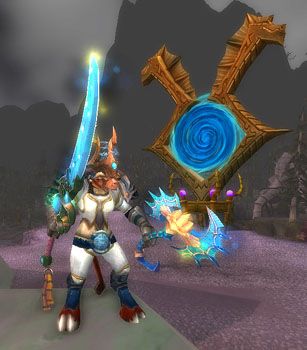 Doomed Crown of Lei Shen, Pauldrons of Unholy Rituals, Imperial Plate chestpiece & pants, Swordhook Slingbelt, Diemetradon Plate Gloves, Cobalt Boots, Blue Workman's Shirt, Starshatter (LFR), Whitefin Axe
This is not the outfit I originally imagined to go with Starshatter — it's better! The Pauldrons of Conviction would look fabulous with this set, too.
Resounding Doom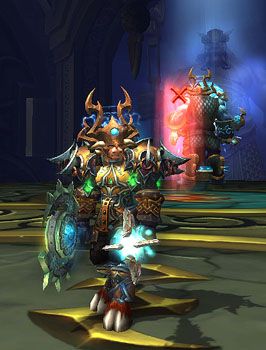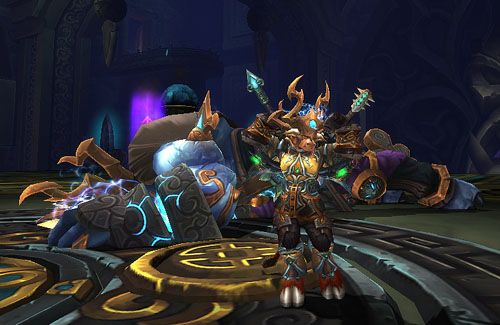 Doomed Crown of Lei Shen, Pauldrons & Battleplate of Resounding Rings, Crafted Malevolent Gladiator's Girdle of Prowess, Legguards of Lost Hope, Taldaram's Plated Fists, Impaling Treads, Uroe, Harbinger of Terror, Cryptmaker
Although Keija hadn't been to LFR in ages, she queued up for Pinnacle of Storms just so that she could pose with Lei Shen to show off this new Transmogrification kit.
Shado-Pan Blademaster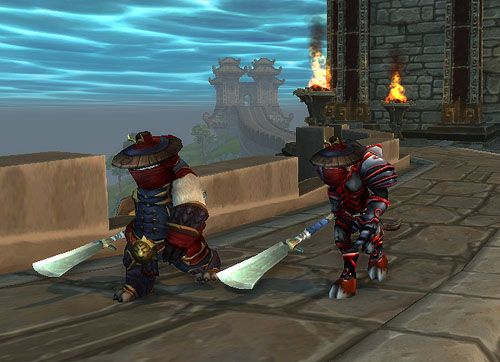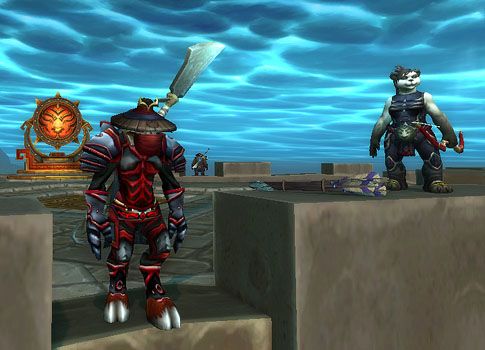 Replica Shado-Pan Helmet, Expedition Mantle, The Exarch's Protector, Darkcrest Belt, Legguards of the Shattered Hand, Inferno Tempered gloves & boots, Gilded Thorium Cloak, Red Martial Shirt, Sturdy Yaungol Spear
Keija tried really hard to talk me into letting her use Hellreaver for her Shado-Pan set, even though I think it's just about as overused a weapon as Judgement is a gear set. Then, as soon as she'd actually tested how it would look, she capitulated and agreed to use the spear that matches the NPC weapon. I'll just have to come up with some other set for her to use Hellreaver with.
Knight in Shining Armor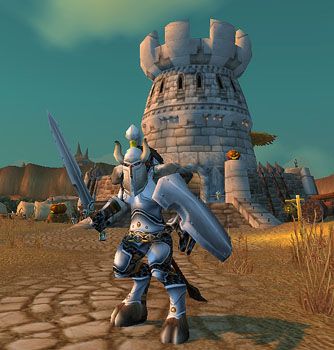 Steel Plate Helm, Field Plate Pauldrons, Overlord's chestpiece leggings gloves & boots, Belt of Might, Blade of the Unyielding, Hardened Steel Shield
The Overlord's set is one of the most practical-looking plate sets. The contrast of the brightly polished plate surfaces with the dark connecting meshes always reminds me vaguely of Imperial Stormtrooper armor.
Death by Chocolate II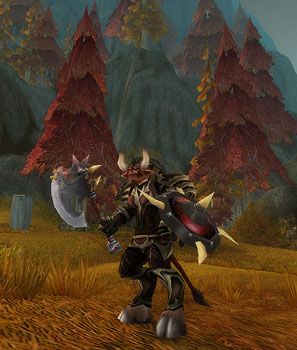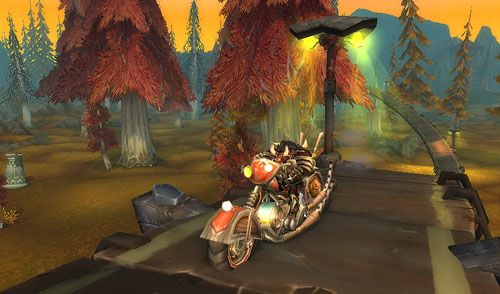 Brutish set with Rustic Workman's Shirt, Wyrmslayer Spaulders, Broadaxe of the Horde, and Shield of Maraudon
Although I'd already collected the Brutish set once for my DPS warrior, I love it so much that I collected it again so that my Prot Warrior could use it with this awesome shield.
Battleplate of the Last Mogu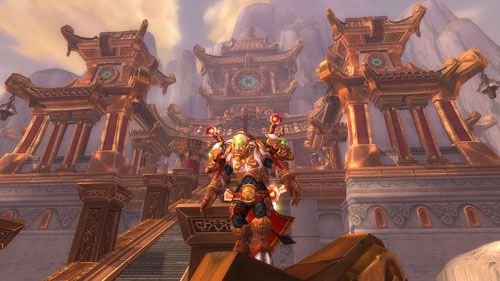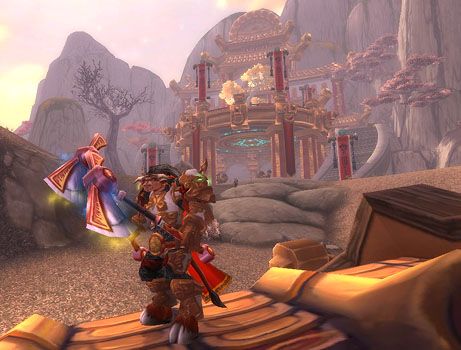 Plate of the Last Mogu (LFR) with Red Riding Hood's Cloak and Fanged Axe
This is one of my favorite Mists tier sets. I love how the coloration of this set of armor repeats the color scheme of the great mogu edifices in the Vale. It's like this armor is the imperial livery of the personal guard of the mogu emperor/dynasty who first built Mogu'shan Palace and its satellites, the Shrines of Two Moons and Seven Stars. I'm even happier that this coloration of the T15 Warrior gear was the LFR version and thus within my reach. I just wish I'd been able to get it all before the destruction of the Vale so that my screenshots could have been prettier.
Bright Sunreaver Juggernaut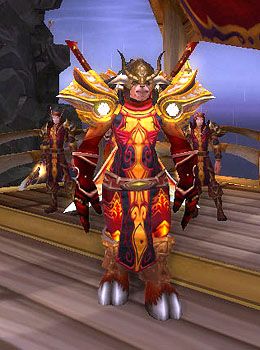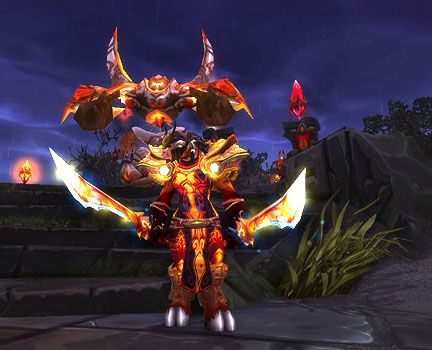 Voice Amplifying Greathelm, Dawnsteel Shoulders, Ursa's Embrace, Forgemaster's Shattered Shackle, Lavacrest Leggings, Gauntlets of the Immovable, Sabatons of the Humble, Sin'dorei Warblade, Sunreaver Onslaught Tabard, Red Workman's Shirt
I had two very different swords that I wanted to use with the Sunreaver tabard, and they wanted two very different outfits to go with them.
Dark Sunreaver Juggernaut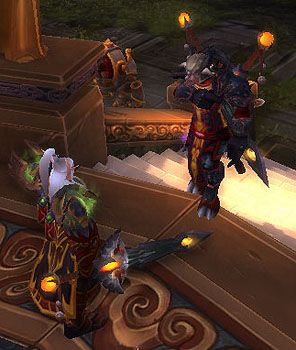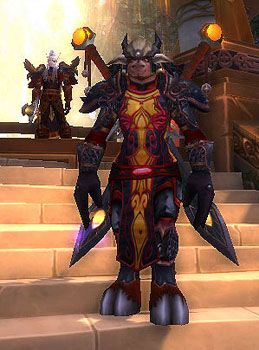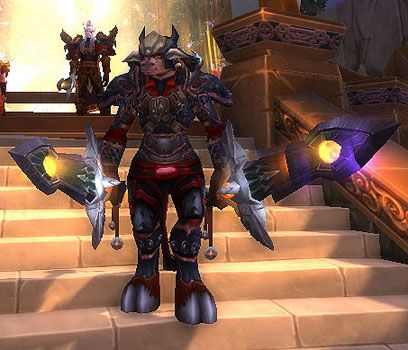 Great General's Crown, Shoulderguards of Empty Memory, Druidic Guardian Plate, Goblin Girdle, Legguards of the Shattered Hand, Embercrusher Grips, Deathseed Crushers, Greatsword of the Sin'dorei, Sunreaver Onslaught Tabard, Red Workman's Shirt
As Keija was questing through Hyjal, it occurred to me that the set she was collecting would coordinate rather nicely with the Sunreaver tabard. So I hung onto it, and, indeed, it did, mostly. The quest reward belt didn't work very well with the tabard, but the Goblin Girdle which did go with the tabard didn't go with the rest of the quest reward set. So I switched out the pants, too, and I think the result looks great with the tabard and decent without it.
Insurrection Hero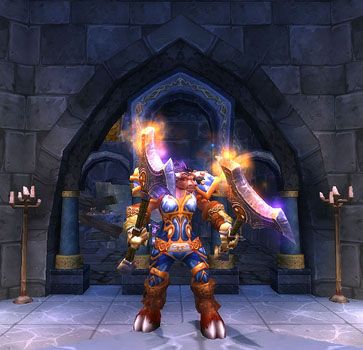 Replica Battlegear of Heroism shoulders chest & pants, Imperial Plate Belt, Judicator's Gauntlets, Sabatons of the Humble, Blubber Carver
I threw this kit together after I picked up my third piece of Insurrection gear from the Battlefield:Barrens event in Patch 5.3. It was mostly a placeholder while I worked on gaining reputation and collecting items for other kits I had planned.
Hero of the Southern Sands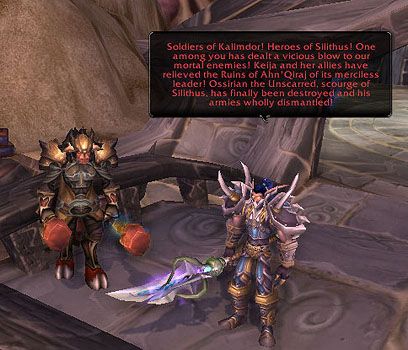 Great General's Crown, Caimas' Spaulders, Wallwatcher chest belt & pants, Brutish gloves & boots, Sunset Cloak, Ramkahen Ceremonial Hammer
Iterating from the previous set, the dull golden tones of this helm and pauldrons from Uldum pick up the warmer tones in the Wallwatcher chestpiece and pants.
Brutish Wallwatcher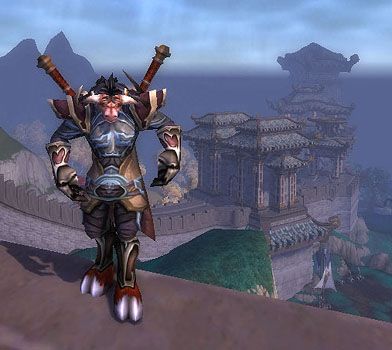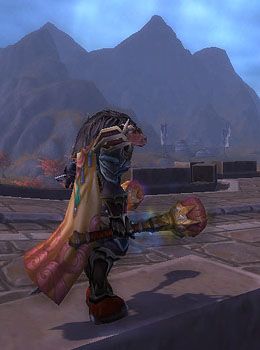 Brutish shoulders gloves & boots, Wallwatcher chest belt & pants, Sunset Cloak, Ramkahen Ceremonial Hammer
The chocolate-colored Brutish set is a natural first choice to mix-and-match with the mocha accents of the Wallwatcher set. I picked the maces to coordinate with this lovely cloak.
Wallwatcher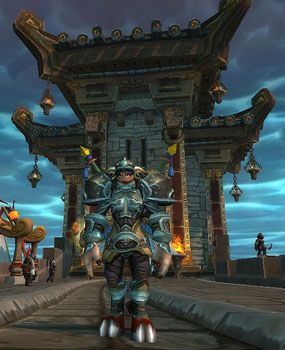 Wallwatcher set
Quest reward set from Kun-Lai Summit. I like how this plate helm style looks like a quilen face.
Jade Tiger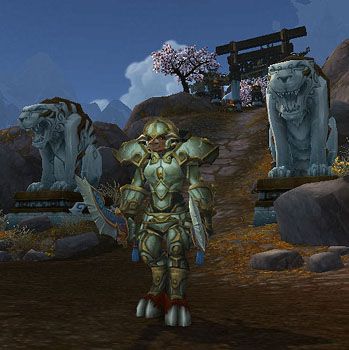 Jade Tiger set with Binan Greatsword
Quest reward set from the Jade Forest. I hoped that the belt gloves & boots from this set would be good alternates for the Replica Battlegear of Valor items in the Silver Morning outfit, but alas, their colors just aren't shiny enough. Unless I come up with another outfit to use these items in, Keija probably won't keep them. My Paladin, however, probably will.
Silver Morning


Dawnsteel Shoulders, Truesilver Breastplate, Replica Belt Gauntlets & Boots of Valor, Cloudkeeper Legplates, Gleaming Claymore, Deckhand's Shirt
Partially inspired by Pyckles' Cloudkeeper Legplates ensemble and similar outfits seen in various WoW Factor show reports.
Voren'thal's Vanguard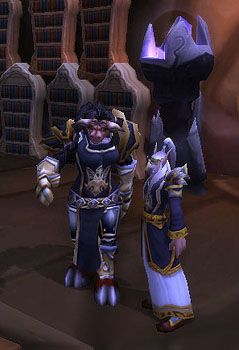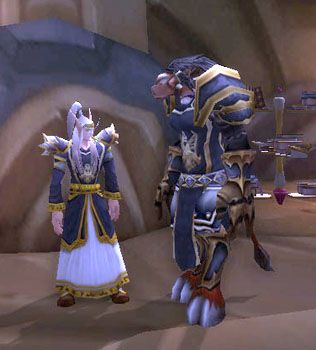 Noble Plate Pauldrons, Blacksoul Protector's Hauberk, Belt of Might, Flintlocke's Piloting Pants, Spiritualist's Gauntlets/Gauntlets of the Vanquisher, Golden Cenarion Greaves/Boots of the Ancient-Killer, Scryers Tabard, Yellow Martial Shirt
For all that they are part of Thrall's iconic Warchief armor, I've found Flintlocke's Piloting Pants to be rather tricky to fit into outfits. I think this one turned out nicely — though I was tempted to silly it up with the bright yellow Underworld Helm. The tabard really pulls the ensemble together. Because the chestpiece is mostly covered by the tabard, it just needs to be dark with silverish or goldish trim. The Stormforged belt or Borak's Belt of Bravery would be suitable for those who can't wear the Warrior-specific belt.
Soft-Hearted Fighter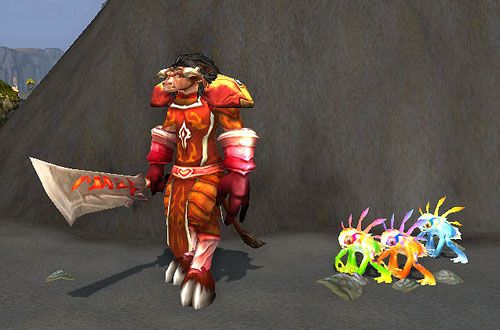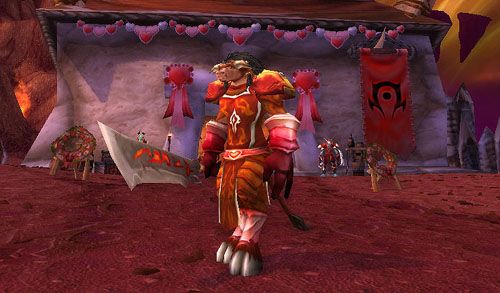 Embossed Plate Pauldrons, Ursa's Embrace, Bloodscale belt gloves & boots, Leggings of the Ursa, Lantresor's Warblade, Scout's Tabard
I've been fond of the combination of orange and pink for many years. I'm quite pleased with this outfit, but if you don't like it, that's okay.
Dark Portal Sentry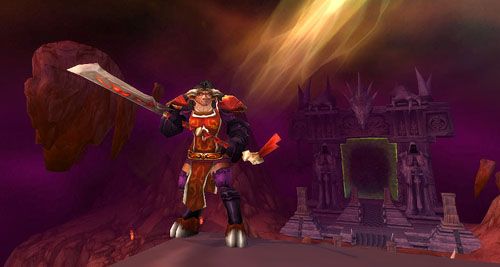 Embossed Plate Pauldrons, Murkblood Avenger's Chestplate, Bloodfist belt, Murkblood Avenger's Legplates, Revenant gloves & boots, Lantresor's Warblade, Scout's Tabard
Keija acquired Lantresor's Warblade at about the time she was getting rather tired of looking like a Darkmoon Faire clown. Although the Embossed Plate Pauldrons and Scout's Tabard were a natural match for this handsome polearm, figuring out what else to use with it proved to be quite challenging. The contrast of bright orange and deep purple in this ensemble is very bold and striking, but ultimately, this set was merely an "I guess I can live with this" stop-gap that lasted only a day or two before I came up with something I liked a lot better.
Darkmoon Brawler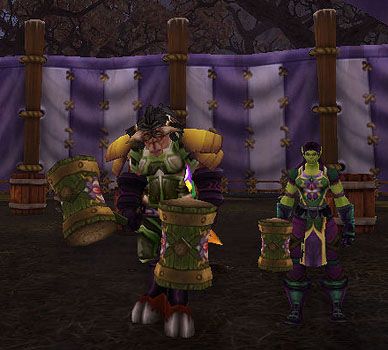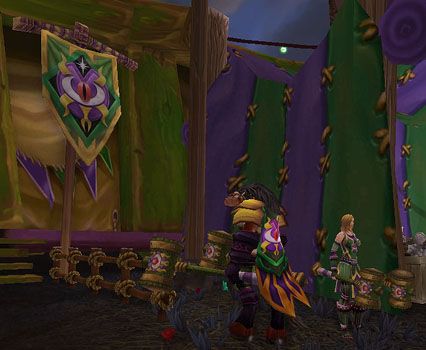 Valorous Pauldrons, Fel Iron Plate breastplate & pants, Chromite belt, Revenant gloves & boots, Cloak of the Darkmoon Faire, Darkmoon Hammer
Mola is wearing the Symbolic gloves & boots, Enchanted Adamantite Belt (why isn't she wearing the teal Warleader's belt, I wonder? It's the same style, and would match better), and cloth Highborne tunic & pants. Kerri Hicks is wearing a custom coloration of the mail Pillager's set. Neither set is Transmogrification-friendly for any class that can wield 2H Maces, but I think what I've come up with fits the spirit of the Faire pretty well.
Battlegear of Valor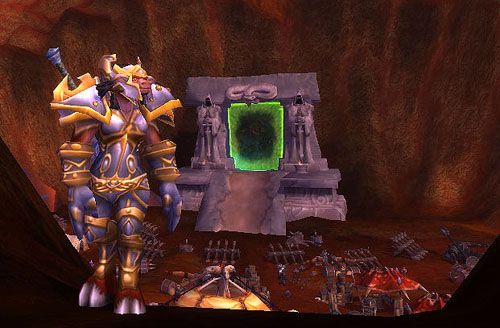 Battlegear of Valor: Polished hat shoulders breastplate & pants with Replica belt gloves & boots
Wanting to gain several levels very quickly, I loaded Keija up with all the heirloom gear I could obtain. With four out of the seven visible items of the set now available as Polished heirlooms, I went ahead and filled out the remaining three slots with the Replica pieces from the Darkmoon Faire.
Imperial Steamsmith


Steamsmith Helm, Pauldrons of the Thorium Brotherhood, Imperial Plate chestpiece & pants, Saltstone belt & gloves, Heavy Mithril Boots, Conk Hammer
Keija crafted the entire Imperial Plate set, but when she put it on, she thought she looked very silly. Plus, the crafted set doesn't come with gloves — what's up with that? The chestpiece and pants from the Imperial Plate set, however, make a very solid foundation for any number of silver-toned plate sets.
I think I like this even better than my Mogolympics Hammer Throw entry using the Conk Hammer.
Death by Chocolate


Brutish set, Rustic Workman's Shirt, Dark Iron Axe
I love the relatively unique color of this set. The Wyrmslayer Spaulders and High Chief's Pauldrons also match this color scheme.
Pillager (Mail)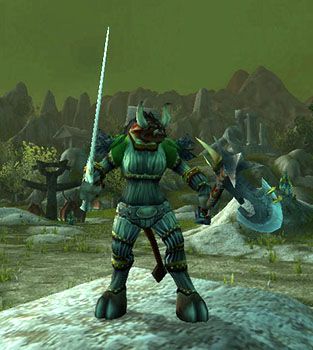 Thick Scale Shoulderpads, Pillager's chest pants gloves & boots, Sentry's Sash, Green Linen Shirt
Kaobeka wore this set for several months during her mid-30s because she was idling in Thunder Bluff to serve as my primary Banker while Kregga dawdled through Pandaria.
At max-level, this would be a viable Transmogrification Kit for a Hunter or a Shaman.