A collection of Transmogrification Kits actually worn in-game by my Draenei and Troll Mages. I will update it whenever I change my in-game outfit. Items that are no longer obtainable are marked with an asterisk (*).
Tirisfal Magus


Cowl of the Grand Engineer, Mantle & Robes of Tirisfal, Sly Mojo Sash, Gloves of Arcane Acuity, Stillpine Stinger, Nolkai's Lantern, Gray Woolen Shirt
Sadly, Kaprikka was not yet level 80, and thus not yet able to loot the Ancient Tome of Teleport: Dalaran, at the time that I made this screenshot trip. She will have to come back for it soon!
Soulwind


Netherwind Crown, Shoulderwraps of the Enthralled, Soulcloth Vest, High Councillor's Sash, Darkweave Breeches, Sage's Gloves + Crystalweave Bracers, Enumerated Sandals, White Swashbuckler's Shirt, Staff of Divine Infusion
The first of a number of outfits I would eventually like to create for Kaprikka using the Soulcloth Vest.
Hand of Destiny


Feline Mantle, Robe of the Dragon Slayer, Cincture of Woven Reeds, Scholar's Gloves, Staff of the Royal Wizard, Tabard of the Hand
The unique Tabard of the Hand is awarded only to Draenei characters at the completion of the Bloodmyst Isle storyline, when they are acclaimed as revered heroes of the Hand of Argus. This outfit contains only items that a Draenei Mage could reasonably expect to be able to obtain by about the same time that she completes the Bloodmyst Isle storyline and receives the Tabard of the Hand, thus allowing her to make a complete, reasonably well-coordinated outfit to wear with her new tabard almost immediately.
Primary Colours


Mirren's Drinking Hat, Warpwood Leaf Mantle, Robe of the Dragon Slayer, Captain Sanders' Sash, Gandling's Gloves, Angerstaff, Red Swashbuckler's Shirt
Looking through Kaprikka's inventory for shoulders to wear with this robe, I tried this Dire Maul quest reward and was inspired to make a bright, bold outfit.
Banshee Buccaneer


Double-Stitched Woolen Shoulders, Banshee Armor*, Juju Belt, Unforgiving Pantaloons, Apothecary Gloves* + Willow bracers, Buccaneer's Boots
The Master's Vest might make a good substitute for the Banshee Armor. Gandling's Gloves or Black Mageweave Gloves (with a suitable pair of bracers) would be good replacements for the Apothecary Gloves.
Sagefish


Sage's set with Aurora shoulders
What Draenei can wear this set and not think of Diktynna and the Red Snappers?
Red Blood, Blue Blood


Double-Stitched Woolen Shoulders, Sanguine Robe, Wise Man's Belt, Red Silk Trousers, Heavy Linen Gloves + Seer's Cuffs, Sen'jin Doublet
Races that wear shoes might want some blue boots, such as the Cushy Cenarion Walkers.
Royal Holiday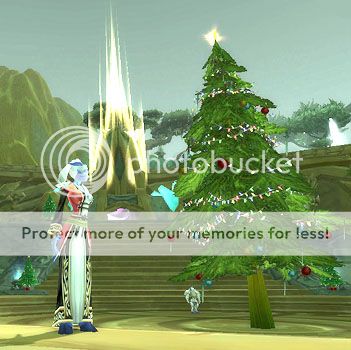 Aurora Shoulders, Robes of the Royal Crown, Councillor's Sash, Zaetar's Gloves
To invert the color scheme of this outfit, use the Councillor's Robes with Captain Sanders' Sash/Apothecary's Waistband.
Wisewoman From Afar


Pads of the Venom Spider, Sanguine Robe, Wise Man's Belt, Red Silk Trousers, Heavy Woolen Gloves + Willow Bracers, Orgrimmar Doublet
To add a little more green to the outfit, use the Greenweave Leggings.
Races that wear shoes might want some green boots, such as Ikeyen's Boots.
Princess Alanna


Aurora Mantle, Alanna's Embrace*, Dawnspire Cord, Jumanza Grips, Featherskin Cape, Pink Mageweave Shirt or Exodar Doublet, Skettis Curved Blade, Nolkai's Lantern
I farmed Scholomance diligently before Patch 5.0 dropped to get this robe. The Vestments of the Shifting Sands are a somewhat similar color and much more showy.
White Wizard


Aurora Mantle, Astral Knot Robe*, Dawnspire Cord, Zaetar's Gloves, Silky Spider Cape, Nolkai's Lantern
The Astral Knot Robe was awarded from a pre-Cataclysm Mage class quest. The Gossamer or Aurora Robes may be used for a similar effect.
Venomous Vitality


Pads of the Venom Spider, Vital Raiment, Willow Belt, Native Pants, Heavy Woolen Gloves + Conjurer's Bracers
I plan to use the Venomshroud Mask and Lord Sakrasis' Scepter with this set when Kiki gets leveled up enough to use those items. For characters who are already max level, the Legacy of Arlokk would be the perfect staff to use with this set.