Shado-Pan Ninja (Monk)


Replica Shado-Pan Helmet, Puncture-Binding Spaulder, Pozzik's Vest, Red Belt of Gentle Persuasion, Nice Shorts, Bard's gloves & boots, Stylish Black Shirt, Monk's Staff
This outfit is adapted from Draynee's Black Ninja Monk kit.
Shado-Pan Spiritwalker (Shaman)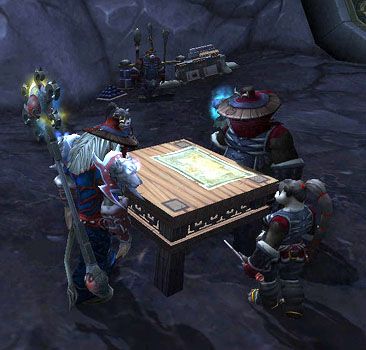 Replica Shado-Pan Helmet, Pauldrons of Wild Magic, Salvager's Hauberk, Bloodspattered Sash, Heroes' Earthshatter Kilt (T7-10s), Seer's Linked Gauntlets, Suen-Wo, Spire of the Falling Sun
Umlaut Paradots' mail contribution to These Boots Were Made For Mogging reminded me of the Salvager's Hauberk. As I thought about what kind of set I might like to make using this chestpiece, it occurred to me that the stripe detail, especially in the back, is somewhat similar to the stripe detail on the Shado-Pan NPC uniforms. Kamalia already had plenty of dark blue in her wardrobe, but she did not have much red in her wardrobe before I created this outfit for her!
Shado-Pan Beastmaster (Hunter)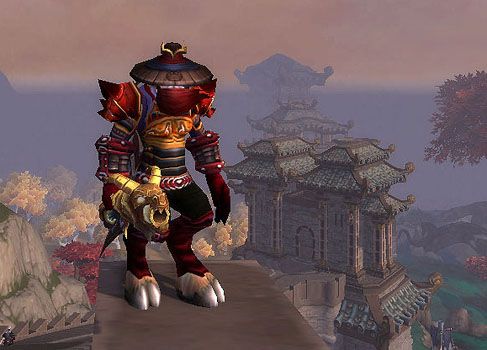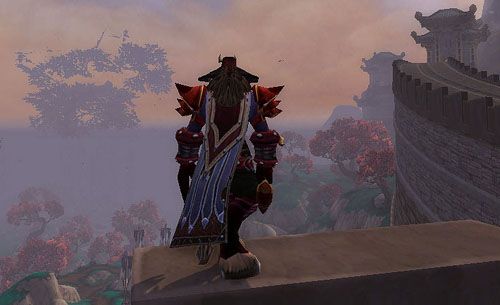 Replica Shado-Pan Helmet, Ravager's Mantle, Warmonger's Chestpiece, Bloodspattered Sash, Bloodmail* Legguards gloves & boots, Cloak of Beasts, Master Builder's Shirt, Bronze Blaster
This is something of an "if you've got it, flaunt it" kit. Although I only really wanted the Bloodmail Legguards, I'd collected all the rest of the set by the time the pants finally dropped. I decided to keep the whole set, "just in case", and dumped it into Void Storage. Now I'm glad that I did!
I borrowed the combination of the Shado-Pan Helmet with the Warmonger's chestpiece from WoW Roleplay Gear.
Shado-Pan Runeblade (Death Knight)


Replica Shado-Pan Helmet, Blood-Soaked Saronite Plated Spaulders, Warlord's/Warmaul chestpiece belt gloves & boots, Legguards of the Shattered Hand, Acherus Knight's Shroud, Runed Soulblade
I didn't want to just plop the Shado-Pan Helmet atop one of the black-and-red outfits I'd already made for Kregga — though it would certainly work well with either of them. The red-plum-blue tones of the Warlord's/Warmaul set evoke the palette of the navy-and-brick-red version of the Shado-Pan NPC uniforms, and I'd been wanting to use those items in a DK set for some time. The DK shoulders added just the right amount of menace to the overall appearance.
Shado-Pan Lightbearer (Paladin)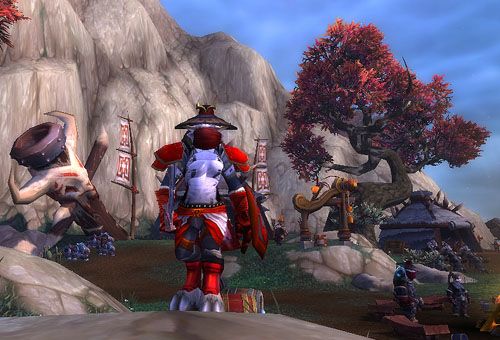 Replica Shado-Pan Helmet, Runic Plate Shoulders, Alabaster Breastplate, Thorium Belt, Greaves of the Martyr, Bloodforged Gauntlets, Lavawalker Greaves, Redpine Cloak, Firestorm Hackblade, Bloodforged Guard, Stylish Black Shirt
This outfit is adapted from a striking black, white, and red ensemble originally designed by Honeypants of Mogoholic.
Shado-Pan Blademaster (Warrior)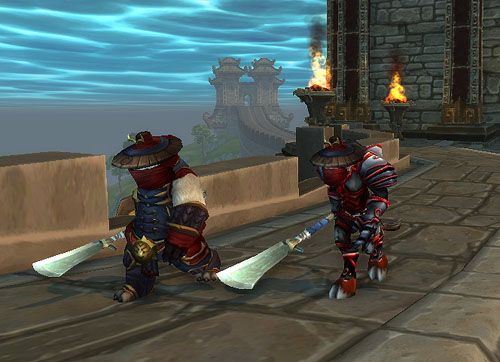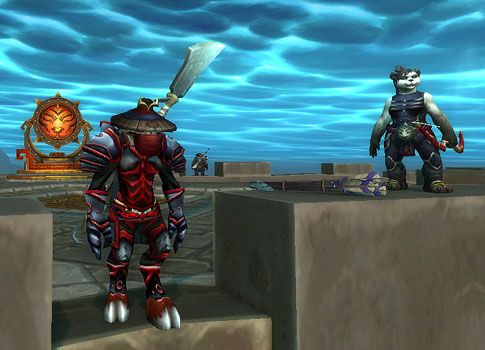 Replica Shado-Pan Helmet, Expedition Mantle, The Exarch's Protector, Darkcrest Belt, Legguards of the Shattered Hand, Inferno Tempered gloves & boots, Gilded Thorium Cloak, Red Martial Shirt, Sturdy Yaungol Spear
Keija tried really hard to talk me into letting her use Hellreaver for her Shado-Pan set, even though I think it's just about as overused a weapon as Judgement is a gear set (especially since Demonology Warlocks got that glyph that lets their Felguards dual-wield the things). Then, as soon as she'd actually tested how it would look, she capitulated and agreed to use the spear that matches the NPC weapon. I'll just have to come up with some other set for her to use Hellreaver with.
Shado-Pan Wildshaper (Druid)


Replica Shado-Pan Helmet, Thunderheart Shoulder Pads, Robes of Summer Flame, Vicious Leather Belt, Gilt-Edged Leather Gauntlets, Tian Monastic Staff
I decided pretty much immediately that I wanted to use this robe for my Druid's Shado-Pan kit. Figuring out all the rest of the pieces, though, took quite a bit of iteration.
I don't remember if I was offered the +Agi staff as a reward option from that Tian Monastery quest or if I had to switch my loot spec to see it. Whatever happened, I thought that the +Agi staff would have better Transmogrification potential with the rest of my Druid's wardrobe than any of the +Int options — and I'd surely get a better weapon from some other quest later. So I took it, and now I am quite glad that I did.
Shado-Pan Mystic (Priest)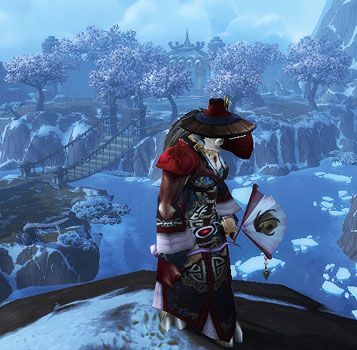 Replica Shado-Pan Helmet, Consortium Mantle, Amaranthine Robe, Silver-Thread Sash, Black Mageweave Gloves, Arakkoa Divining Rod, Inscribed Fan, Stylish Black Shirt
This outfit is largely inspired by the Shado-Pan Helmet set designed by WoW Roleplay Gear.
Shado-Pan Arcanist (Mage)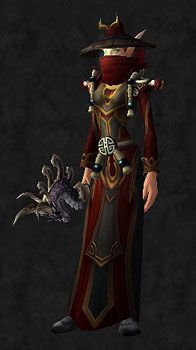 Replica Shado-Pan Helmet, Mantle of the Golden Sun, Sparklight Robes, Klaxxi Lash of the Orator, Exiled Dabbler's Gloves, Netherweave Boots, Matsuba's Breadmaker
In these sets, I've endeavored to use only items that I think I can reasonably expect to obtain solo at level 90. If you do guild-based raiding, however, the normal-mode version of Quet'zal's Crackling Cord coordinates perfectly with this robe.
Shado-Pan Assassin (Rogue)


Replica Shado-Pan Helment, Shoulderpads of the Silvermoon Retainer, Scouting tunic & gloves, Belt of One-Hundred Deaths, Nightslayer Pants, Defiler's Lizardhide Boots, Black Swashbuckler's Shirt, Malchazeen
The shirt is an essential component of this outfit because it fills in a gap between the sleeves and the gloves. I would have preferred to use gloves that cover the whole hand — assassins should not leave fingerprints — but I couldn't find any that coordinated suitably well with the rest of the set.
Shado-Pan Summoner (Warlock)


Replica Shado-Pan Helmet, Merciless Gladiator's Felweave Amice, Simple Blouse, Silver-Thread Sash, Coven Britches, Black Mageweave Gloves + Wraps of the San'layn, Oilfoot Slippers, Zhar'doom, Greatstaff of the Devourer
More decadent Warlocks may prefer to use the Cournith Waterstrider's Silken Finery.