A collection of Transmogrification Kits actually worn in-game by my Tauren Hunters. I will update it whenever I change my in-game outfit. Items that are no longer obtainable are marked with an asterisk (*).
Crimsonscale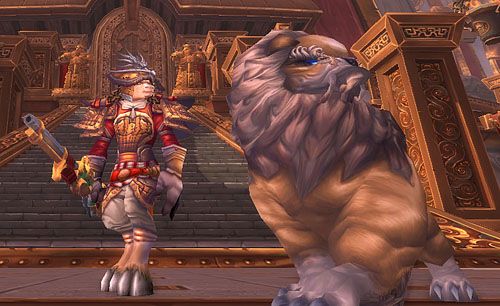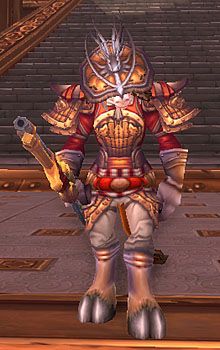 Crafted Dreadful Gladiator's Chain Helm, Crimsonscale shoulders chestpiece & leggings, Mercurial Girdle, Lord's gloves & boots, Jade Rifle
The Crimsonscale set is the Agility set produced from Timeless Isle mail armor tokens. I think it is the handsomest coloration of this style of armor.
The Jade Rifle may not be the most perfectly matching gun for this armor (I like the plainer Bhag'thera's Roar better), but this armor is the best Transmogrification kit I could come up with to use with this gun.
Orange Safety Vest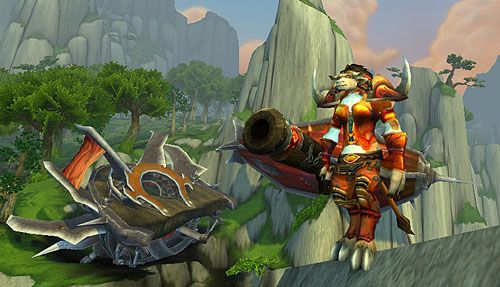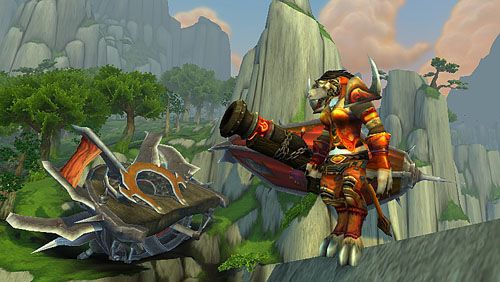 Replica Beastmaster's Mantle & Belt, Engraved Breastplate & Gauntlets, Warmonger's Leggings, Ravager's Sandals, Amber Filigreed Shirt/Fine Cloth Shirt*, Spare Gunship Cannon
The April Fools 2014 Warlords 6.0 patch notes inlcuded the following:
HUNTERS — For safety, all Hunters must now wear bright orange vests at all times.
I chuckled, but didn't think much more about it until WoW Insider's "Around Azeroth" column featured a guild who'd taken that to heart — at their next raid, they made sure that all the Hunters were wearing orange shirts.
As super-stylish as it was, after a couple of months, Ketura had been feeling rather tired of her Ornate Dragonscale Transmogrification kit. Seeing this picture, an idea for a new Transmogrification kit sprang immediately to mind!
Although the outfit is more orange with the Amber Filigreed Shirt, I prefer the slightly more camouflaged look obtained with the Fine Cloth Shirt — a quest reward from pre-Cataclysm Loch Modan that Ketura obtained when a transporter malfunction turned her into a Dwarf for a couple of weeks a few years ago.
Sweet Shot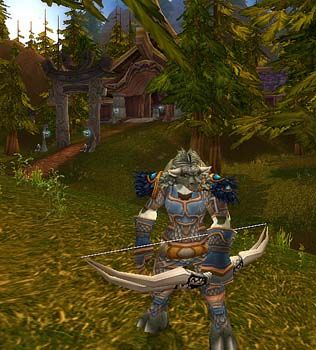 Lord's Crown, Grunt's Pauldrons, Fuselight Chainmail, Myrmidon's Girdle, Ghostcaller's Leggings, Finder's Keepers, Felpaw Boots, Night Elven Bow
This lovely blue and silver mail set would be perfect for a High Elf hunter. It is named for an alternate item for the chestpiece, the Sweet-Tempered Breastplate.
After having collected the green and blue versions of this set with a Horde character, I plan to collect the red version with an Alliance character — my Dwarf Shaman thinks it would be perfect with her Ironforge tabard.
Ornate Dragonscale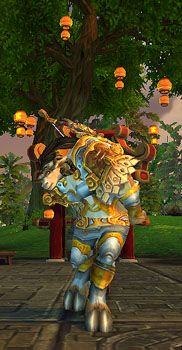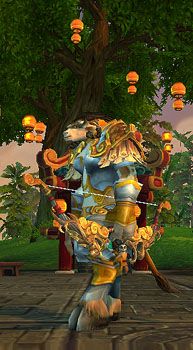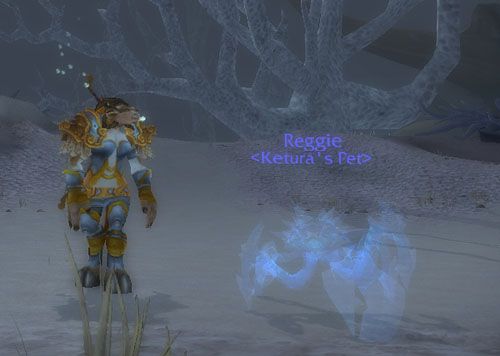 Ornate set with Contender's Dragonscale shoulders & belt and Ennadee's Twirling Longbow
I first saw a mix-and-match of the Ornate and Contender's Dragonscale sets on a human hunter at the Lazy Turnip in Halfhill about a week after Mists launched. I've seen other variations of it since. It's certainly a very elegant combination!
Bling Bling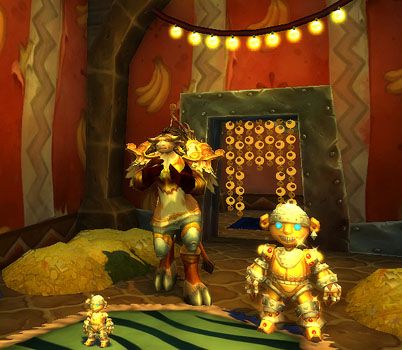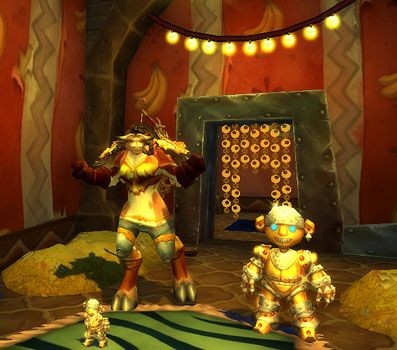 Contender's Dragonscale Shoulders, Triumphant chestpiece, Ornate belt & leggings, Radiant gloves & boots, Ennadee's Twirling Longbow
Blingtron 4K obligingly dropped Lil' Bling within the first week or so of Patch 5.4. Being my Engineer, Ketura is the only one who can have both of them out at once, so she put together an outfit to coordinate with them.
Shado-Pan Beastmaster


Replica Shado-Pan Helmet, Ravager's Mantle, Warmonger's Chestpiece, Bloodspattered Sash, Bloodmail* Legguards gloves & boots, Cloak of Beasts, Master Builder's Shirt, Bronze Blaster
This is something of an "if you've got it, flaunt it" kit. Although I only really wanted the Bloodmail Legguards, I'd collected all the rest of the set by the time the pants finally dropped. I decided to keep the whole set, "just in case", and dumped it into Void Storage. Now I'm glad that I did!
I borrowed the combination of the Shado-Pan Helmet with the Warmonger's chestpiece from WoW Roleplay Gear.
Wild Plains Gladiator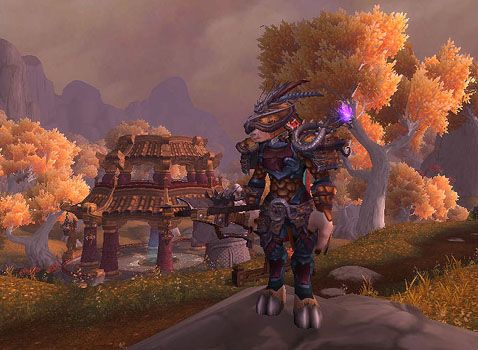 Crafted Dreadful Gladiator's Chain helm shoulders belt pants & gloves, Wild Plains chestpiece & boots, Jungle Spirit's Embrace, Crossbow of the Hardened Ranger
I'd been looking forward to getting Ketura to level 90 so that I could use this set. I love the asymmetrical shoulders, the fancy belt buckle, and the pheasant feathers in the hat. The crafted set is quite handsome by itself, but, being a Transmogrification fanatic, I couldn't resist mixing it up just a little bit.
Hunter in the Hills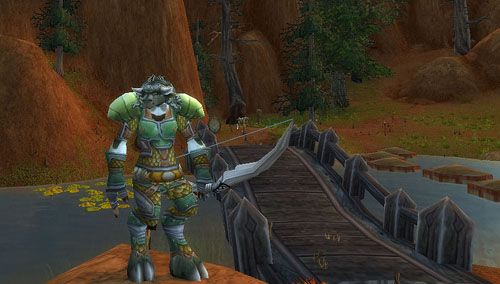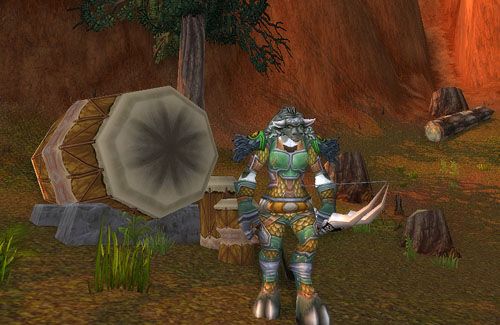 Lord's Crown, Sparkleshell Mantle/Thick Scale Shoulder Pads, Gentling Breastplate, Myrmidon's Girdle, Wet Suit Leggings, Ice Cream Mitts, Thondroril River Boots, Night Elven Bow
The colors of this quest reward set are very camouflage-like, making it a most excellent kit for a Hunter.
Gilnean Foxtrot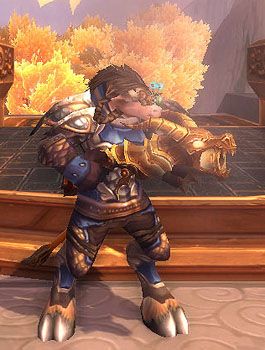 Deadly Retinal Armor, Fox Grove or Purifying shoulders, Fox Grove or Troggbane chestpiece, Lord's Girdle, Groundshort Leggings, Silencer's Gauntlets, Fox Grove boots, Blue Workman's Shirt, Bronze Blaster
As I had predicted, the Fox Grove set and the Gilneas City Guard set coordinate extremely well. I couldn't decide which of these combinations I liked best, so I planned to cycle through them all. I only got through the first two, however, before Ketura reached level 90 and could wear the handsome level 90 crafted sets. Perhaps I'll come back to the third varation of this kit sometime later.
Fox Grove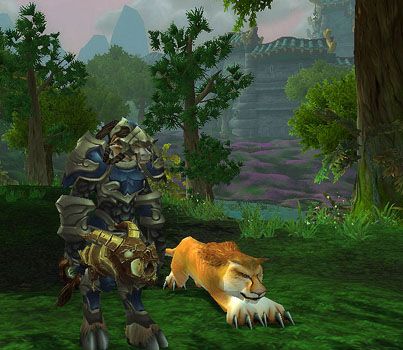 Fox Grove/Jade Witch set with Bronze Blaster
After I initially collected this set with Kamalia (who didn't keep it), I looked forward to collecting it for Ketura (to save) for a couple of reasons. First, I thought it would be perfect with this gun — it's a quest reward from End Time, but its design looks very Pandaren to me. Second, I thought it would mix-and-match well with the Gilneas City Guard set.
Dressed to Kill I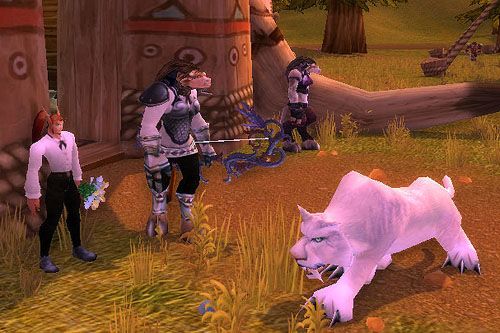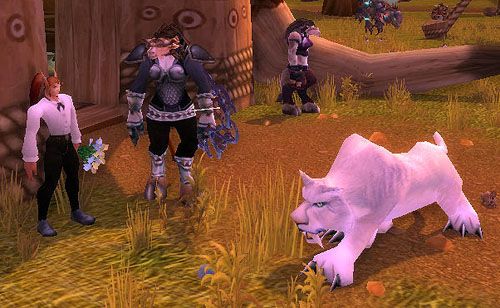 Cured Orcascale Spaulders, Dark Iron Mail, Bonelink belt gloves & boots, Bloodmail Legguards*, White Tuxedo Shirt/Stylish Black Shirt, Ironfeather Longbow
Because a mail pastel-hued "Elegant Dress"-type outfit had a high probability of turning out exceedingly similar to my mail Darkmoon Faire outfit, I decided to make a black and white "Spring Tuxedo"-type outfit instead.
This outfit takes its name from the stylish apparel provided by Blingtron 4000.
Voodoo Hunter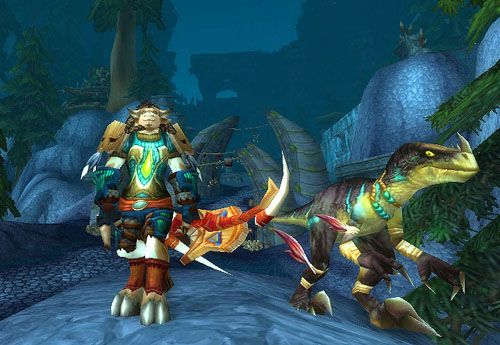 Defiler's Mail Pauldrons, Dragonkiller Tunic, Warmonger's Belt, Shifting Camouflage Pants, Gauntlets of Sniping, Ravager's Sandals, Voodoo Hunting Bow
When I went looking for items to use with the level 85 T11-recolor Dragonkiller Tunic, the teal tones of the agility versions of the level 70 Zul'Aman mail coordinated excellently. The copper tones of the belt and boots provide a nice burst of complementary color and also tie in the bindings of the bow.
Sin'dorei Sentinel


Ravager's Mantle, Silvermoon Armor, Ornate Girdle, Electrostatic Legguards, Gauntlets of Divinity*, Radiant Boots, Skyfire Hawk-Bow
A post by Samaramon of "Sin'Draenei" outfits reminded me that I had a mail outfit planned using the same tunic and bow.
I recommend the Glimmering Mail gloves & boots for those who don't have the Gauntlets of Divinity from old Scarlet Monastery.
Argent and Aurum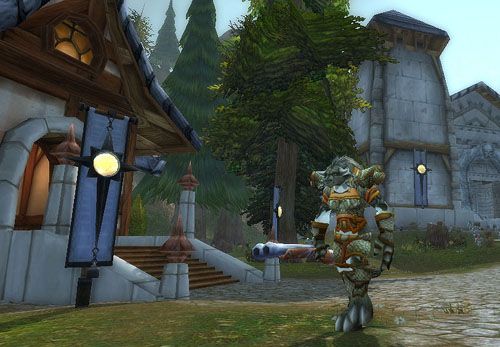 First Responder's Pauldrons, Kadrak's Breastplate, Myrmidon's Girdle, Electrostatic Legguards, Mail Combat gauntlets & boots
An ideal outfit for any mail-wearer who wishes to declare his or her allegiance to the Argent Crusade.
Brigade Champion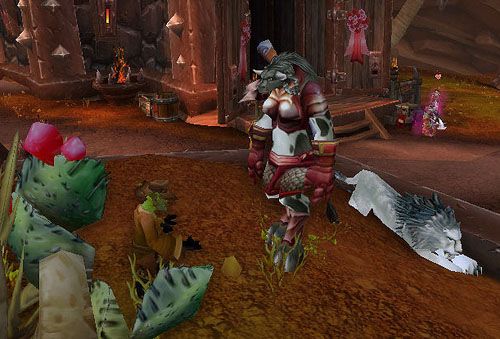 Champion Herod's Shoulder, Brigade breastplate belt & boots, Fort Livingston Legguards, Scarlet Gauntlets*
If you don't have the Scarlet Gauntlets, use the Merciless gloves and boots.
La Tortuguera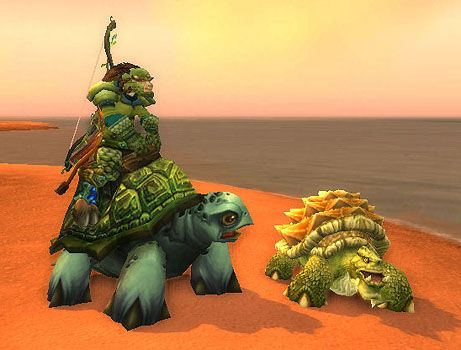 Turtle Scale hat leggings & gloves, Bog Epaulets, Tortoise Armor, Unyielding Waistband, Moccasins of Verdurous Glooms, Cerulean Filigreed Doublet, Taut Driftwood Bow
All other items that match the Tortoise Armor style are leather. Prior to Cataclysm, there were a few leather items that also matched it in coloration. Thus, this chestpiece is unique among mail items and posed an interesting challenge for making a coordinating Transmogrification kit.
An Elemental or Resto Shaman should use one of the turtle shell shields with this set.
War Paint II



Ravager's Mantle, War Paint chest belt gloves & boots, Turtle Scale leggings, Taut Driftwood Bow, Sawbones Shirt*
With its bold red and green colors, the War Paint set makes a wonderful Winter Veil outfit for a mail-wearing character. The War Paint belt and pants have identical graphics, so I prefer to use the Turtle Scale Leggings instead.
The Red or Green Workman's Shirt would also work nicely in this outfit.
Darkmoon Sharpshooter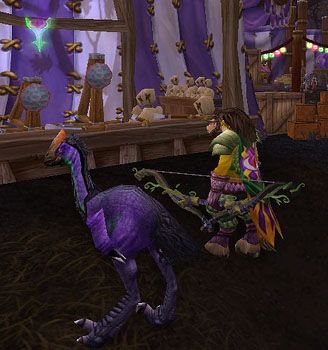 Bog Epaulets, Turtle Scale chestpiece & leggings, Netherstalker belt gloves & boots, Cloak of the Darkmoon Faire, Taut Driftwood Bow, Bright Yellow Shirt
The Green Dragonscale chestpiece and leggings would also work nicely in this set.
Blue Moon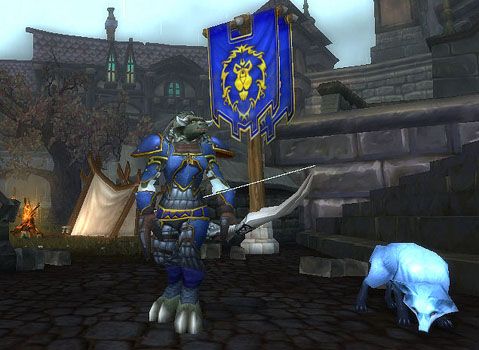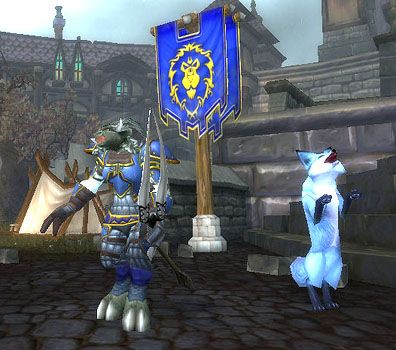 Ironpatch Shoulderguards, Chestpiece of Returning Strength, Stormbringer Belt, Sea Legs, Swamp Gas Gauntlets, Misshapen Boots, Night Elven Bow
Some of the quest reward sets from the revamped level 1-60 content are really quite nice. The beautiful bow is another legacy of Kawneiha having spent her first 40-odd levels as a Worgen.
Stormscale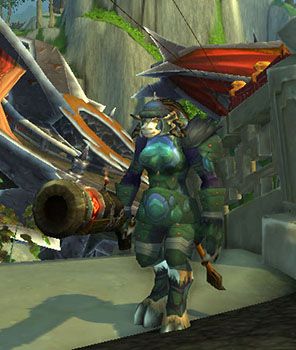 Stormscale set, Master Builder's Shirt, Spare Gunship Cannon
A rather barbaric look. The helm is very similar in style to those worn by male Centaurs.
The crafted Stormscale set, which can be worn by level 85 characters, is identical to several quest rewards from the highest-level zones in Pandaria. I like some of the recolors better; whereas Kamalia has long since discarded or Transmogrified over this set, Ketura may actually keep some of the items from the other color schemes.
Dragon Quake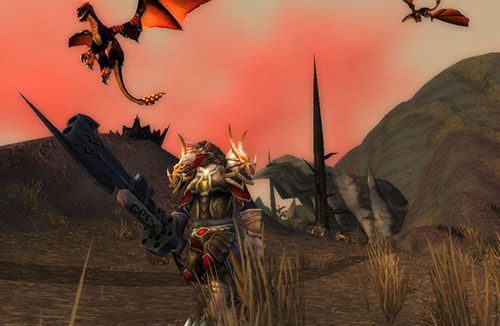 Helm of Affinity, Dragon-Quake Shoulderguards, Shamblehide Chestguard, Tracker's Belt, Scale Leggings of the Skirmisher, Lord's gloves & boots, Cloak of Beasts, Master Builder's Shirt, Wolfslayer Sniper Rifle
Shhh, be vewy vewy quiet… I'm hunting dwagons!
Royal Blue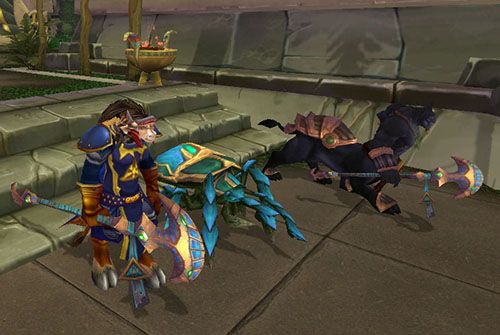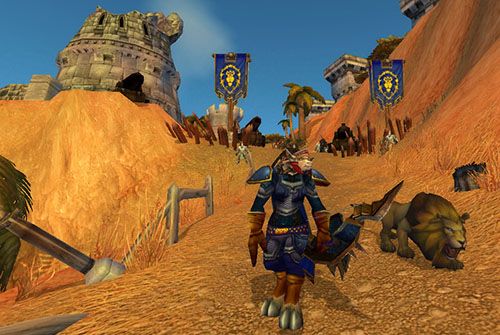 Helm of Affinity, Pauldrons of the Promise, Nexus-Stalker chest & leggings, Dreadhawk's Girdle, Radiant gloves & boots, Vicious Fur Cloak, Blue Workman's Shirt, Seliza's Spear, Amber Messenger, Ramkahen Tabard
I assembled this outfit to wear with the Ramkahen Tabard, but it would be wonderful for an Alliance Hunter (particularly a Human), with or without the Stormwind or Knight's tabards.
Gilneas City Guard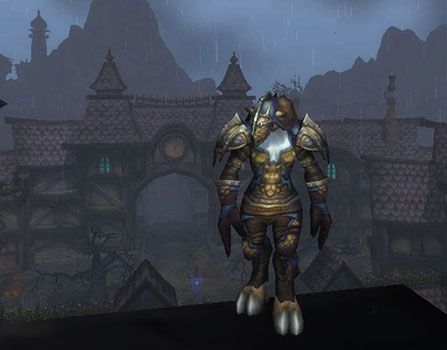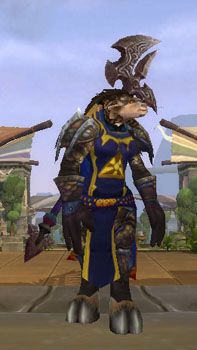 Totem-Caller Hood, Purifying Spaulders, Troggbane Chestguard, Lord's Girdle (without tabard) or Dreadhawk's Girdle (with tabard), Groundshort Leggings, Silencer's Gauntlets, Rockslide Treads, Vicious Fur Cloak, Blue Workman's Shirt, Ramkahen Tabard
Except for the belt, this set, obtained by questing in Deepholm/Vashj'ir, is identical to the uniforms of the Gilneas City Guards. Because of its dull blue & gold colors, I wore it with the Ramkahen Tabard until I finished assembling the Royal Blue set, but Human or Worgen Hunters should wear it with the Gilneas Tabard and cloak!
War Paint I


Helm of Affinity, Drakesfire Epaulets, War Paint chestpiece, Scarlet Belt*, Bloodmail Legguards*, War Paint gloves & boots, Sawbones Shirt*
The Voidscale Belt is an adequate substitute for the Scarlet Belt, the Red Workman's Shirt is an okay substitute for the Sawbones Shirt, and the Ebonhold Leggings could be used in place of the Bloodmail Legguards… but it wouldn't be quite the same.
Ancient Lichen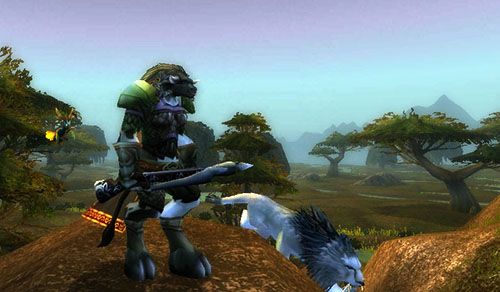 Sparkleshell Mantle, Guerilla Breastplate, Gol'Bolar Miner's Belt, Marsh Fire Legguards, Ancient gloves & boots, Darktide Cape, Crossbow of the Crown
Some of these items are Alliance-specific quest rewards — Kawneiha spent her first 42 levels as a Worgen.
Cow in Wolf's Clothing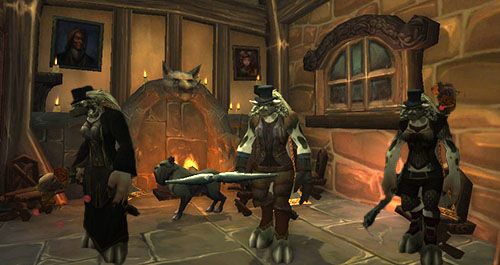 Gilnean Acolyte's Robe; Gilnean Footpad's tunic & gloves with Gilnean Tracker's pants & boots; Gilnean Recruit's set; Lord Walden's Top Hat, Staff of Earned Tranquility
Kawneiha began her existence as a Worgen so that I could have a Tauren with a top hat.